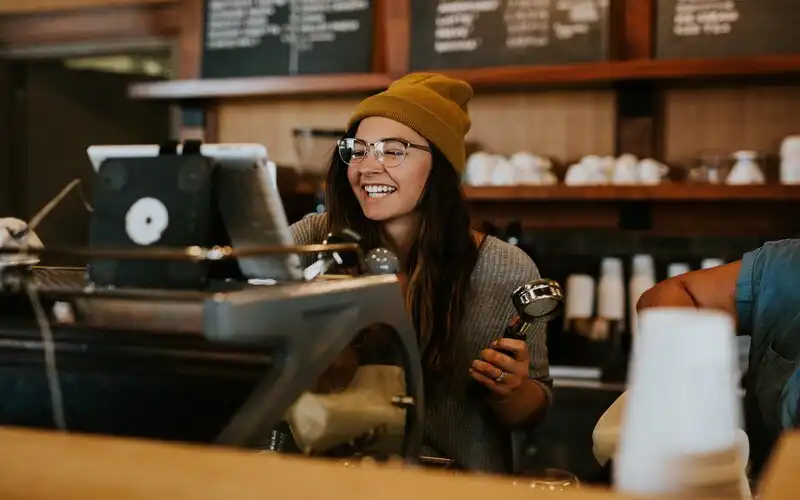 Australia's unemployment rate fell to 5.5% in April from 5.7% in March, seasonally adjusted.
The figures from the Australian Bureau of Statistics (ABS) were marginally better than forecasts, with the prior consensus being the rate would drop to 5.6%.
Bjorn Jarvis, head of labour statistics at the ABS, said it was the sixth consecutive month the unemployment rate had fallen, down from 6.9% in October.
"The unemployment rate is now 0.2 percentage points (or 33,000 people) above the start of the pandemic," Mr Jarvis said.
"Importantly, it's 2.0 percentage points below its peak in July 2020, when it was 7.4%.
"The youth unemployment rate fell to its lowest level since the Global Financial Crisis, reflecting a strong increase in employment for young men, following a number of increases for young women in recent months."
---
Need somewhere to store cash and earn interest? The table below features savings accounts with some of the highest interest rates on the market.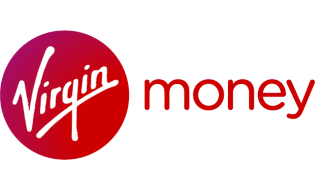 Advertisement
Boost Saver - Savings Account
Highest
variable rate
1.50%†
Base
variable rate p.a.
0.10%
BOOST YOUR SAVINGS with up to 1.5% for the first 3 months
Product Features
Red Hot Intro Rate of up to 1.5% for the first 3 months
Enjoy up to 1.2% thereafter
Bundled with the Virgin Money Go transaction account
The Federal Government's JobKeeper scheme came to an end on March 31, with the April ABS data forecast to reveal how the labour market would react to more than 100,000 jobs thought to be lost as a result.
However, Mr Jarvis said the scheme's expiry had no discernible impact on employment between March and April.
"We have not seen large changes in the indicators that would suggest a clear JobKeeper impact, such as an increase in people working reduced or zero hours for economic reasons or because they were leaving their job," he said.
"We also haven't seen large net flows out of employment across many population groups.
"Some of the 31,000 fall in employment may relate to the end of JobKeeper, but it could also reflect usual month-to-month variation in the labour market and some larger than usual seasonal changes similar to those we saw earlier in the year."
Unemployment rate, seasonally adjusted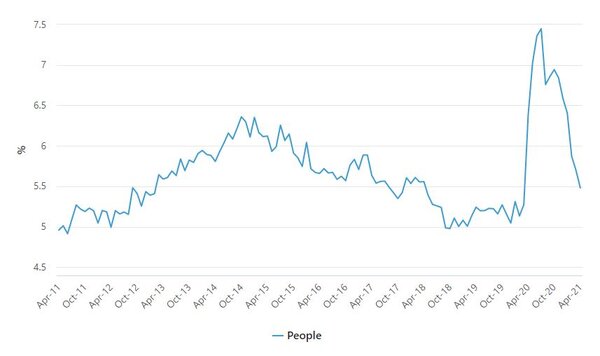 Source: ABS
Hours worked decreased by 0.7% in April, seasonally adjusted, by the ABS noted this was likely due to more people taking leave over the Easter period than usual.
The 31,000 (or 0.2%) fall in employment was due to a decline in female employment, down by 0.6%, while male employment increased by 0.1%.
The falls in both employment and unemployment in April saw the participate rate decrease 0.3 percentage points to 66.0%, close to its pre-pandemic levels.
Underemployment decreased 0.2 percentage points to 7.8% in April 2021, 1.0 percentage point below its pre-pandemic level of 8.8%.
Tasmania had the worst unemployment rate at 6.2%, followed by Queensland (6.1%), and South Australia (5.7%).
Westpac economist Lochlan Holloway with such an extreme holiday effect in April it was difficult to read the underlying momentum in the labour market.
"While there are signs that the ending of JobKeeper may have had only a marginal impact on the overall labour market, we can't be sure," Mr Holloway said.
"We think the RBA (Reserve Bank) will take a similar approach and as such will wait for more data before they can be certain of the strength of the labour market."
---
Photo by Brooke Cagle on Unsplash