Regions across Australia have seen sharp rental value growth, with one region experiencing a 23.7% increase in rent prices.
The past year has seen sharp rental increases across Australia with an overall 6.6% annual increase in rental value, according to CoreLogic.
This is compared to the decade average of 1.8% growth each year.
Regions have led the charge, with South East Tasmania experiencing a 23.7% growth in rent prices over the past year.
"Applying this growth figure to the median rent suggests an increase of $83 per week in rent over the year," said Eliza Owen, CoreLogic Australia's head of research.
"The region has seen a -19.3% decline in total rent listings counted over the June 2021 quarter, compared with June 2020.
"Net internal migration data suggests for the year to June 2020, the South East region saw a positive migration trend, of an additional 660 people moving to the region from other parts of Australia.
"Historic overseas migration to the region has also been positive, and may have contributed to upward pressure on rent values.
Greater Darwin, too, experienced sharp rental price growth, up 21.8% on the year.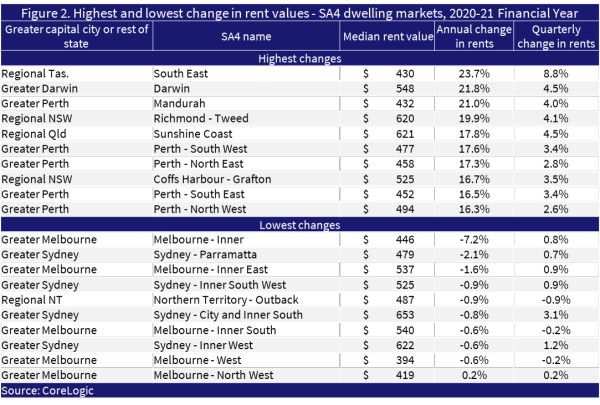 Which regions saw the biggest increase?
According to CoreLogic data, there were ten regions that experienced 'extremely' high growth. The region that experienced the highest growth was Regional Tasmania, specifically the South East region, with a rental value increase of 23.7%.
The following five regions also experienced sharp rental value growth: Darwin, Greater Darwin (21.8%); Mandurah, Greater Perth (21%); Richmond, Regional New South Wales (19.9%); Sunshine Coast, Regional Queensland (17.8%); and Perth - South West, Greater Perth (17.6%).
Divergence between city and country
Despite the overall national rental value increase, there were a few select regions that experienced a rental value decline over the last 12 months.
Most of these regions, apart from one, are located within Greater Sydney and Greater Melbourne.
Most notably, Melbourne - Inner, Greater Melbourne, experienced a -7.2% rental value change.
In addition, other regions that have experienced decline in rental values include: Sydney - Parramatta, Greater Sydney (-2.1%); Melbourne - Inner East, Greater Melbourne (-1.6%); Sydney - Inner South West, Greater Sydney (-0.9%).
Number of rental listings on the decline
In addition to the rental value growth, the amount of rental listings in many areas are on the decline.
Greater Perth's listings, for example, declined 29.5% compared to the previous year.
Mandurah in particular saw a sharp decline, with listings down 40%.
According to CoreLogic data, the Perth rental market's strong uplift may be due to a "longer term retreat of investor activity".
Additionally, the recent rental increases could be exacerbated by "slowly dwindling rental supply", according to CoreLogic.
---
Photo by Nico Smit on Unsplash