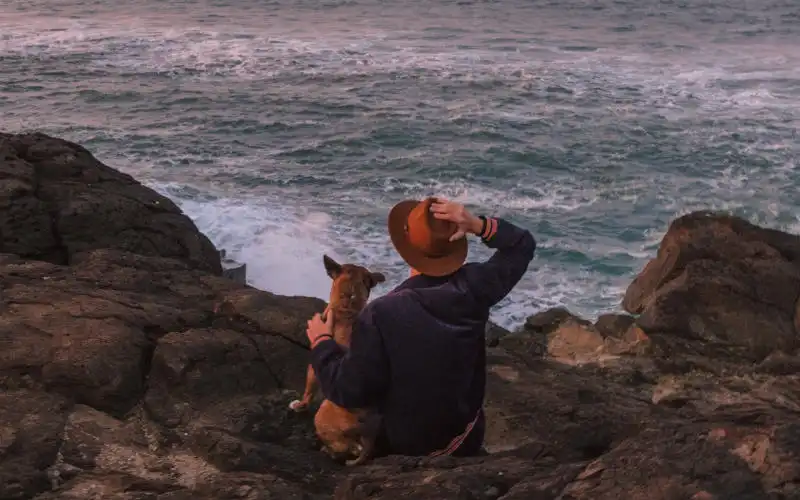 Photo source: Unsplash
Want to know how your rate of savings stacks up against the average Australian? Wonder no more.
Australia's savings rate
Household savings is a topic that's well-covered in Australia. Every month it seems that there's a new report by some institution either saying (A) how good we are at saving or (B) how terrible we are at saving.
The truth is that in the face of everything going on in our economy (housing pressures, slow wage growth, having to pay 15c for reusable plastic bags at the supermarket), Australians seem to be doing ok, but there are some worrying signs.
One of the most worrying signs is the fact that there's been no real pay rise for Australians in real terms in eight years. According to the Melbourne Institute's Annual Household Income and Labour Dynamics (HILDA) report, our median household income has fallen by 0.76% from 2009 to 2019.
With money proving to be tight for a wide range of Australians, what are we doing with what we have? Are we spending it lavishly, or are we being more conservative and stashing it in our savings accounts? Based on research from numerous entities, it looks like the latter.
The table below displays a snapshot of savings accounts in Australia with some of the highest interest rates on the market:
Average savings in Australia
In 2015, a report by Suncorp found that the average savings by Australians was $427 per month. Per year, this figure becomes an average of $5,124. Not too shabby. Those aged 25-34 were the best savers with an average saving of $533 per month ($6,396 per annum).
More recently, ME's Financial Comfort Report in December 2018 estimated the average amount savers are putting away is $862 a month, or $10,300-ish a year, which is more than double that 2015 figure.
ME found the number of households saving each month increased three percentage points to around 51% in the six months to December 2018, while those spending more than their income (aka relying on credit) fell two percentage points to 9%. This level of household saving is the highest level since ME's survey began in 2011, and the overall level of financial comfort has moved from 4.93 in June 2018 to 5.07 in December 2018.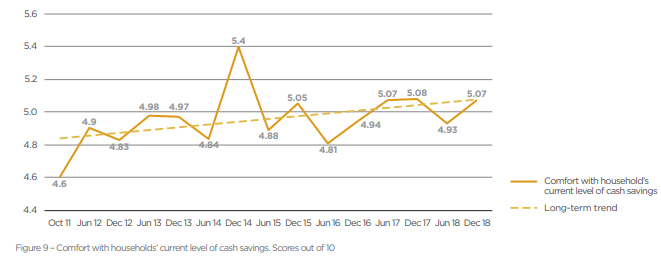 On a scale of 1-10, the average Australian's comfort with their level of savings has improved.
Other key findings from ME include:
27% of Australians have more than $50,000 in savings
24% have between $10,000 and $50,000
49% have less than $10,000 in savings
Not everyone is doing so well though, and there's a fair chunk of that 49% who have way less than $10,000 saved. ME's report found that about 25% of households have less than $1,000 in cash savings, while a similar result in ANZ's 2018 Financial Wellbeing study found 22% of its respondents actually had no savings at all. ANZ also found that 25% of households couldn't always pay their bills on time due to a lack of money.
So while there are plenty of Australians sitting pretty with their savings, there are still too many struggling to save anything at all.
Household savings ratio
The household savings ratio – the ratio of household income saved to household net disposable income – fell to 2.40% in the third quarter of 2018, down from 2.80%. But more recently it rose to 2.50% in the December 2018 quarter before rising again to 2.80% in the first quarter of 2019. To add context, the all-time high savings ratio was 20.40% in the third quarter of 1973, while the lowest was -1.90% in 2002.
Federal Treasurer Josh Frydenberg has previously said a fall in the household savings ratio means Australians are feeling confident about the state of the economy and feel free to spend, but former Shadow Treasurer Chris Bowen said it means Australians' budgets are under "real pressure".
Consulting Economist for ME Jeff Oughton meanwhile said a higher savings ratio can lead to slower economic growth.
"If above-average cash savings and reduced spending behaviour continues during 2019 it could significantly slow economic growth and in turn may lead to smaller job and income gains," he said.
So extra savings might be good for you and your household budget, but it ultimately isn't ideal for creating more jobs and growing wages in the economy. This is the 'paradox of thrift'.
But don't let that dissuade you from saving. Saving money is objectively good for you, as it can lead to both increased financial wellness and increased mental health and self-esteem. ANZ found single people with less than $1,000 in savings had an average 'financial wellbeing score' of 34/100, compared to 50/100 for those with between $1,000 to $4,999 in savings and investments.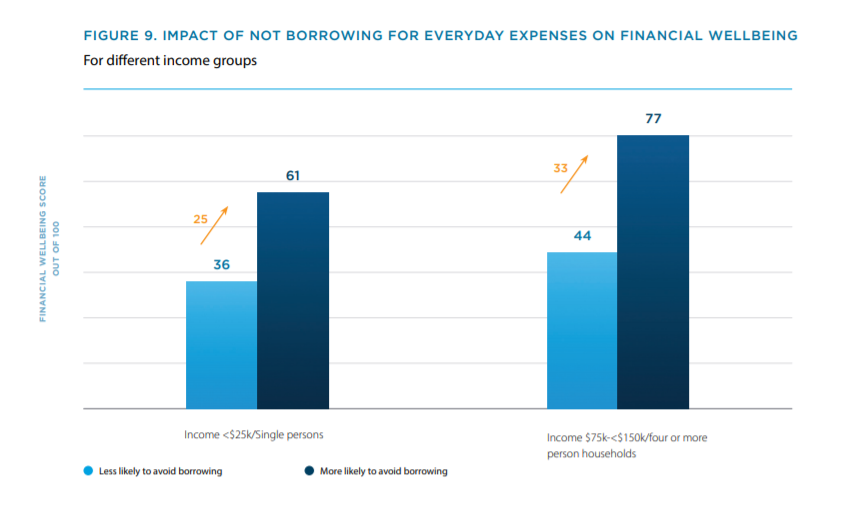 What stops Australians from saving?
Overall, $2.6 billion are withdrawn from Australian savings accounts each year, with more than half of us (57%) using our savings for the odd bill or purchase. Why?
ME's report details why so many Australians struggle to save. It's mainly the cost of necessities and everyday items; 53% of households listed it as their biggest financial worry. Other reasons included:
Unexpected expenses arising, or a change in financial circumstances (41%)
Lack of willpower (27%)
Their goal was unachievable (17%)
Mortgage stress is another big factor, with 45% of households contributing 30% or more of their disposable income towards repayments. When so much of your income is going towards bills, rent, or mortgage repayments, there isn't much leftover to save. Combined with the fact that nearly half of all those surveyed reported no increase in income compared to a year ago, then it's no surprise that so many people are struggling.
The Federal Treasurer Josh Frydenberg attributed this fall in the household savings ratio to Australians feeling confident about the state of the economy and feeling free to spend, but Shadow Treasurer Chris Bowen said it was because Australians' budgets are under "real pressure".
Savings vs debt
So the average household is only saving 2.4% of its disposable income, and as mentioned before, many of us are forced to dip into our savings from time to time. Debt is a big reason for this. UBS found at the start of 2018 that the household debt-to-income ratio in Australia hit nearly 200%, although this does include home loans.
Looking at debt from a more personal level, ME found that 38% of Australians are worried about their debt, with four in 10 people reporting that they're unable to meet their minimum repayments. Across the nation, $50 billion in credit card debt is owed, with interest being charged on $31 billion of it. ASIC found that earlier in 2018, the average Australian owed $3,251 on credit cards. And that's just on credit cards.
While saving money is something everyone should try to do, paying off debt should take priority, especially if you're struggling to meet the minimum repayments. We've written extensively about the damage low credit and loan repayments can do to your financial health here if you want to learn more.
Why do Australians save?
According to a 2016 survey by Westpac, 85% of Australians who save have an actual target in mind. The average target is around $11,200.
The top reasons for at least attempting to save this money were:
Holidays (53%)
Rainy day funds (46%)
Buying

or

renovating

a home (40%)
Other key reasons include:
Building wealth for retirement
Paying off debts
Investing
Increased household savings are also more strongly correlated with both age and wealth, so you'll find people in certain brackets tend to save more.
A research paper by the Reserve Bank in 2014 found high-income households will save far more than 9% of their income, while low-income households will save far less and can even go into negative savings territory. Meanwhile, we save more in our 20s and as we get closer to retirement due to having less financial commitments, while our 30s and 40s primarily see fewer savings due to the increasing consumption required to support a family.
Do Aussies use their savings account?
More often than not, savings accounts are a cheap, easy to use and accessible product that allows you to store money and earn interest to meet savings goals. Yet according to UBank, 35% of Australians didn't have a dedicated savings account in 2017.
This could be for a number of reasons:
They might not know the difference between a transaction account and a savings account.
They might be living paycheck to paycheck
They might choose to invest all their savings in equities, bonds or property instead.
Regardless of what your goal is, having a savings account is useful for keeping money in a safe location and accumulating interest. According to ASIC, 52% of successful savers transfer spare funds to their savings account on a regular basis, while nearly a quarter (21%) set up automatic transfers into their savings every payday.
It's generally a good idea to have at least three to six months worth of living expenses in liquid cash in case something unexpected happens, like losing your job.
Term deposits are a similar product to savings accounts, though they offer a fixed interest rate for a fixed term. If you want to earn a fixed interest rate on your cash, the table below features term deposits with some of the highest interest rates on the market for a six-month term.
Savings.com.au's two cents
Try to be better than the average saver in Australia.
Depending on who you ask, you'll get various answers to the same question: how much should I be saving out of every paycheck? You'll find that most 'experts' will say between 10-30%, but this obviously isn't possible for people who barely make enough to get by, are experiencing mounting debts or have other expenses, like caring for a sick loved one.
The first step towards savings is budgeting – doing a monthly budget of all your expenses can give you a good starting point. From there, you can cut out unnecessary expenses or prioritise the more important ones. You should then move on to clearing debts if you have them. Having money sitting in a savings account might not mean much if you're getting charged through the nose in interest.
When you do decide to set a savings goal, start small, and work from there. Achieving a realistic goal can give you the confidence to kick on and save bigger amounts over time.
---
Latest Articles