Summary:
What is a self-managed super fund?
A self-managed super fund (SMSF) is a private superannuation fund that you manage yourself, rather than through a superannuation provider. SMSFs are designed to give members more control over their super. Superannuation is essentially a savings account for your retirement, and an SMSF allows you to control how much you contribute into this account, and where and how much of it is invested.
How does an SMSF work?
SMSF's have complex rules and regulations to ensure they are compliant. They can have up to four members, all of whom are a trustee. This means each person is equally responsible for decisions made about the fund and its compliance.
When setting up an SMSF, you'll be required to create a trust deed. This is a legal document that sets out the rules for the operation of the fund and its objectives. Any investments should be made in accordance with the trust deed and the obligations charged to trustees.
An SMSF accepts contributions from an employer, just like a private super fund would, and members are also able to make their own contributions (although there are limits to this). It has the same rules around accessing contributions as a regular super fund, with the age threshold ranging from 55 to 60 based on your date of birth.
SMSF minimum balance
There is no minimum legal balance an SMSF is legally required to have. However, given the relatively high costs of setting up and operating an SMSF, it's generally recommended you have a considerably high balance for the SMSF to be worth it. According to 2019 research from the Productivity Commission, SMSFs with a balance below $500,000 averaged lower returns than conventional industry and retail super funds.
It may be viable to start an SMSF with a balance below $500,000 if the trustee is willing to undertake much of the administration of the SMSF and management of investments, or if a large asset will be transferred into the fund within a few months.
Self-managed super fund rules in Australia
The golden rule for SMSF's is the sole purpose test. The rule states the SMSF is used for the sole purpose of providing benefits to members upon their retirement or their dependants in the case of the member's death before retirement.
As well as this, trustees are legally required to:
Follow an investment strategy which will meet your retirement needs and doesn't exceed your risk tolerance
Have the financial experience required to make investment decisions
Organise insurance for fund members
Keep comprehensive records for audits
Act in accordance with the trust deed
The SMSF must also satisfy the conditions for residency:
It must have been set up in Australia or have an Australian-based asset
Members must be Australian residents who will hold at least 50% of the SMSFs assets
The central management of the fund must generally happen in Australia
All contributions and investments must be recorded, as SMSFs are legally required to audit themselves each year. The Australian Tax Office also regularly audits SMSFs to ensure they're compliant. Failure to comply will result in penalties and the fund may be taxed at the highest marginal tax rate of 45%.
Self-managed super funds: pros & cons
SMSFs may provide a range of benefits to members, while also having several potential drawbacks.
Benefits of SMSFs
Control: An SMSF allows you to invest at your discretion, whether that be in shares, commercial or residential property, gold or artwork. You can invest however much or little you wish, at whatever frequency you desire. This is one of the most popular reasons for starting an SMSF, as a superannuation provider typically won't allow its members to have this level of control.
Tax benefits: An SMSF may provide a significant tax break through the income derived from assets. The tax rate for earnings within a super fund during the accumulation phase (pre-retirement) is 15%, which is likely to be significantly lower than the rate trustees would pay if the earnings were added to their taxable income. Additionally, any capital gains made on a property held for longer than 12 months can be taxed at a discounted rate of 10%.
Property purchase: Keeping the sole purpose test in mind, an SMSF may offer a way to build a property portfolio. The rules around the purchase of a residential and commercial property can be complex, but it can also be a viable way to grow your super.
Estate planning: An SMSF may provide a seamless transfer of assets and funds in the event of a trustee's death. This can remove much of the stress of distributing assets between loved ones after a death.
Disadvantages of SMSFs
Time: Running an SMSF can take up a significant portion of your life. According to the SMSF Investor Report April 2019, trustees spend on average eight hours a month managing their fund. You can get professionals to lessen the load, but you'll still be required to take on some responsibility.
Risks: Any investment comes with inherent risk. If you're not experienced in investing and financially savvy, your fund may run into trouble, especially given the strict rules and regulations around SMSFs. If your fund was to become non-compliant then you could face serious consequences.
Costs: To have a fund which produces better than average returns, you may need to have a super balance of over $500,000 to cover costs and get a sufficient return. You can infer from this that running an SMSF is not cheap. There are numerous fees and overheads which include hiring an accountant, as well as any other professionals you may require. Not having a budget could see your fund fall into the red very quickly.
SMSF setup costs
Trust deed, trustee appointment, trustee declaration: $345-$900
Corporate trustee where all members are directors: $916-$2,035
(Source: SMSF Warehouse).
Who pays SMSF setup costs?
SMSF setup costs are paid by each of the trustees, typically equally but this isn't legally required. Costs can be paid out of the fund's balance or using trustees separate funds.
Costs to maintain an SMSF
Annual ASIC fee: $45
Online accounting administration and audit: $665-$1660
ATO Super Levy Surcharge: $259
(Source: SMSF Warehouse).
There are also various fees you'll pay based on where and what you're investing in, and how frequently, as well as varying insurance costs. How often you receive financial advice, valuations on assets, and any other financial assistance will also vary in price. The ATO found in 2018 the average cost of running an SMSF was $6,152, and the median cost was $3,923.
How to set up an SMSF?
Choose your members and structure:
An SMSF can have no more than four members. Once you've chosen how many members there'll be and who they are, you'll need to choose whether you'll have a corporate trustee structure or an individual trustee stucture. A corporate trustee structure means each member is a director of the company and must be registered with ASIC. An individual trustee structure is simply bound by the rules that comes with being a trustee.
1. Create the trust deed
The trust deed sets out how the SMSF will be run and its objectives. It includes the names of members, all of whom must sign and date it.
2. Apply for an ABN
An SMSF is required to be registered with the ATO within 60 days of its creation. This can be done by a trustee or accountant applying for an Australian Business Number (ABN) to the ATO.
3. Set up an SMSF savings account
An SMSF savings account works like a regular savings account does but allows each trustee access, and is used to receive contributions and pay benefits. It's also a legal requirement.
4. Arrange contribution system
You'll need to set up an electronic service address for employers to pay contributions. You'll also need to organise arrangements for the rollover of funds from other super funds.
5. Create investment strategy
SMSFs are legally required to have a documented investment strategy, to satisfy the sole purpose test and guide trustees' decision-making. It should have personal details of the trustees and their financial situation, benefits and liquidity of intended assets and the insurance requirements of trustees.
6. Create exit strategy
Every investment should have an exit strategy prior to the investment being made, an SMSF is no different. This should account for the fund no longer being cost-effective, trustees becoming ill, dying or moving overseas, relationship breakdowns, or wanting to move to another fund.
7. Appoint an auditor
SMSFs are legally required to be independently audited by an ASIC-licensed auditor. Appointing one when setting up the fund can save time and stress, rather than down the line.
How long does it take to set up an SMSF?
With SMSFs required to be registered with the ATO in 60 days, funds will typically be up and running in before this period elapses. However, issuing an ABN can take anywhere from 2-58 days, so the time it takes to set up is very dependent on the ATO.
Is an SMSF worth it?
An SMSF may offer a great way to have complete control over how your retirement savings are invested. Provided you have the financial experience as well as the time and money necessary for generating successful returns, an SMSF can be worth it. It can also provide significant tax benefits, which can provide further savings. However, as the chart below demonstrates, many SMSFs often underperform against retail or industry funds, so you should be confident your desired investments will perform well, otherwise it may be better to stick with a conventional super fund.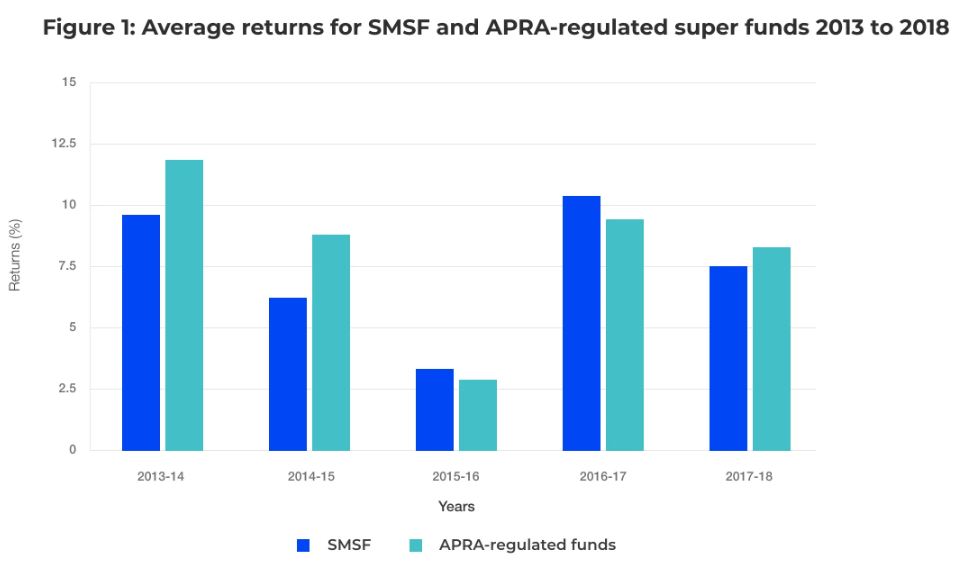 Source: Moneysmart
Self-managed super funds FAQs
1. Can I have an SMSF and an industry fund?
There is no law which prevents you from having an SMSF and an industry fund. Managing your own super means you can make contributions into either, and when you create the SMSF, you're not required to roll over all the funds from your original fund into the SMSF.
2. Can an accountant set up an SMSF?
An accountant can greatly assist in the creation of an SMSF. They can help in the application of your ABN to the ATO, and provide advice when creating the trust deed. They can't solely set up the SMSF though, as trustees will need to decide on things like the structure, trust deed, investment and exit strategy.
3. Can I pay myself for services provided to my SMSF?
Unless you are a qualified professional who uses their qualifications for the services provided, you cannot reimburse yourself. For example, if you are an accountant by trade, and prepare the SMSF's tax return for which you are a trustee, you can pay yourself for this.
4. How much can I contribute to my SMSF each year?
SMSFs are bound by the same contribution caps that apply to conventional super funds. Concessional (before tax) contributions are capped at $25,000 per year, while non-concessional (after-tax) contributions are generally capped at $100,000 per year. As the table below outlines, the non-concessional cap can be brought forward by up to $300,000, depending on your super balance:
| Total superannuation balance | Non-concessional contribution cap and bring forward period |
| --- | --- |
| Less than $1.4 million | Access to $300,000 cap (3 years) |
| Greater than or equal to $1.4 million and less than $1.5 million | Access to $200,000 cap (2 years) |
| Greater than or equal to $1.5 million and less than $1.6 million | Access to $100,000 cap (no bring-forward period, general non-concessional contributions cap applies) |
| Greater than or equal to $1.6 million | Nil |
Source: ATO