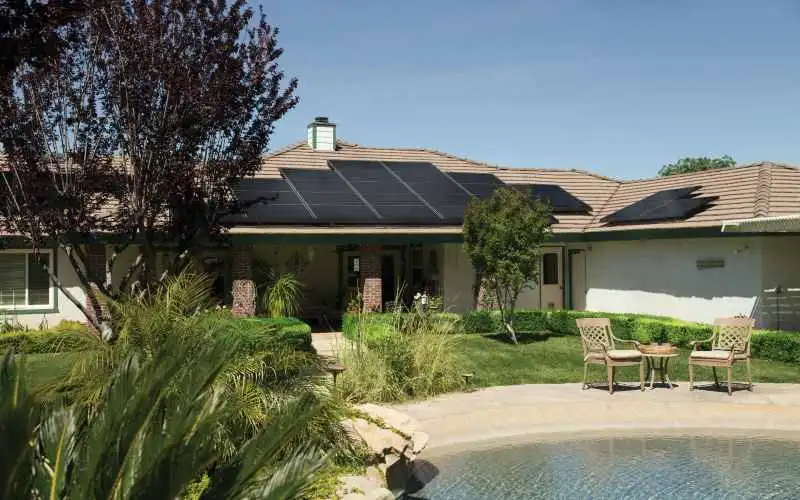 If you're buying, building, renovating or refinancing an environmentally-friendly home, you could be eligible for a green home loan.
Green home loans reward borrowers for making homes more energy efficient and sustainable by offering discounted interest rates that encourage borrowers to be more environmentally responsible.
Which lenders offer green home loans?
A growing number of lenders in Australia are now offering green home loans. Below are all the lenders in Australia who offer green home loans at the time of writing.
Bank Australia: The customer owned bank offers a Clean Energy Home Loan in partnership with the Clean Energy Finance Corporation (CEFC). The Clean Energy Home Loan is available on the Premium Package Home Loan for new and existing customers (including refinancers).

Commonwealth Bank: Existing CommBank customers with an eligible home loan or investment home loan can use the CommBank Green Loan to buy and install renewable technology for their homes.

Firstmac: The non-bank lender offers a Green Basic Home Loan on homes that meet or exceed the seven-star energy rating under the Nationwide House Energy Rating Scheme (NatHERS).

Regional Australia Bank: The Sustainable Home Loan is for owner occupiers who want to invest in environmentally friendly and sustainable features for their new home, or add them to their existing home.

Gateway Bank: The mutual bank's Green Home Loan offers a discounted variable rate on properties with a (NatHERS) rating of 7 stars or higher.
What's the criteria for a green home loan?
Each lender has its own eligibility criteria borrowers have to meet in order to be eligible for a green home loan. It's best to check directly with your lender to find out what its eligibility criteria is.
Generally speaking, to be eligible for a green home loan your new or existing home must meet certain criteria that includes (but is not limited to):
Solar panels

Insulation

Double glazing

Solar hot water systems

Water tanks

Energy storage system
Your home generally also has to meet or exceed a seven star NatHERS rating to be eligible for a green home loan.
What is the NatHERS rating?
The Nationwide House Energy Rating Scheme (NatHERS) is a star rating system out of 10 which rates the energy efficiency of a home based on its design.
The rating system is judged on many factors such as the layout of the home, construction methods and materials used, and how much heating or cooling the occupants may need to use to live comfortably throughout the year.
When applying for a green home loan, many lenders will require a NatHERS Accredited Assessor to complete a Nationwide House Energy Rating Scheme Certificate which shows a NatHERS rating of 7 stars or higher
How is the NatHERS rating calculated?
To calculate a NatHERS rating, a NatHERS Accredited Assessor will use software that models expected indoor temperatures based on data specific to that property, including information on design and construction of the home, climate, and common patterns of household use.
The NatHERS Accredited Assessor then enters data into the software to develop a simulation model of the house or apartment, including:
size and function of rooms

size and specification of openings

building materials/windows/products

type of construction

dwelling orientation

location
The software then models how much heating or cooling the occupants may need to live comfortably during the year by simulating how the local climate heats and cools the house during the day and night.
As soon as the temperate inside falls outside of a 'comfortable' range, the software models the need for heating and cooling based on the assumption the occupants in the house will open or close windows and blinds/awnings before resorting to using heating or cooling.
The total estimated annual heating/cooling requirements are then converted to a star rating out of 10.
It's important to note the NatHERS rating does not take into account things like household appliances, hot water systems or lights because these are usually replaced many times over the course of the building's lifetime.
What are the advantages and disadvantages of green home loans?
| | |
| --- | --- |
| Interest rate discounts. Most green home loans offer lower interest rates than traditional home loans as an incentive for borrowers to build or buy homes that are more environmentally friendly. | Strict eligibility criteria. Unlike traditional home loans, green home loans have far stricter eligibility criteria that your home will have to meet in order to be eligible for the loan. Generally, your property will need to have at least a 7 star NatHERS rating and/or have sustainable features. |
| Higher LVR. Some green home loans also offer a higher loan-to-value-ratio (LVR) than traditional lenders - some lenders allow a 90% or even 95% LVR. This means you can go in with a deposit as low as 5 or 10%, but you will need to pay Lenders Mortgage Insurance (LMI). | Limited lenders. More lenders are beginning to offer green home loans but as it currently stands, the market in Australia is fairly small, which means you'll have fewer lenders to choose from. |
| Reduce your environmental footprint. Besides interest rate discounts, the most obvious incentive of a green home loan is that you get to play a role in fighting climate change by reducing your footprint on the environment and living more sustainably. | |
| Lower your energy bills. Making your home more energy efficient can also lower your power bills, so it's a win-win situation! | |
Savings.com.au's two cents
The market for green home loans may be fairly small in Australia at the moment, but with the looming threat of climate change, it's likely the demand for green homes - and green home loans, will continue to rise.
If you're trying to reduce your environmental footprint and want to lower your energy bills, green home loans are an incentive for borrowers because they generally offer more competitive interest rates than traditional home loans. As the market for green home loans in Australia grows, it's likely the interest rates on these products will become even more competitive, with more lenders tapping into the green craze.
---
Photo by Vivint Solar on Unsplash