Aussies receiving the Age Pension will be handed as much as $49.40 extra each fortnight, starting today, as the payment undergoes its twice-yearly adjustment.
The Age Pension, alongside other payments such as the Veteran Payment, Disability Support Pension, and Carer Payment, has officially been indexed against the consumer price index (CPI).
The maximum rate for singles receiving the Age Pension has been boosted by $32.70 per fortnight, increasing from $1,064 to $1,096.70.
Meanwhile, couples on the Age Pension could receive as much as $49.40 more a fortnight, taking their combined maximum rate from $1604 to $1653.40.
Maximum rates for Rent Assistance have also been increased as of today, as promised in the 2023 Federal Budget.
While that will likely help to ease the pressure felt by older Australians amid the cost-of-living crisis, more support, particularly for renters, is needed, according to National Seniors Australia chief advocate Ian Henschke.
"More can be done to support older people doing it tough," he said.
"We recently heard from a couple paying $920 a fortnight in rent.
"As pensioners, this leaves them with only $907.40 a fortnight to pay for food, fuel, utilities, and other expenses."
The 2023 National Seniors Social Survey, which saw more than 6,000 Aussies over 50 years of age respond, found low-income earners and renters are disproportionately struggling against cost-of-living pressures.
Nearly 40% of renters were found to be severely impacted be the cost-of-living crisis, compared to 28% of mortgage holders and 11% of homeowners.
While over a third of those in the lowest income bracket (receiving under $500 a fortnight) were also severely impacted, compared to just 2% of those receiving upwards of $4,001 a fortnight.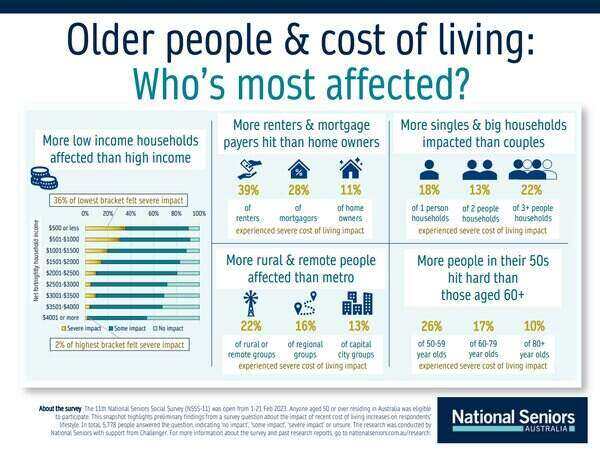 Image courtesy of National Seniors Australia.
Meanwhile, new research from AMP has found older Australians lack financial literacy when it comes to retirement, likely leading them to underspend in a way that impacts their lifestyle.
Of more than 1,000 Aussies aged over 50 surveyed, three quarters said they're struggling with the complex job of managing their retirement finances.
More than 40% didn't know if they'll be eligible for the Age Pension and seven in ten didn't know what an account-based pension is (it's the main income-generating option for Australians in retirement).
"This research highlights a knowledge gap when it comes to retirement, but we also know that traditional retirement solutions have some inadequacies," said Ben Hillier, AMP general manager of retirement solutions.

"They either expose people to the fear of running out of money in retirement, or they provide levels of income which are too low.
"The combined effect is that retirees lack the financial confidence to spend in retirement and are living more frugally than they need to.
Indeed, more than half of National Seniors Social Survey respondents believed they would outlive their retirement savings, while 85% worried about doing so.
One way to provide peace of mind to anxious retirees, according to Mr Henschke, is to reduce the Age Pension income test taper rate.
"What we need is additional targeted support for people with limited means and to stop punishing those who need to work," Mr Henschke said.
Currently, non-transitional pensioners see their payments cut by 50 cents for each dollar earned over set thresholds – $204 a fortnight for singles or $360 a fortnight for couples.
In New Zealand the pension is universal, no matter income levels or hours worked.
National Seniors Australia is calling for the income test taper rate to be reduced from 50 cents to 32.5 cents, in line with the tax system.
"We want a change to income test rules for pensioners who want to work and work more," Mr Henschke said.
"It's simple, fair, will help solve critical workforce shortage, and boost the budget bottom line."
Image by Tim Mossholder on Unsplash.