The biggest spenders across Australia are tipped to lie across the east coast, with billions expected to be spent in each of the three biggest states.
NAB data forecasts New South Wales residents to make the most of sales, forking out the largest amount of cash at $1.74 billion.
Hot on their heels lies Victoria with a forecasted expenditure of $1.45 billion, followed closely by Queensland with $1.12 billion.
NAB Group Executive for Personal Banking Rachel Slade said the shopping season was already well and truly underway.
"Despite originating in America, Black Friday and Cyber Monday are now a shopping bonanza in Australia," Ms Slade said.
"One in six of all November retail sales happened during this four-day period last year and we're anticipating similar trends this year as the economic bounce back continues.
"Our most recent estimates show e-commerce makes up about 15% of all retail sales during the year, but this surges to almost 30% during this discounted shopping period."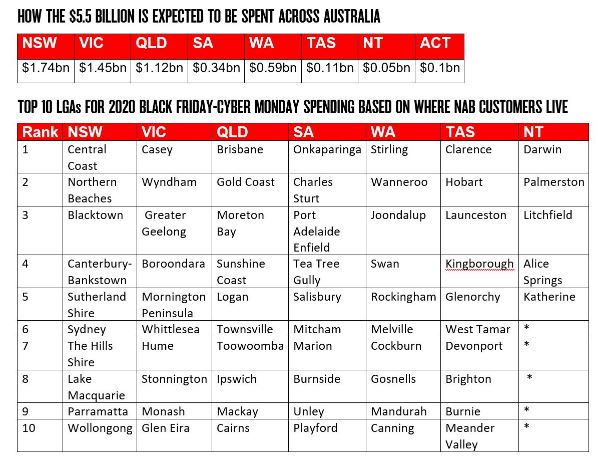 Source: NAB
CommBank Merchant data revealed spending over the four days from Black Friday to Cyber Monday inclusive in 2020 (27 – 30 November) climbed 14% in comparison to the week prior.
Head of Consumer and Diversified Industries in CBA's Business Banking division Jerry Macey, said shoppers across the country are increasingly taking advantage of the recent move towards pre-Christmas discounting and expects this trend to continue.
"Businesses are viewing the Black Friday and Cyber Monday weekend period as an opportunity for them to grow their customer base as spending patterns and behaviours change," Mr Macey said.
Millennials and Gen Z are primed for bargains
Data from Klarna's new Black Friday, Cyber Monday report highlights almost 80% of Millennials and Gen Z are heading into the November sales knowing what they're looking to buy, and have been waiting for sales to buy big ticket items at a discount.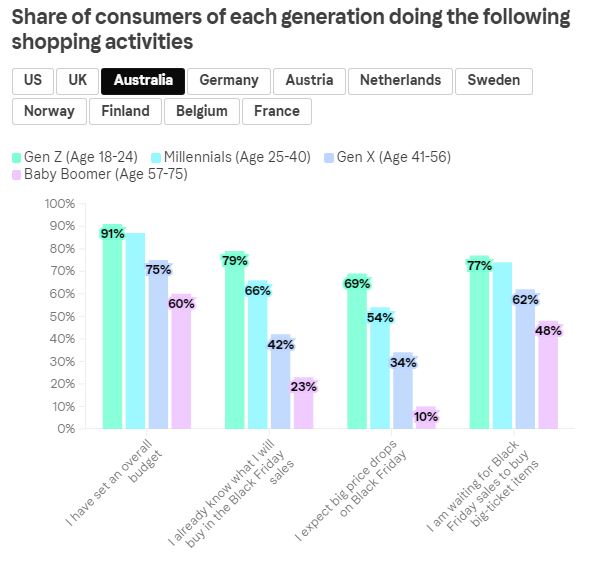 Source: Klarna
The report surveying 11,000 people across 11 different countries found within Australia, 9 in 10 Gen Z'ers and almost as many Millennials have set an overall spending budget for the Black Friday weekend.
Mathew Hosking, Klarna's Head of Partner Success for ANZ said that shoppers are more likely to opt for interest-free options at checkout this year.
"54% are planning to use debit over credit (48%), and almost half (47%) are looking for flexible payment options which help people spread out the cost of the holiday season and give them more control over their budget during this busy period," Mr Hosking said.
Image by Wokandapix via Pixabay