The Reserve Bank of Australia (RBA) outlined their concerns that households will cut back even further on their spending in a speech to the building and property industry yesterday.
As consumer spending currently makes up 60 per cent of economic activity in Australia, it's easy to understand the RBA's concerns. Any further downturn would significantly slow down the broader economy.
The RBA's assistant governor (economic) Luci Ellis said stagnating disposable income growth as a result of rising income tax is a driving factor behind people's decision to shut their wallets.
"Income payable – the things deducted from gross income to calculate disposable income – increased by nearly 6 per cent in 2018," Ms Ellis said.
"This was significantly faster than growth in gross household income."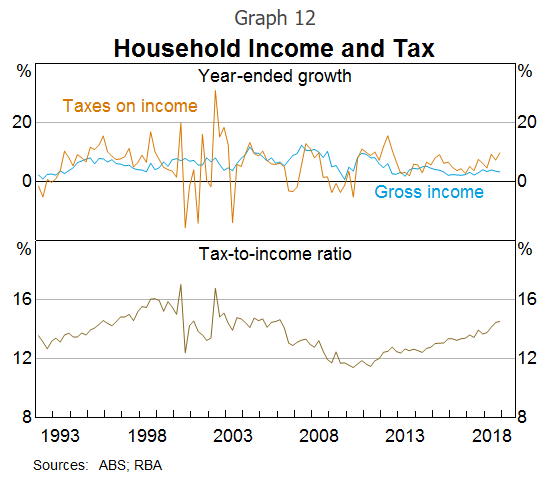 Ms Ellis said personal taxation is now exceeding income growth – essentially, the average Joe's tax bill has been growing at a faster rate than their income over the last five years.
RBA pours cold water over fears that falling property prices are to blame
Ms Ellis says it's taxation growth, not falling house prices, that's causing households to slash their spending.
"There has been a deal of talk about the possibility that 'wealth effects' from declining housing prices might be weighing on spending," she said.
"It's important to remember, though, that people's reaction to a fall in prices is likely to depend partly on how far prices had increased previously."
The RBA's research revealed falling home prices are affecting car sales and household goods more.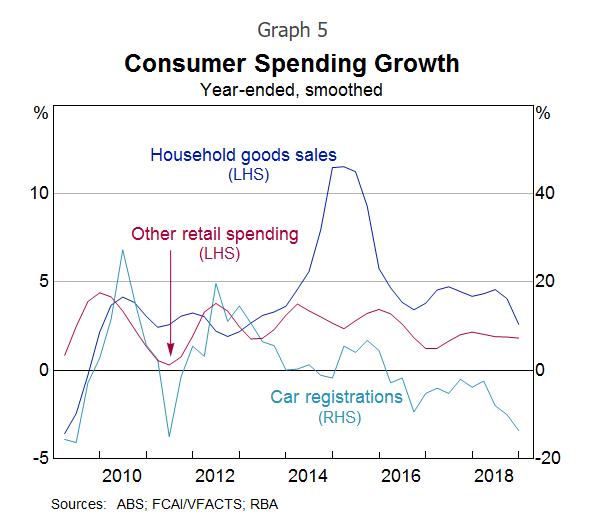 "It isn't so much that people wake up in the morning, realise their home is worth more, and decide to go out shopping.
"Rather, if their home is worth more, they can borrow more against it, which matters for some people's decisions to buy a car. And because rising house prices usually occur in the context of high rates of transactions in the market, spending on home furnishings tends to rise and fall with housing prices.
"So when housing prices decline, turnover also declines. This means there are fewer people moving house and realising their old couch doesn't fit or they need new furnishings in the bedroom," Ms Ellis said.
Essentially, most people don't want to take out a big car loan against the falling value of their home, and (generally speaking) most people shop for furniture when they move – which they're not doing if home prices are going down.
For feedback or queries, email emma.duffy@savings.com.au
Photo by Jacek Dylag on Unsplash
---
---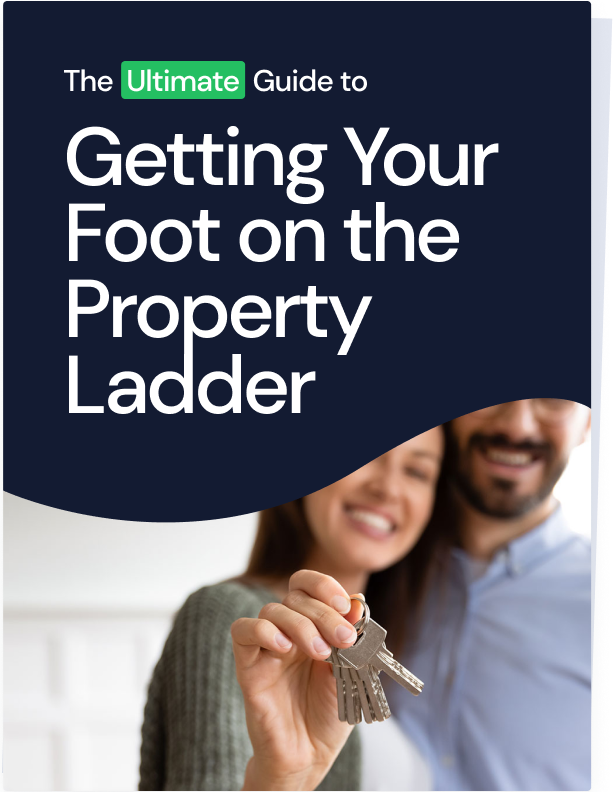 Ready, Set, Buy!

Learn everything you need to know about buying property – from choosing the right property and home loan, to the purchasing process, tips to save money and more!

With bonus Q&A sheet and Crossword!