Photo by Erik Mclean on Unsplash
A new report has found that during the COVID-19 pandemic, Aussie gamblers found ways to gamble more overall, despite venues being shut.
The Australian Gambling Research Centre surveyed over 2,000 Australian gamblers online between June and July 2020.
Most of the participants (79%) reported having gambled at least once a week over the past twelve months.
Need somewhere to store cash and earn interest? The table below features introductory and ongoing savings accounts with some of the highest interest rates on the market.
Lender

---

4

0

0

0

$product[$field["value"]]

$product[$field["value"]]

$product[$field["value"]]

More details

FEATURED

Online Saver (Amounts < $499999)

4

0

0

0

$product[$field["value"]]

$product[$field["value"]]

$product[$field["value"]]

More details

High Interest Savings Account (< $250k)

4

0

0

1

$product[$field["value"]]

$product[$field["value"]]

$product[$field["value"]]

More details

0

50

0

$product[$field["value"]]

$product[$field["value"]]

$product[$field["value"]]

More details

0

0

0

$product[$field["value"]]

$product[$field["value"]]

$product[$field["value"]]

More details
Rates based on a savings balance of $10,000. Sorted by total interest rates. Refer to providers' websites for bonus rate conditions and for any applicable fees and charges. Rates correct as of June 26, 2022. View disclaimer.
The report found that even with limited access to gambling venues like casinos and poker machines, the proportion of respondents who gambled four or more times per week rose from 23% to 32% over COVID.
An increase in the use of online gambling was one of the biggest reasons why.
Almost one in three signed up for a new online betting account during COVID-19, and one in 20 started gambling online.
While there were "statistically significant" decreases in gambling on land-based products, like:
poker/electronic gambling machines or 'pokies' (before 35%, during 14%)
instant scratch tickets (before 13%, during 10%)
keno (before 12%, during 6%)
casino table games (before 10%, during 3%).
Horse racing, sports betting, greyhound racing and lotto were the main products that participants gambled on before and during COVID-19.
There were also noticeable increases in betting on 'other novelty events', which can include things like the colour of ScoMo's tie in a press conference or even the weather, or 'loot boxes' which encompasses video game gambling.
On average, before COVID-19, 62% of participants' gambling was conducted online; during COVID-19, this increased to 78%.
Participant responses to the survey indicate increased boredom due to isolation, and the fact that 80% of them could be classified as people experiencing gambling harm, were reasons for shifting to new methods of gambling.
"I found that due to being so bored in isolation that my friends and I would put stupid bets on horses/dogs/overseas sport with little to no knowledge of the sport just to get a thrill out of it. This hit all of us quite hard financially," one respondent (male, 18 said).
"No sport for a little while meant I ended up betting on weather markets or e-Sports and then looked at myself and said what the hell am I doing," said another (male, 25).
Overall, the proportion of gamblers who gambled at least once a week rose from 79% to 83%.
Males and young people were much more likely to increase their gambling frequency.
"I've definitely gambled more. I am not a big gambler at all, but I broke my rule during COVID (to never download an online betting account), given TABs were inaccessible. I have bet more on impulse as a result, even though the net amount is quite low," a respondent (male, 28) said.

Source: Australian Gambling Research Centre
Young people, males increase gambling spend
Overall, the report found that median expenditure decreased from $500 in the 30 days before COVID to $460 during, but it also said this fall was not statistically significant.
The report did observe that male participants increased their spending, while females lowered theirs.
Young people aged 18-34 years increased overall spending while older age groups reduced spending, but the largest increase in spending was among young men aged 13-34.
This age group increased its gambling spend from $687 to $1,075.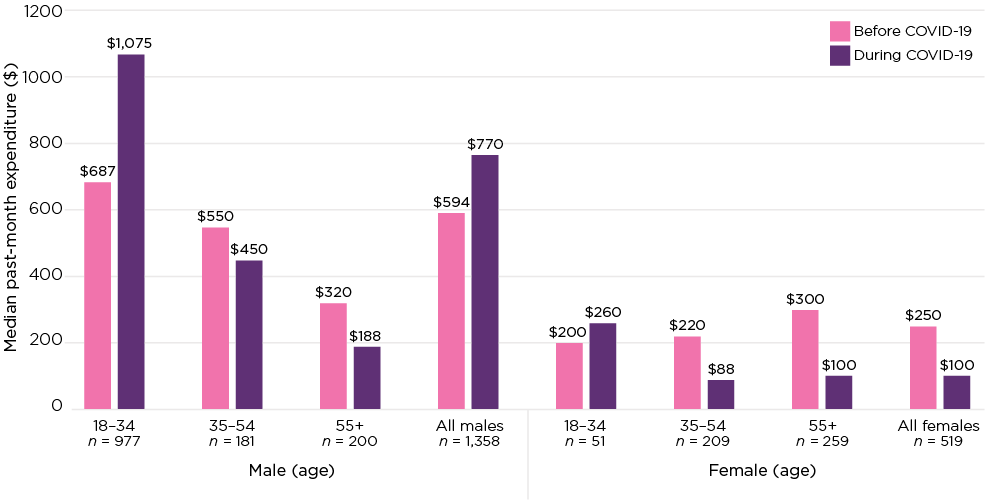 "Gambling is so easy to do anywhere any time and it doesn't feel like you're spending real money when you're able to do it over your phone, one respondent (male, 28) said.
"You spend less at the pub betting because you can see and feel the cash and are more reluctant to bet it. Over your phone you can't see the money and it's way too easy to get carried away and continue betting when you should stop."
[Read: Early superannuation withdrawals spent on gambling, alcohol and clothes]
Bank Australia bans gambling transactions
With gambling becoming easier and more accessible by the day, Bank Australia yesterday joined the growing list of banks to restrict gambling activity with its card products.
Bank Australia wrote to customers telling them that from 1 December this year, its credit cards cannot be used for gambling transactions.
Its debit cards however can still be used.
"Our research shows the majority of our customers believe credit cards should not be used for gambling, and as a customer-owned bank, our customers' opinions are a big part of our decision making," Bank Australia said.
"Under our Responsible Banking Policy, we don't lend money to the gambling industry including casinos, online gambling operators or businesses that derive revenue directly from poker machines or sports betting."
Other banks to make similar moves include the likes of Macquarie Bank, Suncorp, American Express and Citibank.
Earlier this year, NAB became the first bank in Australia to give customers the ability to block gambling transactions from its mobile app.
In total, Australians lose just under $25 billion each year to gambling.
Gambling help
If you are someone you know is struggling with gambling issues, contact the Gamblers Helpline on 1800 858 858 or visit gamblershelp.com.au.
The Gambling Help NSW hotline on 1800 858 858 is also open 24 hours a day and is free and confidential.
---
Latest Articles