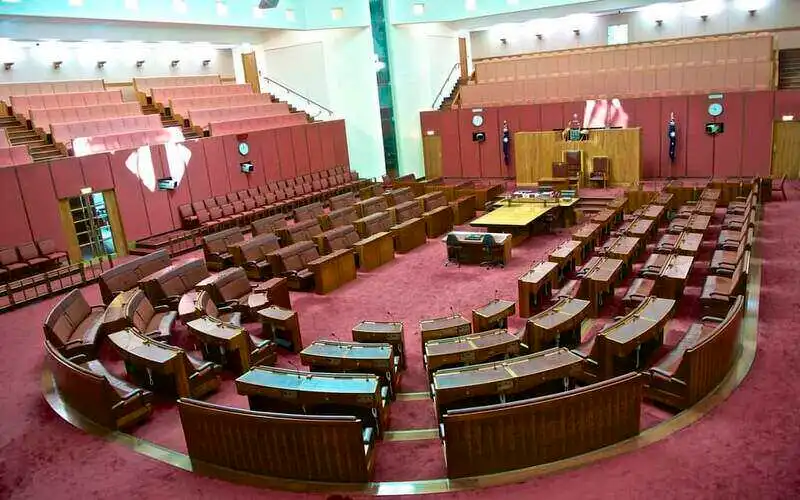 Wednesday's announcement of a $50 fortnightly JobSeeker increase is set to be challenged by a new Senate Inquiry.
The Government's decision to increase JobSeeker's base rate by $3.57 per day once the coronavirus supplement ends at the end of March was strongly opposed by some.
While the government is standing by its decision, critics were disappointed enough to submit a motion to Parliament to amend the decision via a Senate Inquiry, which is what Greens Senator for Western Australia Rachel Siewert did.
Senator Siewert, who first labelled the new payment "a cruel joke", tabled the motion which passed The Senate yesterday by 31 to 30.
The Senate has just supported my motion calling on the Government to immediately revise its #JobSeeker announcement and increase the Jobseeker Payment to be above the poverty line. pic.twitter.com/hCTSnkEij3

— Rachel Siewert (@SenatorSiewert) February 24, 2021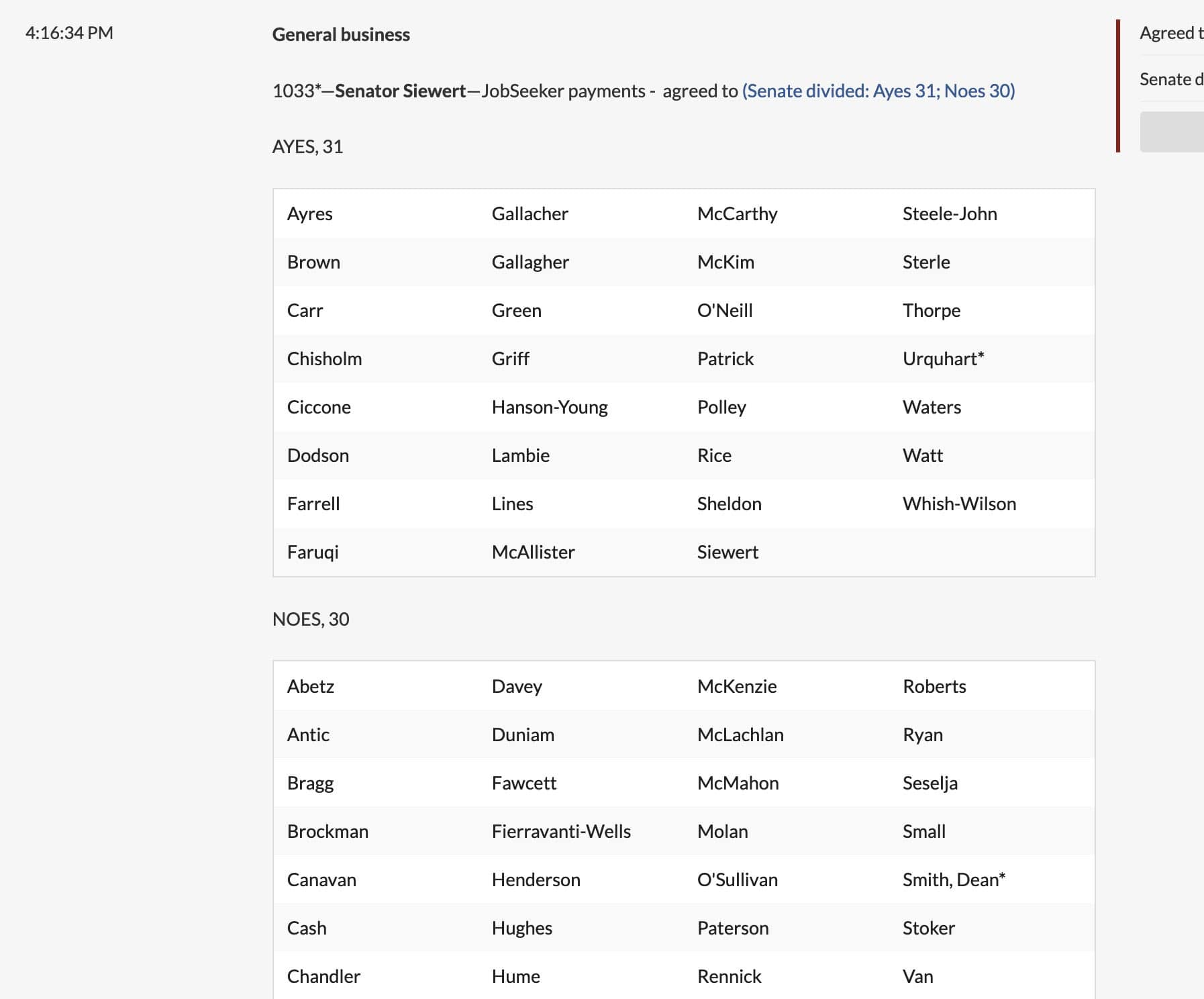 The bill narrowly passed, with 31 Ayes and 30 Noes. Source: Twitter.
"$44 a day is not enough to live on. This will mean people going without meals, without medication, without the funds to pay for heating or cooling," Senator Siewert said.
"This is a cruel decision, not based on evidence about what is best to support people to find work nor what is best for the economy.

"We will not stop campaigning until we have an increase that is over the poverty line."

The 'poverty line' has several different definitions:
The Henderson Rate (via the Melbourne Institute) describes it as high as $1,100 a fortnight
The Australian National University defines it as $816 a fortnight
The OECD defines it as

half the median household income of the total population
The inquiry is now taking submissions from experts and the general public until 5 March, and will move to the next state on the 12th.
It has already received support from the Australian Council of Social Service (ACOSS), with CEO Dr Cassandra Goldie saying people on JobSeeker will be able to share their experiences with Senators.
"The community sector, union movement, business community, economists and academics will also be able to confirm their view that $44 a day is nowhere near enough," she said.
"The Australian Parliament has the power to amend the Government's legislation to improve the increase beyond the paltry $3.57 a day the Government announced this week."
The Department of Social Services (DSS) declined to comment when contacted by Savings.com.au for a response to this inquiry.
Lower payment could actually cost jobs
While the government's main rationale for its decision was to get Australians off the social safety net and back into work (which has been happening), the opposite may end up happening.
According to the Grattan Institute's Household Finances Program Director Brendan Coates, it could end up costing up to 40,000 jobs via lost spending in the economy.
"JobSeeker is one of the best forms of fiscal stimulus there is: unemployed people are likely to spend all or at least most of what they receive. In January this year 80% of people receiving the Coronavirus Supplement said they were spending it on household bills and supplies, including groceries," Mr Coates said.
"That's money in the pockets of Australian businesses, big and small.
"Cutting unemployment benefits by $50 a week will take about $5 billion out of the economy in the coming year. And that means up to 40,000 fewer jobs."
See also: Most JobSeeker, JobKeeper payments being spent on the essentials
Another piece of analysis by the Australia Institute showed higher unemployment benefits are correlated with lower rates of unemployment across OECD countries to a point.
According to Senior Australia Institute Economist Matt Grudnoff, if the government were correct in saying a lower payment means less unemployment, Australia would've had the lowest unemployment rate in the OECD.
"Instead, Australia's unemployment rate is worse than that of most OECD countries," Mr Grudnoff said.
Prior to the pandemic, the net replacement rate of Australia's income support for singles with no children that had been unemployed for two months was the lowest of all OECD countries, and is now the second-lowest ahead of Greece.
For previous in-work earnings at the average wage, Australia's net replacement rate for this category of unemployed was 27%, although it's worth noting that Australia has a relatively high average wage.
Also, many OECD countries have different unemployment arrangements, such as ones that allow workers and their employers to make contributions to and withdrawals from unemployment insurance. Australia is also one of the few that offer unemployment benefits in perpetuity, with other countries halting the payments after a set number of months.
In 2019, Australia's unemployment rate ranked 20th out of 33 OECD countries at 5.2%.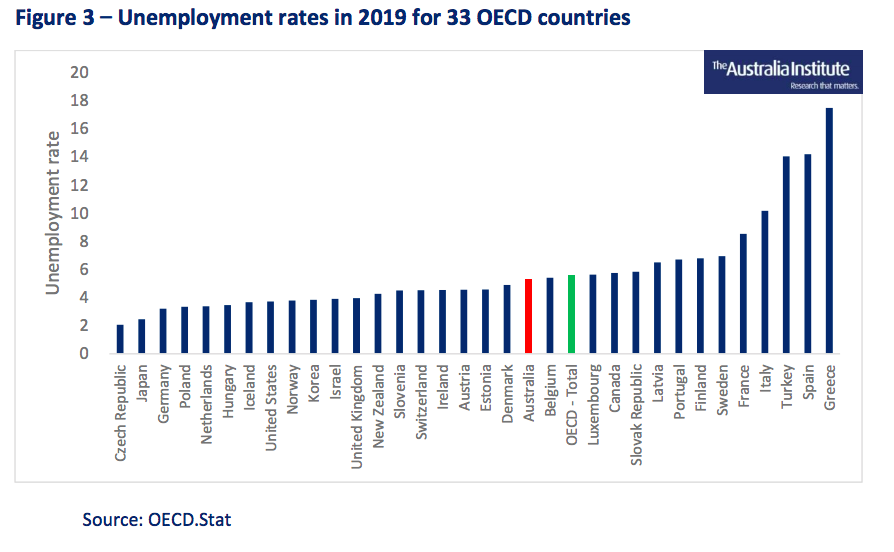 Mr Grundnoff said there were 19 countries that had higher benefits and fewer unemployed people.
"For example, Germany has unemployment payments twice as high as Australia's. Germany's unemployment rate is lower than Australia's at 3.2% compared to 5.2%," he said.
He also told The New Daily that having punitive payments actually acts a problem for people seeking out jobs.
"If you need to travel, if you need to dress appropriately, if you need to be at a certain place at a certain time for a job interview and you don't have the money to do those things, then you're not going to be able to apply for work."
---
Image via Wikipedia Commons