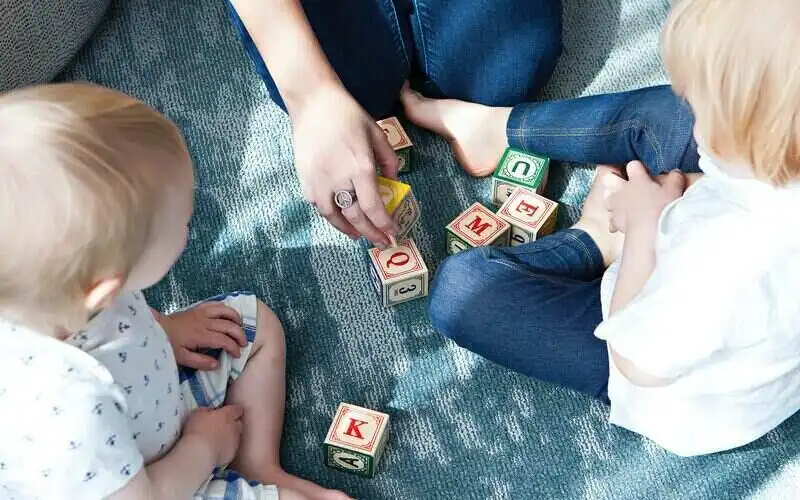 Photo by Marisa Howenstine on Unsplash
Spriggy is an app designed to turn kids pocket money into lifelong good financial habits.
COVID looks to have accelerated the demise of cash, with ATMs dwindling and the tangibility of cash swapped for digital wallets.
Spriggy has looked to capitalise on this digital shift, offering an app that both parents and kids can use to distribute pocket money, make purchases, and learn about financial wellbeing.
Need somewhere to store cash and earn interest? The table below features savings accounts with some of the highest non-introductory and introductory interest rates on the market.
Lender

---

4

0

0

0

$product[$field["value"]]

$product[$field["value"]]

$product[$field["value"]]

More details

FEATURED

Online Saver (Amounts < $499999)

4

0

0

0

$product[$field["value"]]

$product[$field["value"]]

$product[$field["value"]]

More details

High Interest Savings Account (< $250k)

4

0

0

1

$product[$field["value"]]

$product[$field["value"]]

$product[$field["value"]]

More details

0

50

0

$product[$field["value"]]

$product[$field["value"]]

$product[$field["value"]]

More details

0

0

0

$product[$field["value"]]

$product[$field["value"]]

$product[$field["value"]]

More details
Rates based on a savings balance of $10,000. Sorted by total interest rates. Refer to providers' websites for bonus rate conditions and for any applicable fees and charges. Rates correct as of June 27, 2022. View disclaimer.
---
What is Spriggy?
Launched in late 2016, Spriggy describes itself as a family finance fintech, centred around a mobile app for digital pocket money, and boasts over 400,000 members.
Its app aims to take the place of a regular savings account, while also offering financial education and tools to meet savings goals.
It comes with a personalised prepaid card for kids aged 6-17 years old and is designed to be used in partnership with parental supervision.
Parents can transfer money to their children using the app, with the family working together to understand how budgeting works by tracking transactions and deposits, as well as where the money is being spent.
Co-founder and co-CEO of Spriggy, Alex Badran, said the company was originally targeting Millennials, but soon realised good financial behaviour started earlier on.
"We learnt early on that you learn about money when you're young. So if you're learning about money in your 20s to 30s, it's already a bit too late," Mr Badran told Savings.com.au.
"There's no easy way to manage money with your kids."
Spriggy has looked to fill that hole in the market, offering an app which lets parents digitally pay pocket money, and teach kids how to utilise finances.
The app itself is colourful and engaging for children, and user friendly for both the parents and kids.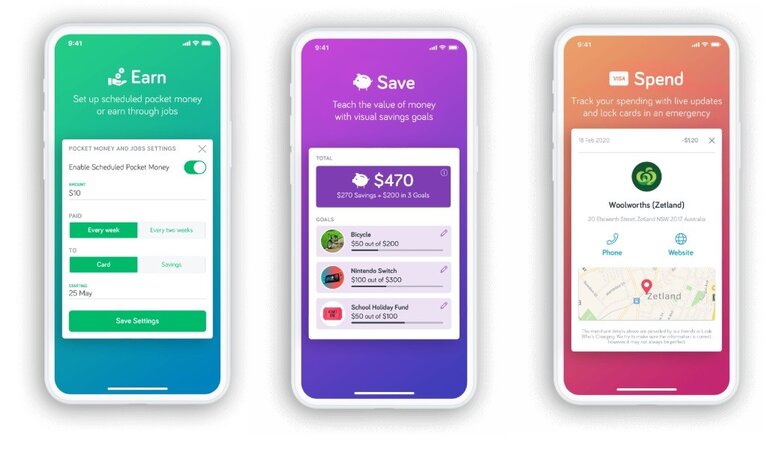 Source: Spriggy
---
Spriggy's features
Spriggy isn't just a digital wallet for kids, it comes with a wealth of features designed to educate children on money.
Parent Wallet
You can transfer money to your child's Spriggy card from any bank account. This money first goes to the Parent Wallet, which only the parent can see and access. Parents can transfer money to and from the Parent Wallet, giving them control over their kid's spending and the supervision of when the funds are distributed.
Spriggy also has the option to set up regular payments from the Parent Wallet to the card. So if you wanted to have a weekly $10 pocket money transfer to your child's card, Spriggy could do that for you.
Themed Visa cards
Children get a superhero-themed Visa card of their choice, with options like Batman, Wonder Woman, and Superman. The card can be used to make purchases online or in-store wherever Visa is accepted (including overseas, with a fee) and can also be added to a digital wallet.
Kids can tap and go purchases under $100, and need to insert the card for purchases greater than this. Should the card be misplaced, parents or kids can lock the card from the app to prevent someone else using it. You can also reactivate the card from the app.
You can't use the card to withdraw money from an ATM, but Spriggy said this could change in the future.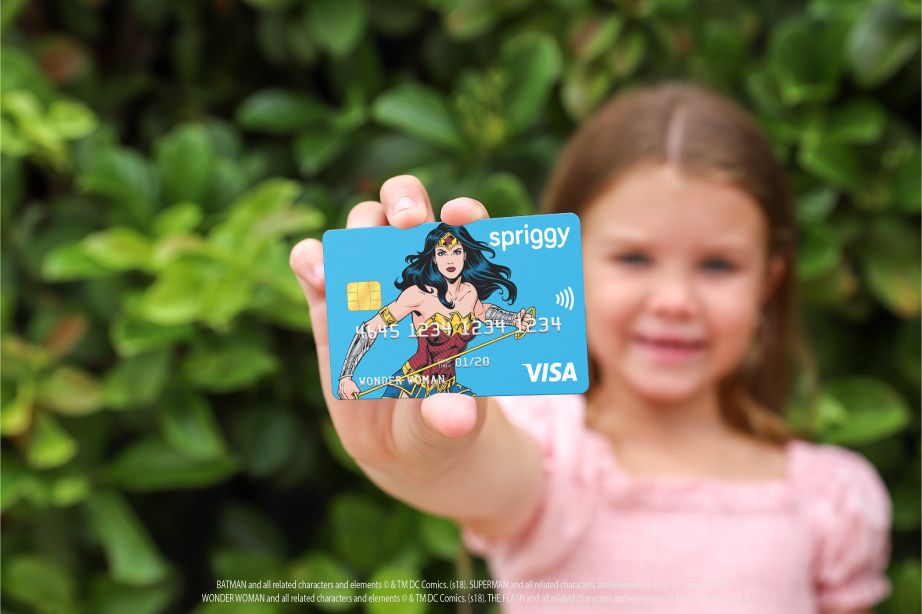 Source: Spriggy Twitter
Spriggy Jobs
The Spriggy Jobs feature allows you to set regular or one-off tasks for your children to complete to earn their pocket money.
Spriggy Family Groups
The Spriggy Family Groups feature allows you to create a group in the app for your family, no matter how big or small, to contribute to the kids' pocket money and track how they're going. You can use the feature to invite extended family and friends to the group, and also set up Spriggy Jobs.
Savings goals
You can use the app to set and track savings goals for your children, teaching them how to budget in real-time.
Minimum and maximum deposits
Deposits to the Visa card must be greater than $10 and can't exceed $1,000, as the card has a maximum balance of $999. There's also a transaction limit of $250 per transaction.
Notifications
Children and parents get real-time notifications when the Visa card has been used, detailing where the money was spent and how much was spent.
How much does Spriggy cost?
Spriggy offers a 30-day free trial and then has an annual $30 fee per child.
It costs $10 for replacement Visa cards and there is a 3.5% surcharge on international purchases.
Is Spriggy better than a savings account?
With savings account rates close to zero, Mr Badran said Spriggy's financial education tools were superior to childrens' money-earning almost nothing.
"Fundamentally it's very important to learn about making good decisions around your money from an early age, and if you have kids money sitting in a savings account earning little to no interest, then you're losing the opportunity to teach them the healthy habits that come with managing money," he said.
"We do see a lot of our parents use our product in conjunction with a savings account and we believe that savings accounts are fundamentally important for all age groups, however, it's not the full picture.
"We believe you live and die by your habits and building healthy habits around your money from an early age is very important and Spriggy allows parents to not only have conversations with their kids around saving but get real-world experience with their own money where they need to learn to resist the things they don't want to buy, save for the things they do want to buy and have consequences for those decisions."
Mr Badran added Spriggy didn't advocate for families to go cashless but wanted the app to be used in conjunction with cash.
"As cash becomes more digital, whether we like it or not, kids need to learn those behaviours early on around managing digital money.
"The reality is, cash is becoming less prevalent, so the more prepared we are for a digital world, the better our kids will be."
How to start using Spriggy
If you want to sign up to Spriggy, you'll need to fulfil the following eligibility criteria:
Kids must be aged 6-17 years old.

Parents need an active email address, Australian mobile number and an Australian bank account with a linked debit card.

Parents and children need an Apple or Android phone Spriggy can be downloaded too.
Once you've ticked these boxes, you'll need to do the following to start using the app:
Download the app from your app store of choice.

Register in the app and plug-in all of your details.

Once you've created you and your child's account, your child will receive their Visa card in 7-10 days. You can activate the card in the app using the last four digits on it.

Enter your bank details into the app and transfer money into the Parent Wallet. You can then transfer money to your child's Visa Card and they can start saving and spending.
---
Latest Articles