According to Delia Rickard, Deputy Chair of the Australian Competition and Consumer Commission (ACCC), this total loss was $149 million higher than in 2017.
"These record losses are likely just the tip of the iceberg," Ms Rickard said.
"We know that not everyone who suffers a loss to a scammer reports it to a government agency."
Investment scams surged 34% from 2017 to hurt Aussie finances the most, causing losses of $86 million.
There was also a 44% increase in the cost of dating and romance scams from $42 million in 2017 to $60.5 million in 2018.
Ms Rickard said these losses were "extraordinary" and showed that scammers are causing financial and emotional harm to many Australians.
"Scammers are adapting old scams to new technology, seeking payment through unusual methods and automating scam calls to increase their reach to potential victims," she said.
Of the $489.7 million in reported losses in 2018, $107 million were reported to the ACCC's Scamwatch team, which received 177,516 reports of scams over the year.
The average loss reported to Scamwatch was $5,997.
Scamwatch's data show that men were hit with by $56.9 million in losses to scams and women slightly less at $48.8 million.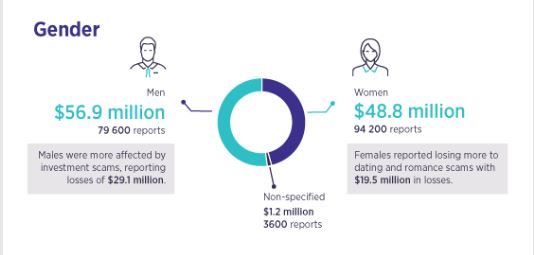 Men were reported to be more affected by investment scams while women reported bigger losses to dating and romance scams.
Other types of scams included false billing, remote access scams, threats, online shopping scams and hacking.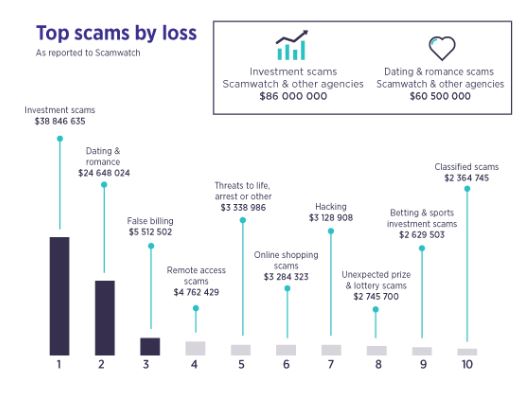 One notorious scam hit thousands of Australian households in late 2018 with automated phone calls from scammers impersonating the Australian Tax Office (ATO).
Victims of these scammers were told they owed money to the tax office and were threatened with arrest unless these unpaid taxes were paid.
#EXCLUSIVE: You may have heard of the recent ATO scam... Foreigners cold call and say, you have a huge debt that needs to be paid immediately. Sadly, many Aussies have already fallen victim to their lies.#9ACA | WATCH THE FULL STORY: https://t.co/HBhAjzUiPe pic.twitter.com/L1OeutEDDW

— A Current Affair (@ACurrentAffair9) December 17, 2018
Ms Rickard said scammers combine pressure and fear tactics with technology to trick people into sending money.
"Scammers increasingly ask for money via iTunes cards, Google Play cards and cryptocurrencies to avoid the anti-scam measures employed by banks and money laundering detection systems," she said.
The ACCC encourages people to report scams on the Scamwatch website and subscribe to Scamwatch radar alerts or follow them on Twitter to keep up with advice for avoiding the latest scams.