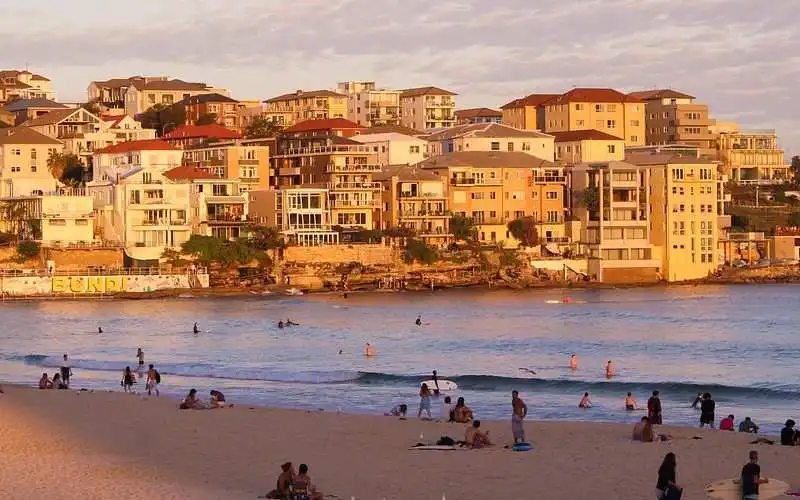 Source: Pixabay
The latest dwelling approval data highlights Australia's lack of medium density properties, according to a research report from property analytics firm Corelogic.
"The persistently missing middle": that's the problem CoreLogic has found in the latest dwelling approval statistics, released monthly by the Australian Bureau of Statistics (ABS).
The new ABS data revealed that medium density housing made up only 14.9% of dwelling approvals in November.
CoreLogic's head of residential research Eliza Owen said demand for diverse housing options are likely to grow as populations continue to converge in metropolitan regions.
"Medium density housing options can be important for young families who seek a more affordable housing option close to city centres, but require more space than in a unit, or older Australians wishing to downsize in their current area of residence to reduce housing costs in retirement," Ms Owen said.
'Medium-density' is categorised as townhouses, duplexes, and unit blocks three storeys or less.
The ABS's release on November's statistics found a quarter of all approvals were in just 10 local government area (LGA) regions, out of a total of 478 captured.
These LGAs include the ACT, Brisbane, Sunshine Coast, Gold Coast, parts of Western Sydney and fringe-Melbourne metro areas - they made up about 43,000 of all dwelling approvals in November.
In the top ten LGAs, just 14.1% of dwellings approved in November were medium density - detached housing made up 60.7%, while high density units made up 25.2%.
Ms Owen also said rising dwelling prices and affordability concerns will drive up demand for cheaper housing options.
"If development continues to focus on the two extremes of density, metropolitan areas may see an erosion of diverse age and family demographics," she said.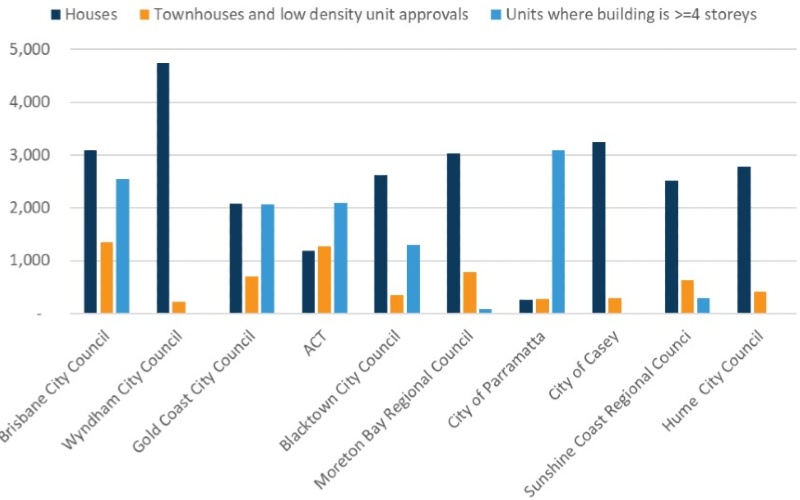 The spread of dwelling approvals across the top ten LGAs in Australia. Source: CoreLogic
December auctions: the winners and losers
CoreLogic today found the December 2019 quarter showed "significant increase" in clearance rates, as well as higher auction volumes across the capital cities.
Across capital cities (minus Darwin), the clearance rate was 70.3%, comprising of 26,923 auctions.
This is a sizeable jump on the previous quarter, where the clearance rate was 69.9% and auctions totalling 16,730.
"As prices in Sydney and Melbourne rose 6.2% and 6.1% respectively in the December quarter, a corresponding increase in auction market activity is expected," Ms Owen said.
"Vendors have been responsive to higher prices, with auction volumes up by 4.0% year on year."
Four suburbs throughout all of the capital cities experience a 100% clearance rate: Balaclava in Melbourne, Camperdown, Kingsford and Panania in Sydney.
Brisbane and Perth were the worst-performing capital cities in terms of clearance rate (as seen below).
The clearance rates and volumes across the cities were:
Sydney 74.9 % (9,546 auctions)
Melbourne 72.8% (12,870 auctions)
Brisbane 45.0% (1,615 auctions)
Adelaide 57.4% (1,385 auctions)
Perth 39.5% (517 auctions)
Tasmania 62.2% (53 auctions)
Canberra 68.0% (937 auctions)
Combined capitals 70.3% (26,923 auctions)
In non capital cities, Geelong was the leader with the highest clearance rate at 62.8%, while Gold Coast was the busiest with 634 homes taken to auction.
---
Latest Articles