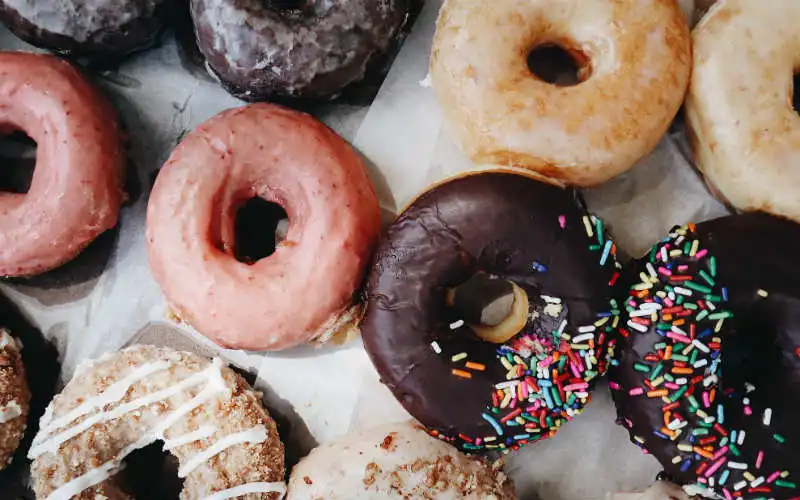 Photo by Anna Sullivan on Unsplash
Australia's official cash rate is the lowest it has ever been, so what would happen if interest rates went into negative territory?
Negative interest rates are pretty hard to imagine because we've never had them in Australia, but as we inch ever closer to an official cash rate of 0%, speculation is mounting that the official cash rate could soon enter the negatives.
Even though Reserve Bank governor Philip Lowe has pretty much ruled out taking the cash rate into negative territory, if we've learnt anything from the dumpster fire that is 2020 it's that anything can happen.
So how would negative interest rates work in Australia?
What are negative interest rates and how do they work?
Negative interest rates could happen if the Reserve Bank were to adjust the official cash rate to 0% or lower. At the time of writing, the official cash rate is 0.25%, so there's not far left to go.
So what on earth is an 'official cash rate' you ask? The official cash rate is the targeted rate of interest on overnight funds that banks can borrow at from the Reserve Bank and other financial institutions, and it basically acts as a benchmark for the price of consumer products like home loans and savings accounts.
This is why whenever the RBA makes any changes to the official cash rate, like the five most recent cuts, it makes big news. Because if the RBA lowers the cash rate, it often means the interest rate on your savings account goes down (so you're earning less interest on your money ☹️) but it can also mean that the interest rate on your home loan also goes down, making your mortgage more affordable.
In short: a low cash rate is usually bad news for savers but happy days for borrowers.
However, it's important to remember that a low cash rate is often a sign of a struggling economy. When the Reserve Bank lowers the official cash rate, it's usually doing so for a few reasons: the economy isn't growing, unemployment is too high, wages haven't grown, and inflation is too low or in fact deflated like a balloon.
By lowering the official cash rate, the Reserve Bank is trying to kickstart the economy by encouraging people to get out there and spend.
The Reserve Bank board meets every month (except for January because hey, we all need time off after Christmas) to discuss what changes, if any, need to be made to the official cash rate. Normally you'll have a pretty good idea if there could be a cut (or an increase) to the cash rate because predicting the RBA's movements is basically the national sport of economists. Adjusting the cash rate also isn't something the RBA does for shits and giggles, so there will usually be plenty of warning in the lead up to the day.
As we've already mentioned, Australia's current official cash rate is 0.25% (at the time of writing) which is the lowest it has ever been. The infographic below shows the history of our cash rate, so you can see for yourself how it has evolved over time and during previous periods of economic crisis like the GFC.
Could we get negative interest rates in Australia?
The Reserve Bank has already cut the official cash rate five times in the last two years taking it down to 0.25%, fuelling speculation that we could be well on our way to negative interest rates.
But as we've already mentioned, Reserve Bank governor Philip Lowe has steadfastly maintained that negative interest rates in Australia would be "extraordinarily unlikely". In the minutes of the March monetary policy meeting, the Reserve Bank Board members were said to have "no appetite for negative interest rates in Australia".
Prior to this, in a November 2019 speech Lowe said negative interest rates have "largely been a European phenomenon".
He also said negative interest rates could do more harm to the economy than good.
"There is evidence that they can encourage households to save more and spend less, especially when people are concerned about the possibility of lower income in retirement," Lowe said.
"A move to negative interest rates can also damage confidence in the general economic outlook and make people more cautious."
But more recently, the RBA has seemingly softened its stance towards negative interest rates. In September, RBA deputy governor Guy Debelle said that while the effects of negative interest rates were mixed, he didn't completely rule them out either.
"In the short-term, they [negative rates] can contribute to a lower exchange rate," Debelle said.
"In the medium term, the effectiveness can wane including through the effect on the financial system.
"Negative rates can also encourage more saving as households look to preserve the value of their saving, particularly in an environment where they are already inclined to save rather than spend."
Language such as this from the RBA recently led NAB and Westpac to change their cash rate forecast. Both banks (and a growing number of economists) now expect a November rate cut after the RBA held the cash rate steady at 0.25% in October.
In his statement on October 6, RBA governor Philip Lowe gave a strong indication there could be further rate cuts on the way, saying the RBA "continues to consider how additional monetary easing could support jobs as the economy opens up further".
As you can see from the ASX RBA rate indicator below, market expectations of a 0% cash rate are quite high.

Source: ASX RBA rate indicator
Theoretically, lowering the official cash rate should kickstart an economy. But PRD chief economist Dr Diaswati Mardiasmo says doing so can also backfire.
"History suggests that this (lowering the cash rate) is a very temporary relief and quite a risky move, as past learnings have shown weaker currencies, savers taking their money out of the bank (to avoid fees), borrowers taking out loans that are beyond their normal serviceability, and stock markets underperform (we just recovered from the March downturn slightly)," Dr Mardiasmo told Savings.com.au
"We are about to face some highly uncertain times – with many of the grants/assistance programs stopping and/or changing. And this is what is sparking the negative interest rate talk – a lot of uncertainty.
"One of the things we have to be extremely careful of, is that if we do go into close to zero or even negative interest rates, is that it is unchartered territory for the Australian economy and its people."
Why would the Reserve Bank lower the cash rate further?
As we've already mentioned, when a Reserve Bank lowers the official cash rate it does so because the economy is struggling.
The Reserve Bank could decide to lower the cash rate even further for the following reasons:
1. To boost economic activity and inflation
One of the biggest reasons the Reserve Bank lowers the official cash rate is to give a sluggish economy a boost and push inflation upwards.
Grattan Institute senior associate Matthew Cowgill said the RBA could take the official cash rate into negative territory in order to achieve its inflation target.
"The Reserve Bank is tasked with achieving inflation of 2 to 3%, on average, as well as full employment. Inflation was persistently below this target before COVID, and has fallen further since the pandemic struck," Mr Cowgill told Savings.com.au.
"Importantly, it's now widely expected — by financial markets, economists, union officials, and the Bank's own forecasts — that inflation will continue to be below its target band.
"In normal times, faced with an inflation situation like that, the Bank would cut interest rates. Now that the cash rate is near zero, it needs to consider alternative measures to boost economic activity and inflation. Negative rates are one of the tools it could use."
2. To encourage people to spend more money in the economy
Mr Cowgill said lowering the cash rate typically encourages spending through increasing the wealth and cash flow of households, which can drive inflation.
"Cutting interest rates encourages borrowing, consumption, and investing, while discouraging saving. This helps in a situation where aggregate demand — the amount of spending in the economy — isn't sufficient."
This is often referred to as the 'cash flow channel of monetary policy'.
But recent research reveals Australians have been saving, not spending, during the pandemic (despite rate cuts), with APRA data showing a massive spike in bank deposits since March.
APRA data shows a 6.4%, or $6.4 billion increase in household deposits (savings accounts, term deposits) from March to June - indicating Aussies are hoarding cash. Over the same period, the household savings rate increased from 6% in the March quarter to 19.8% in the June quarter, the biggest single increase ever recorded.
So instead of encouraging people to spend more, cutting cash rates further could actually do the opposite. Dr Mardiasmo said lowering the cash rate any further could spook people into hoarding their cash.
"Going into negative interest rates is something we have not done before and it can cause more uncertainty and people being unsettled, as opposed to building people's confidence," she told Savings.com.au.
"We all understand that expansionary monetary policy – aka RBA cutting rates – is a move to assist a declining or unhealthy economy. So cutting further can assist, but it can also make people uneasy and uncertain of our economic health.
"This can have major repercussions on business, investment market, the way people spend, property market, etc. We can literally go either way."
What do negative interest rates mean for home loans and savings accounts?
In theory, negative interest rates would mean that savers would effectively be paying to store their money in the bank while borrowers would be earning interest on their home loan.
A real life example of this is Jyske Bank in Denmark, who recently made history for launching the world's first negative home loan interest rate. Under the 10-year fixed-rate mortgage at -0.5% borrowers make their usual monthly repayments but the outstanding amount reduces every month by more than your repayment.
"We don't give you money directly in your hand, but every month your debt is reduced by more than the amount you pay," said Jyske's housing economist Mikkel Høegh.
Sounds like a pretty sweet deal right? However, Dr Mardiasmo said it's unlikely that even if the official cash rate in Australia were taken into negative territory that lenders would necessarily follow suit.
"A key aspect to remember is that Australian banks/lenders are not legally bound to follow the RBA's cash rate movements," Dr Mardiasmo said.
"In the past there have been instances where banks passed on the cash rate cuts in its entirety, others when they only passed on half of the cash rate cut, others when they remained as per their current rates.
"At present, due to COVID19, there is a tendency for banks and lenders to follow RBA's cash rate movements; however this is not guaranteed. The main reason for this is that each bank has its own lenders – banks are funded by a mix of overseas loans, deposits, and market equity. Whether banks will pass on cash rate cuts depend on how much it will cost to fund the bank itself and whether or not it is feasible for them."
Mardiasmo added the likelihood of lenders taking consumer products like home loans and savings accounts into negative territory depend on how a bank is funded.
"If a bank finances itself with a lot of deposits then it would be at a competitive disadvantage, and may not pass on the RBA's rate cuts."
While that's slightly unfortunate for those of us with a home loan, it should come as a big relief to savers. The same Denmark bank has also launched a -0.6% interest rate on its savings account (only for millionaire customers). This effectively means that savers are paying to store their money in the bank so instead of earning interest on their money, the balance in their account falls every year.
If this were to happen in Australia, you can only imagine the uproar. Interest rates on savings accounts are already very low, and taking them into negative territory could encourage people to hoard their money under their mattress instead of keeping it in a savings account.
But Cowgill assures us this is very unlikely to happen.
"If the RBA were to send the cash rate a little into negative territory, savers and borrowers would still face interest rates above zero, they'd just be a little below current levels," Cowgill said.
Let's just hope things don't get as dire as Japan, where interest rates on many savings accounts are 0.001%!
While interest rates on savings accounts in Australia are pretty low at the moment (albeit not as bad as 0.001%… yet) there are still some great deals out there if you look for them (like the ones below!).
Need somewhere to store cash and earn interest? The table below features savings accounts with some of the highest non-introductory and introductory interest rates on the market.
Lender

---

4

0

0

0

$product[$field["value"]]

$product[$field["value"]]

$product[$field["value"]]

More details

FEATURED

Savings Account (Amounts < $24k)

4

0

0

0

$product[$field["value"]]

$product[$field["value"]]

$product[$field["value"]]

More details

High Interest Savings Account (< $250k)

4

0

0

1

$product[$field["value"]]

$product[$field["value"]]

$product[$field["value"]]

More details

0

50

0

$product[$field["value"]]

$product[$field["value"]]

$product[$field["value"]]

More details

0

0

0

$product[$field["value"]]

$product[$field["value"]]

$product[$field["value"]]

More details
Rates based on a savings balance of $10,000. Sorted by total interest rates. Refer to providers' websites for bonus rate conditions and for any applicable fees and charges. Rates correct as of May 26, 2022. View disclaimer.
Savings.com.au's two cents
Even if the Reserve Bank were to take the official cash rate into negative territory (which seems pretty unlikely), it's equally unlikely that lenders would take interest rates on consumer products like savings accounts and home loans into negative territory - so there's no need to hide your cash under the mattress just yet.
---
Disclaimers
The entire market was not considered in selecting the above products. Rather, a cut-down portion of the market has been considered. Some providers' products may not be available in all states. To be considered, the product and rate must be clearly published on the product provider's web site. Savings.com.au, yourmortgage.com.au, yourinvestmentpropertymag.com.au, and Performance Drive are part of the Savings Media group. In the interests of full disclosure, the Savings Media Group are associated with the Firstmac Group. To read about how Savings Media Group manages potential conflicts of interest, along with how we get paid, please visit the web site links at the bottom of this page.
Latest Articles