In the big four bank's latest Australian Markets Weekly report, NAB economist Kieran Davies said further price declines are likely in the short-term given the tighter lending conditions in the market.
Mr Davies said that with sliding house prices pushing wealth lower, consumer spending is likely to remain weak as a result of the 'wealth effect' – where consumers' spending levels are influenced by the value of their homes.
"Wealth effects on spending are likely to be more important in current circumstances given the size of the decline in house prices and since there is no offset from household income, which continues to post only weak growth," he said.
According to the latest figures from the Australian Bureau of Statistics, annual wage growth in Australia remains stagnant at 2.3% while household spending has been modest, recording only 0.4% growth over the December quarter.
But the size of the recent decline in Australian house prices is the standout statistic.
According to NAB, capital city house prices have now experienced the largest fall from their peak since World War II.
To date, capital city house prices are down 8% from their peak in 2017, but Mr Davies said it needs to be stressed that this decline follows a rise of 10% over the previous couple of years.
"Moreover, there was an enormous run-up in prices in the post-WW2 period, particularly over the 1960s and 1970s," he said.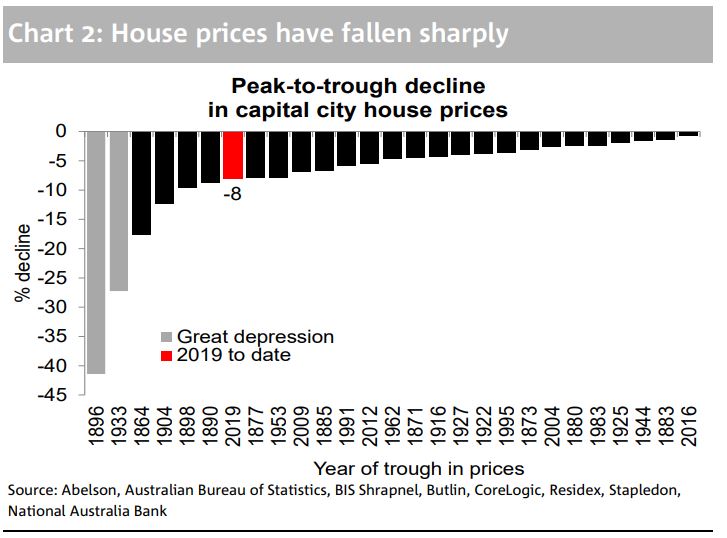 In real terms (taking inflation into account), the report says capital city prices have fallen by 11% to date, which is Australia's fourth-largest in the post World War II era, and its ninth-largest in history.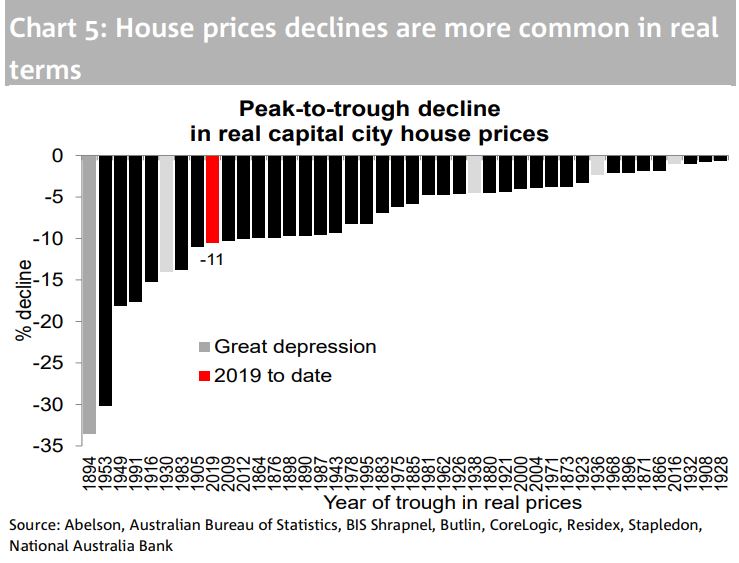 Source: NAB, Australian Markets Weekly
Net real housing worth has subsequently fallen 12%, which Mr Davies said is the equal-second largest decline since 1959.
"The fall matches the decline that started during the global financial crisis and is slightly less than the 13% decline during the early 1990s recession when unemployment peaked at 11%," he said.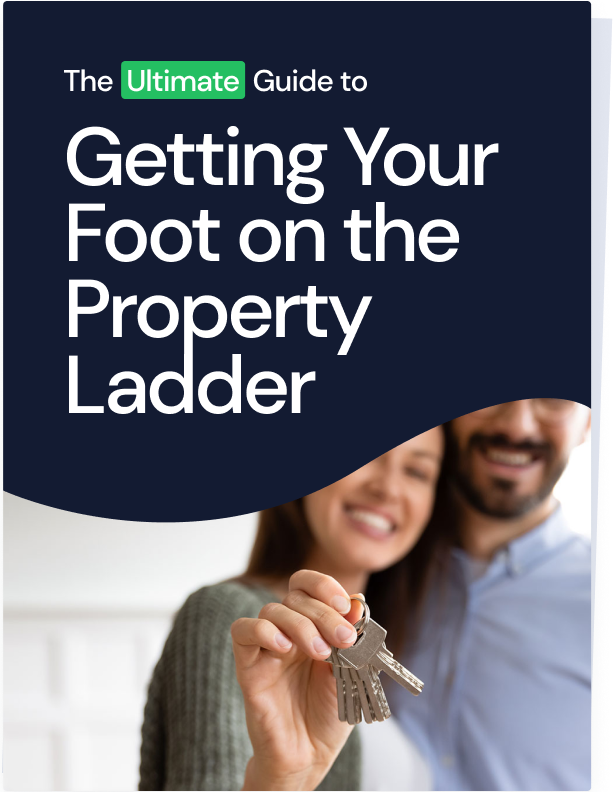 Ready, Set, Buy!

Learn everything you need to know about buying property – from choosing the right property and home loan, to the purchasing process, tips to save money and more!

With bonus Q&A sheet and Crossword!