According to Volt Bank's website, the maximum 2.15% p.a. interest rate on its savings account - yet to be named - will be limited to accounts with balances under $245,000.
This rate isn't yet live to the public.
According to Volt, the account is still in its beta phase, with invites being rolled out to customers who signed up to Volt's early access earlier in the year.
Interestingly, there will be no bonus conditions on the account, meaning every customer with less than $245,000 deposited can instantly earn that maximum 2.15% p.a. rate.
As Volt says on its website: "There are no hoops, hurdles, tricks or conditions designed to stop you getting that rate".
Other neobanks such as Up and 86 400 require savers to meet specific conditions in order to qualify for the maximum rate, such as:
Make at least 5 debit card purchases from a linked transaction account each month (Up)
Deposit at least $1,000 each month (86 400)
Up and 86 400 do have higher maximum interest rates though, with both accounts offering up to 2.25% p.a. for meeting these conditions.
Established retail bank BOQ offers up to 2.15% p.a. on its 'Fast Track Saver Account', but from February 2020 account holders hoping to earn this maximum rate will have to make at least five transactions with a linked 'Day2Day Plus Account' and deposit at least $200 into this transaction account every month.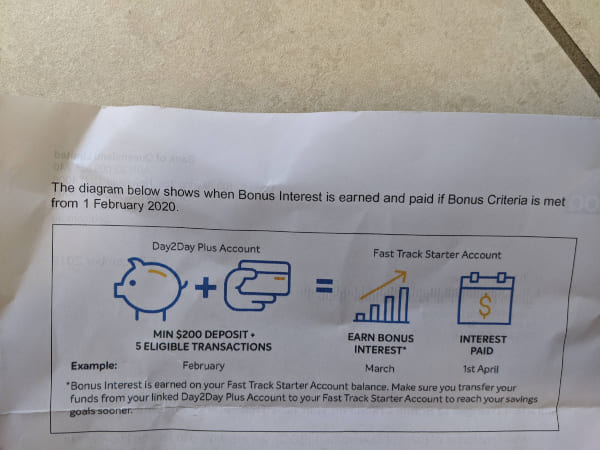 Image: BOQ's bonus conditions are changing. Source: Reddit.
The table below shows how Volt's new savings account could stack up against some of the highest non-introductory interest rates currently available on savings accounts in Australia.
Provider
Total interest
rate p.a.
Base interest
rate p.a.
Bonus interest
rate p.a.
*Data accurate as at 10 December 2019. Rates based on a savings balance of $10,000. Introductory bonus interest rate products not included. Sorted by total interest rate, then by provider name (A-Z). Refer to providers' websites for bonus rate conditions.
The savings account interest rates offered by Volt - and really neobanks in general - are far and away above the rates offered by the larger banks such as the big four.
The highest non-introductory savings account rate offered by the big four at the moment is Westpac's Life account at 1.65% - Volt will be offering a rate that's a full 50 basis points higher than this.
According to Reserve Bank data, the average savings account interest rate across the big four is 1.50% p.a.