Back in 1907, a landmark Australian labour law ruled all employees were obligated to be paid a wage that "guaranteed them a standard of living reasonable for a human being in a civilised community". At the time, this wage was seven shillings per day or 42 shillings per week.
This was the foundation for what we now know as the national minimum wage, an economic principal many countries abide by all over the world. Of course, the minimum wage is presently a bit more than seven shillings per day – paying an employee that much now would be slightly illegal.
The minimum wage has been around for a while now, but it's not without its flaws, and there are many who suggest we should be using a different method of paying people. One commonly-proposed method is the "living wage", but another proposal that's gaining traction amid increasing automation is the concept of a 'universal basic income'.
Need somewhere to store cash and earn interest? The table below features savings accounts with some of the highest non-introductory interest rates on the market.
Lender

---

0

0

0

$product[$field["value"]]

$product[$field["value"]]

$product[$field["value"]]

More details

FEATURED

Save Account

Take money out at any time without affecting your bonus rate.
Open up to 10 Save accounts and get bonus interest on all of them, including shared Save accounts.
Get bonus interest on a combined balance of up to $250K across all your Save accounts.

Save Account

Take money out at any time without affecting your bonus rate.
Open up to 10 Save accounts and get bonus interest on all of them, including shared Save accounts.
Get bonus interest on a combined balance of up to $250K across all your Save accounts.

4

0

0

0

$product[$field["value"]]

$product[$field["value"]]

$product[$field["value"]]

More details

High Interest Savings Account (< $250k)

4

0

0

1

$product[$field["value"]]

$product[$field["value"]]

$product[$field["value"]]

More details

0

10

0

$product[$field["value"]]

$product[$field["value"]]

$product[$field["value"]]

More details

0

0

0

$product[$field["value"]]

$product[$field["value"]]

$product[$field["value"]]

More details

Online Savings Account (<$250k)

400

1

$product[$field["value"]]

$product[$field["value"]]

$product[$field["value"]]

More details

Lifestyle Account (< $75k)

0

0

0

$product[$field["value"]]

$product[$field["value"]]

$product[$field["value"]]

More details

Bonus Saver Account (Amounts < $100k)
Rates based on a savings balance of $10,000. Introductory bonus interest rate products not included. Sorted by total interest rates. Refer to providers' websites for bonus rate conditions. Rates correct as of August 15, 2022. View disclaimer.
What is the minimum wage in Australia?
The minimum wage is the base rate of pay an employee must be paid in Australian for ordinary hours worked, regardless of whether they've agreed to be paid less. It's illegal for Australian businesses to pay employees below the national minimum wage.
For a 38-hour work week, which is seen as the standard in Australia, the current national minimum wage is $740.80 per week before tax, which is $19.40 per hour. The minimum wage in Australia is reviewed every year by the Fair Work Commission (FWC), and is usually increased slightly each year to account for inflation.
You can see the previous minimum wages in Australia and how they've changed year-on-year, with only one year (2009) seeing no change since 2007.
| Year | Wage (per hour) | Wage (per week) | % Difference |
| --- | --- | --- | --- |
| 2007 | $13.74 | $522.12 | – |
| 2008 | $14.31 | $543.78 | 4.15% |
| 2009 | Unchanged | Unchanged | 0.00% |
| 2010 | $15.00 | $569.90 | 4.80% |
| 2011 | $15.51 | $589.30 | 3.40% |
| 2012 | $15.96 | $606.40 | 2.90% |
| 2013 | $16.37 | $622.20 | 2.61% |
| 2014 | $16.87 | $640.90 | 3.01% |
| 2015 | $17.29 | $656.90 | 2.50% |
| 2016 | $17.70 | $672.70 | 2.41% |
| 2017 | $18.29 | $694.90 | 3.30% |
| 2018 | $18.93 | $719.20 | 3.50% |
| 2019 | $19.49 | $740.80 | 3.00% |
Source: Fair Work Commission
The average increase since 2007 is 2.96%, which is higher than the average annual inflation rate of 2.33% over the same period.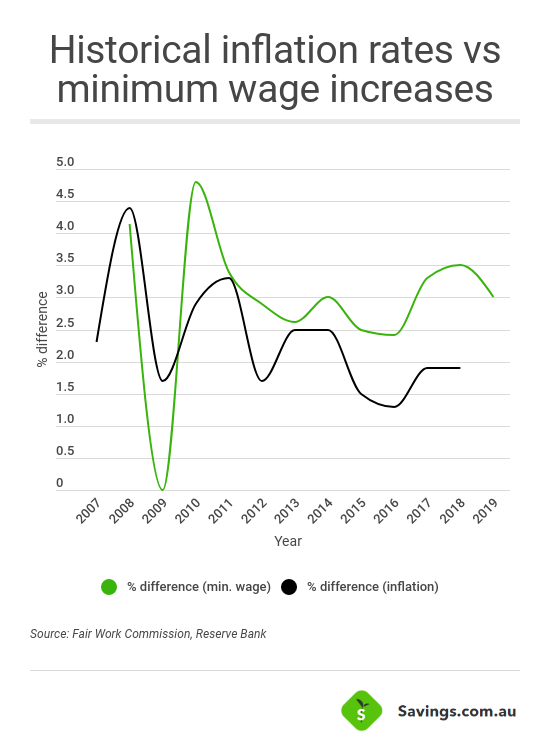 How is the minimum wage determined?
The Fair Work Commission sets the minimum wage every year after considering a host of:
Written submissions from relevant individuals and organisations
Consultations given before an expert panel
Research commissioned by an expert panel
After reaching its conclusion, the Fair Work Commission then announces the changes and puts them into effect on July 1 each year, to give businesses enough time to adjust to the changes.
In 2019 the Fair Work Commission announced on May 30 it would be increasing the national minimum wage by 3% to $19.49 per hour. This is equal to about $1,123 extra every year, although the FWC president Ian Ross did acknowledge it was a smaller increase than last year.
Not everybody is happy with the changes every year, which isn't unexpected. The Australian Council of Trade Unions (ACTU), for example, had suggested a 6% minimum wage increase, which would have been equal to $43 extra per week.
Awards
Many employees in Australia work in an industry covered by a modern award wage, which contains the minimum wage as well as other terms and conditions depending on the industry.
This means award wages are usually a fair bit higher than the minimum wage. Any employees not covered by a modern award need to be protected by the minimum wage at least. The Fair Work Ombudsman has an award finder tool that lets you know if your particular industry is covered by an award.
Living wage vs minimum wage
Unlike the minimum wage, which is and has been a real economic policy for years and years now, the living wage is more economic theory – it isn't practised yet in Australia. In fact, there are very few countries that do practice it, although it's something that's always on the agenda somewhere and has been trialled before.
There is no single definition to the living wage, but it's often defined as workers being paid enough to meet their basic needs and stay out of the clutches of poverty. So it is a form of a minimum wage, just a higher one with less wiggle room.
Advocates for a living wage commonly cite the "60% of the national median income threshold" cited by the Organisation for Economic Co-operation and Development (OECD). This would mean a living wage in Australia would be about $41,184 per year for a full-time worker (38 hours a week), according to the ACTU.
In the lead-up to the 2019 Federal Election, both the ALP and the ACTU argued in favour of a national living wage. The ACTU jumped right on that 60% threshold, which they said would be the equivalent of a minimum wage of $20.84 an hour.
With a minimum wage of $19.49 per hour, or $38,521 per year for a full-time worker (at the time of writing), we're not too far off having a living wage regardless. Bill Shorten's Labor party, however, weren't in favour of this 60% threshold, while Prime Minister Scott Morrison argued a living wage could lead to significant job losses if employers were forced to pay their employees too much more.
"He's (Bill Shorten) saying to coffee shop owners and small businesses around the country: 'sack someone'. That's his policy – that people should be sacked," Mr Morrison said prior to the election.
If Australia did implement a living wage over the minimum wage, the wage floor in more than a million jobs would be significantly higher.
What about universal income?
A relevant concept you might have recently heard or read about recently is that of a universal basic income (UBI), which is the idea of a scheme which – speaking generally – provides periodic cash payments to people to assist with the cost of living. But unlike the minimum wage or living wage, most proposed formats of a UBI don't require people to work at all and stipulate that it would be delivered unconditionally on an individual basis, without means-testing or work requirements. So it's essentially a less restricted form of Centrelink that, if properly implemented, would go to everyone, not just unemployed people or casual employees.
And if this sounds a bit too much like free-handouts for your liking, you might not be entirely wrong, but there may also come a time in the not-too-distant future when universal basic income is required by many people thanks to the advances of robots and artificial intelligence. A recent report titled "How Robots Change the World" by Oxford Economics found up to 20 million manufacturing jobs around the world could be lost to robots by 2030, to add to the 1.7 million already lost to our cybernetic friends.
CEO and chief economist at Oxford Economics, Adrian Cooper, said South Australia and Victoria would be the worst-affected regions.
"Melbourne and its surrounding area have a diversified manufacturing base, although one that is declining in relative importance as Melbourne's service economy strengthens," he said.
Those who proclaim themselves "socialists" are usually depressing, have no sense of humor & attended an expensive college. Fate loves irony.

— Elon Musk (@elonmusk) June 15, 2018
The scheme has already been trialled in areas like California, Finland and the Netherlands, as well as our neighbours New Zealand, to the tune of roughly $700 a month to support basic household expenses. This would likely not be enough for many people, so if the robots come for your job, this figure would likely need to be raised a fair bit.
Athletes will probably be safe for a while.
Is the minimum wage enough?
In a global context, it might be. According to data from the Institute of Economic and Social Sciences in Germany, Australia has the highest minimum wage in the world. We can add that to the list of things we're the best at.
| Rank | Country | Minimum hourly wages ($USD) |
| --- | --- | --- |
| 1 | Australia | 14.14 |
| 2 | Luxembourg | 13.14 |
| 3 | New Zealand | 11.28 |
| 4 | France | 11.24 |
| 5 | Netherlands | 11.01 |
| 6 | Ireland | 10.87 |
| 7 | Belgium | 10.78 |
| 8 | Germany | 10.06 |
| 9 | United Kingdom | 9.74 |
| 10 | Canada | 7.86 |
Data captured in January 2019 before 2019's minimum wage increase. Current exchange rates may reflect different prices.
Wages are always a hot topic in Australia, particularly when politics are concerned. It was definitely a hot topic around the 2019 Federal Election, with the Labor Opposition promising to install a living wage to the one in 10 Australian workers relying on the minimum wage. And while they ultimately weren't successful, the data below shows minimum wage remains an important issue for Australians regardless of their political preferences, with most respondents on the ABC's vote compass stating the minimum wage should be increased across all major parties.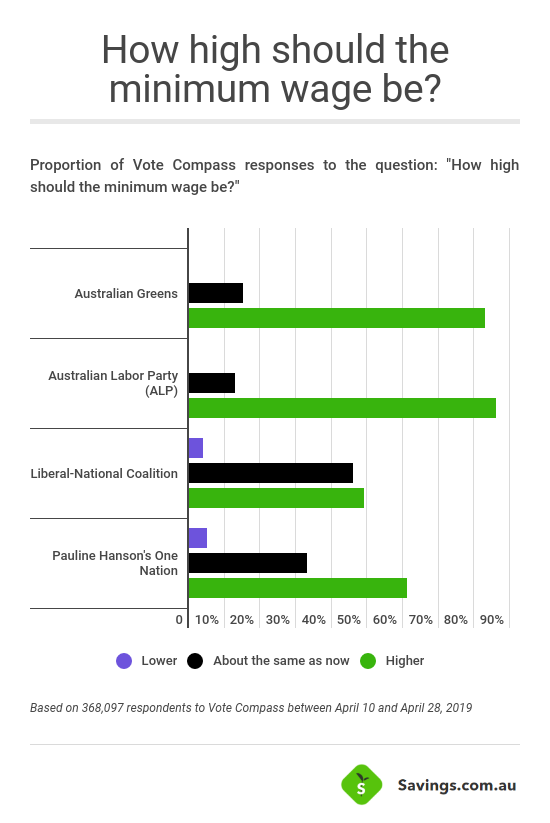 As mentioned earlier, the current minimum wage in Australia works out to be $740.80 per week or $38,521 per year – assuming a 38-hour (full-time) working week. But not every employee on the minimum wage works 38-hours a week, although the Fair Work Ombudsman does state 38 hours a week is around the average for those on the minimum wage. A lot of employees with casual work have irregular work schedules, and can often go days or in some cases a week plus without working.
According to the Australian Council of Social Services, there are more than three million people living below the poverty line, which it defines as 50% of the median household's disposable income. While 35% of these are not in the labour force, 13.4% (402,000) of those are part-time workers and 25.9% (777,000) are full-time workers. While there are a multitude of reasons why someone working full-time could slip below the poverty line (high housing costs, supporting children on a single-income etc.), the fact that so many people with steady jobs are still in poverty might indicate that the minimum wage is currently not enough, especially when you consider that recent ABS data shows more than one million people are working two jobs to get by.
The argument against increasing the minimum wage is that increases can lead to increased unemployment, but according to a research piece by the Reserve Bank, adjustments to award rates or minimum wages have "no discernible adverse effects on hours worked or job losses". In fact, a think-piece in The Conversation by Associate Professor in Economics at the University of Wollongong, Martin O'Brien shared research which suggested the decision to cut penalty rates in 2017 – something that was supposed to lead to increased trading hours and services on Sundays and public holidays – actually had the opposite effect. Further research from the Centre for Future Work found the retail sector actually eliminated 50,000 jobs in the year following lower penalty rates.
Savings.com.au's two cents
To summarise these three types of wages:
The minimum wage is the base rate of pay an employee must be paid in Australia (currently $19.49 per hour)
The living wage is essentially a higher minimum wage that's a percentage of the median national wage
The universal basic income is a proposed way of paying citizens a set amount to cover their basic expenses, regardless of who they are
Only the minimum wage is actually a real thing in Australia at the moment. The living wage and the universal basic income are merely ideas at the moment, although they may soon become a reality. Rising costs of living, sluggish wage growth and the increased automation of jobs could see to that.
For many workers in this country on the minimum wage, it doesn't hurt to know what you should legally be paid. Just because you should be getting paid a certain amount doesn't mean you are – wage theft is rampant in certain industries, and a report by the University of Technology Sydney (UTS) in 2018 found about $1 billion in wage theft occurs each year. Wage theft can be anything from underpaying wages, not being paid overtime, missed superannuation payments or unauthorised deductions in pay.
Yet according to this same report, only 9% of those affected said they actively tried to get their money back.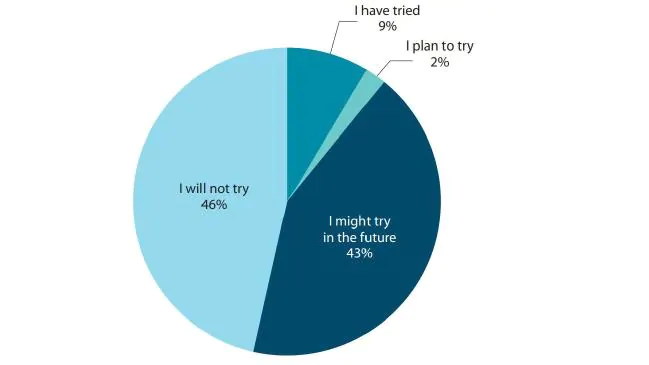 Source: UTS
If no one reported being underpaid then nothing would ever change. Make sure you check payslips and pay summaries as they arrive. If you notice you're being paid below the minimum wage or below your industry's award rate, then you can contact the Fair Work Ombudsman.
---
Latest Articles