Australian Energy Market Commission's Residential Electricity Price Trends report found that lower wholesale costs, and reduced environmental costs in most regions, mean prices are expected to get to their lowest levels since 2017.
AEMC Chair Anna Collyer said prices per kilowatt hour are likely to be under 26c/kWh by June 2024, the first time since 2016/17.
"This illustrates how integrating renewables in a smart way makes it possible to have both lower emissions and lower costs for consumers," Ms Collyer said.
"We can now see far enough into the future to be confident that power prices paid by consumers will continue to trend downwards over the next three years, despite the staged exit of Liddell power station in 2022 and 2023, one of the biggest coal-fired generators in the national electricity market.
"But while wholesale costs and environmental costs are trending lower, we are starting to see increases in the cost of network investments, and this is likely to accelerate over the next decade as more network investment is required to connect dispersed new generation to the grid.
"There are also regional differences across states and territories in the national electricity market that will affect price outcomes. And what energy offer you have, how much you use and whether you also have solar or gas will also affect your bill."
The ACT is the only region expected to see a rise in electricity costs over the next three years, with the report indicating household electricity bills are expected to rise by $77 over the next three years.
Price falls for the sunshine state
Queenslanders are set to enjoy the biggest savings in the national electricity market over the next three years, with prices expected to fall by $126 (or 10%) to their lowest level in more than a decade.
AEMC Chair Anna Collyer said the Commission's findings for South East Queensland reflect the market wide trend for falling electricity prices as unprecedented levels of new generation capacity enters the power system.
This is driven by renewables in the form of rooftop solar, large-scale wind and solar as well as dispatchable power in the form of big batteries.
Residential Energy Price Trends 2021-2024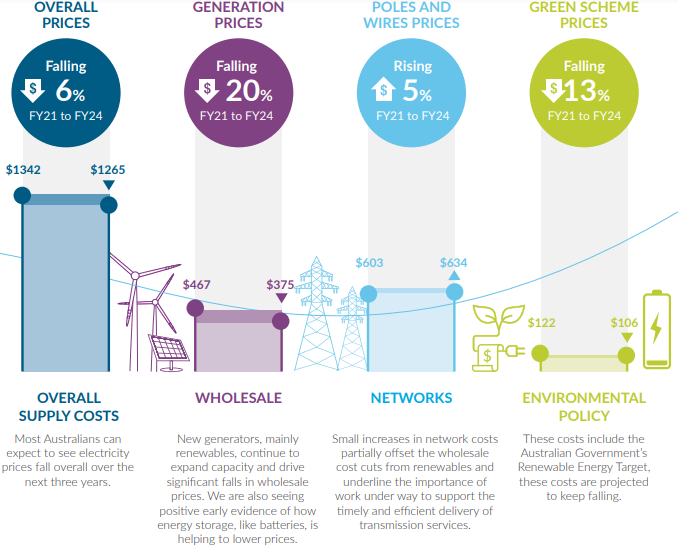 Source: AEMC
Ms Collyer also said renewables are a key factor in household energy savings.
"Everything we're doing at the AEMC and ESB is about making the most of renewables. That means maximising the benefits through reforms to distributed energy resources such as solar, minimising the emerging costs of planned network investments to connect renewables to consumers, while ensuring we have electricity when and where we need it to keep the lights on," she said.
Spokesperson for retailer ReAmped Energy, Simon Downes, told Savings.com.au how this impacts Aussies' energy bills.
"Electricity and gas prices are largely driven by supply and demand – and the reliability of the supply to meet the demand," Mr Downes said.
"If a power station goes out of action for a few hours then spot prices will spike and customers can end up paying for this through higher bills over time.
"That's why the more reliable and consistent energy resources that come online the better. The more renewable energy coming online, the better, for the environment, as well as our hip pockets.
"If energy becomes cheaper to generate then the retailers have fewer excuses for not passing on the savings to their customers."
Indicative consumer savings available from switching to the lowest competitive market offer from the lowest regulated standing offer in each jurisdiction.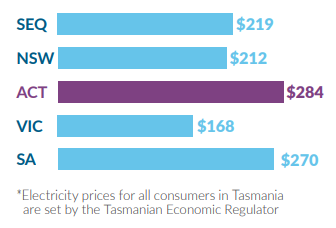 Source: AEMC
Image by Zhang Fengsheng via Unsplash