The Australian Office of Financial Management (AOFM), through its Australian Business Securitisation Fund (ABSF) has made two new investments.
It has injected more than $100 million into two SME lenders - $87.5 million into GetCapital, and $30 million into OnDeck, a peer-to-peer provider.
The Government also provided $46 million in GetCapital in November 2020, via the 'Structured Finance Support Fund'.
This also marks the second round of small business funding from the ABSF after it injected funding into Judo Bank in April 2020.
---
On Wednesday NAB announced a new SME loan offering up to $2 million across a 30 year term - an Australian first.
For loans secured with commercial property, the maximum loan-to-value ratio is 80%, while with residential backing it's up to 100%.
The 'FastTrack Business Loan' has an advertised interest rate of 2.45% p.a. fixed for three years, with eligibility criteria applicable.
NAB small business executive, Ana Marinkovic, said this is a unique offering.
"Small business is the life blood of the Australian economy," Ms Marinkovic said.
"The loan terms offer the potential for them to make a pragmatic decision between potentially paying rent or actually buying and owning their premises."
SME lending bounces back
A Reserve Bank Domestic Markets paper released Thursday shows a bounceback in small business lending since the depths of Covid-led economic turmoil in 2020.
"Following a period of relatively soft demand for finance last year, liaison with banks suggested there had been a growing appetite for business borrowing in the period prior to the recent lockdowns," the paper's authors said.
"More recently, surveys of small businesses indicate that access to finance has become less difficult since mid 2020, in part reflecting the improved economic outlook.
"Consistent with this, banks reported in liaison that they had been seeking more opportunities to lend to businesses, including smaller businesses.
"This followed a tightening in access to finance in early 2020 and longer-than-usual loan approval times, as banks became more cautious about lending to new customers and to affected sectors.
"At the same time, banks were managing operational constraints due to a higher volume of customer enquiries."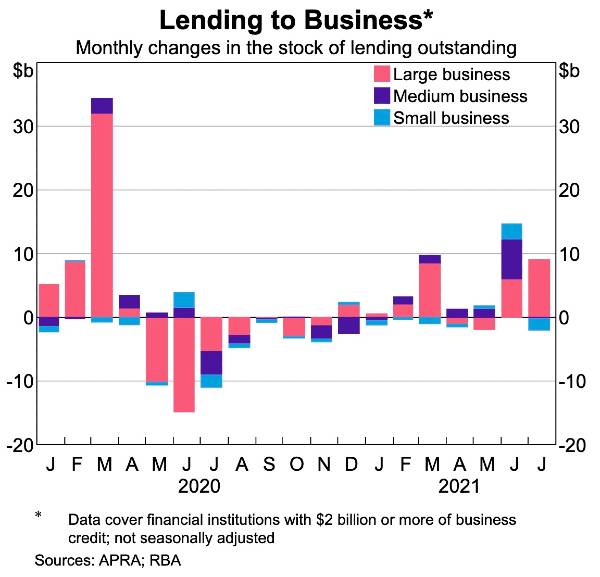 Bridging loans ramp up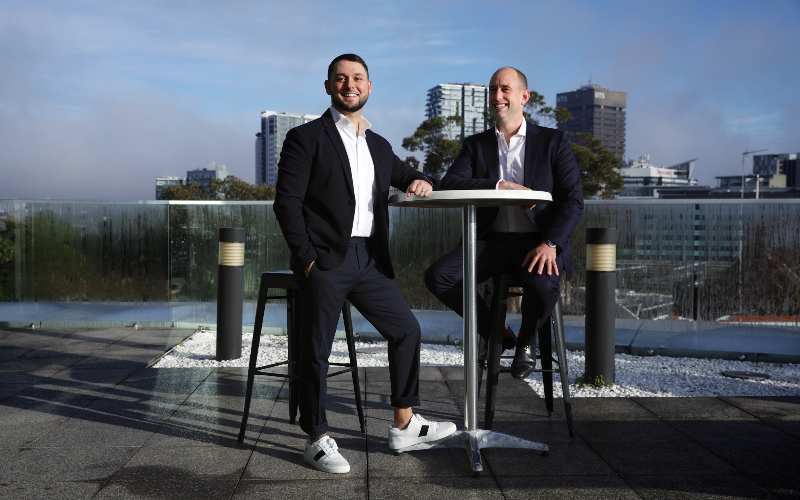 Specialist lender TechLend has announced it has hit $100 million in bridging loan applications after launching only a few months ago.
Bridging loans 'bridge' the gap in funding between selling the home and buying a new one.
CEO Aaron Bassin (pictured left, with co-founder Nick Jacobs) says the lender plugs a significant hole in the home lending market.
"We are seeing borrowers capitalise by purchasing new property before selling their existing one and avoid months in temporary living situations and overwhelming mortgages," Mr Bassin said.
"It's a solution fit for all homeowners, including those who may not meet the strict lending criteria required by the major banks."
TechLend offers borrowers same-day pre-approval, featuring a setup cost of 1.99% for the first 90 days.
The loan technically accrues zero interest for the first three months, apart from the 1.99% 'fee'.
After this period a 5.99% p.a. interest rate applies (6.25% p.a. comparison rate*), which is 50 basis points higher than when the brand launched in July.
Up to $3 million is provided in short-term funding with a 75% LVR, with loan terms up to six months.
---
Advertisement
In the market for a personal loan? The table below features unsecured personal loans with some of the lowest interest rates on the market.
Lender

---

Fixed

Unsecured

N/A

More details

APPLY ONLINE

Low Rate Personal Loan Unsecured (Excellent Credit)

No ongoing or early exit fees
Flexible repayment options
Get quick decision. Funds in 24 hrs if approved

Variable

Unsecured

N/A

N/A

More details
Simplified Borrowing - 100% online process makes it easy to apply for a loan anytime, anywhere
Personalised Rates - Get a fair interest rate that's personalised to you
More than a loan - Behind the scenes is a friendly and dedicated team ready to answer your questions
Important Information and Comparison Rate Warning
Photo by Christina Hawkins on Unsplash