Research from illion and Accenture compared Melbourne's 'freedom week' with the first week that Sydney came out of lockdown.
Director of Data and Analytics at illion, Nicholas Robinson, said Sydneysiders were "much quicker out of the blocks" in the first week after lockdown.
"While Sydneysiders were spending big on haircuts, beauty and shopping, savvy Melbournians seem to have been saving their dollars for their upcoming long weekend and the real re-opening," Mr Robinson said.
"We also noticed that Melburnians were hesitant to travel further afield during their 'soft reopening week', with the lingering effects of the 5km bubble still visible in low toll road use."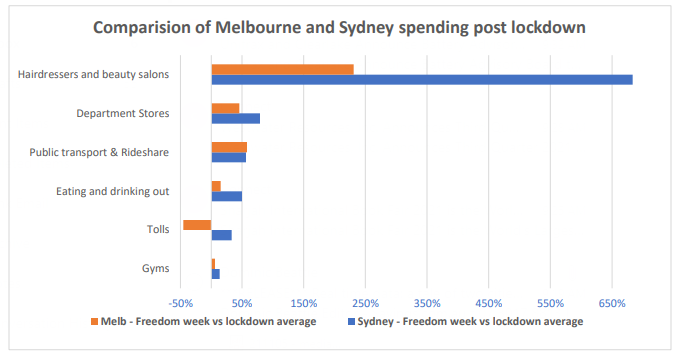 Source: illion and Accenture
Melbourne spending compared with pre-COVID
The end of Melbourne's lockdown saw increases in spending on things Victorians had really missed, including haircuts and personal care (+217%), mobility (+21%) and spending in department stores (10%) according to the data.
With a number of restrictions still in place during the first week after lockdown, not all categories were back to where they had been before COVID, including spending in pubs (-20%), gyms (-43%) and tolls (-70%).
With the option to eat out now available to Melburnians there was a significant decrease in spending on food delivery (+65%) and alcohol (+4%), however both of these are still up on pre-COVID levels.
The soft reopening resulted in a slow rebound on spending in gyms – this is likely to occur in the following weeks.
Managing Director, Accenture, Dr Andrew Charlton, said the difference in post lockdown spending can largely be attributed to the fact Melbourne has already endured multiple lockdowns.
"It's been fascinating to compare the behaviour of Sydneysiders coming out of lockdown to compared to Melburnians," Mr Charlton said.
"The sheer increases in spending on hairdressers, personal care, and transport by Sydneysiders compared to their Melbourne counterparts shows just how keen they were to break free.
"Melbournians on the other hand have been through numerous lockdowns. This wasn't their first rodeo so the pent-up demand was arguably less."
Melbourne vs Sydney Post-Lockdown Spending
| | | |
| --- | --- | --- |
| Category | Sydney - Freedom week vs lockdown average (prior 4 weeks) | Melbourne - Freedom week vs lockdown average (prior 4 weeks) |
| Eating and drinking out | +50% | +15% |
| Hairdressers and beauty salons | +683.4% | +230.8% |
| Gyms | +13.4% | +5.8% |
| Department Stores | +78.9% | +45.6% |
| Tolls | +32.9% | -45.5% |
| Public transport and Rideshare | +56.1% | +58% |
Source: illion and Accenture
Image by Mike Cox via Unsplash