The seasonally adjusted Wage Price Index (WPI) data from the Australian Bureau of Statistics revealed both private and public sector wages rose 2.2% on the year.
When accounting for inflation, which sat at 1.8% on the year, real wage growth was just 0.4% on the year, but actually fell in the quarter as December quarter inflation was 0.7%, as opposed to 0.5% in wage growth - a real fall of 0.2%.
The 2.2% public sector rise on the year also represents its slowest growth rate since the commencement of the index in the December quarter 1997.
For the first time since 2012, private sector wages grew faster than public sector - 0.5% compared to 0.4% - in original terms.
According to ABS Chief Economist Bruce Hockman, this 2.2% growth was an extension of the moderate growth observed throughout 2019.
"[Wage growth] was influenced by the relative stability of the labour underutilisation rate," Mr Hockman said.
Labour underutilisation is a measurement of both unemployment and underemployment.
Economists are attributing the wage growth experienced in 2019 to acceleration in minimum wages seen in 2016 - without the minimum wage bump, overall wage growth would have been stuck at 2% on the year.
Aust Dec qtr wages +0.5%qoq/+2.2%yoy
Were it not for the acceleration in min wage grth since 2016 wages grth would be stuck ~2%yoy
Real wages rose just 0.4%yoy, but fell in the qtr & 2.2% nominal grth doesnt so feel good!
So this remains a source of weakness for consumer spending pic.twitter.com/B5i5P9qWfc

— Shane Oliver (@ShaneOliverAMP) February 19, 2020
Wage growth winners and losers
The industry sector with the highest wage growth on the year was health care and social assistance, which rose 3.1%.
The slowest grower was the information media and telecommunications sector, with a rise of 1.6% on the year, which represents a 0.2% fall in real terms, with annual inflation being 1.8%.
Westpac senior economist Matthew Hassan said cyclical industries were the weakest performers.
"Key cyclical industries continue to show relatively weak wage growth, including: retail trade, construction and manufacturing (all running at 1.8%yr)," Mr Hassan said.
"Even in mining, where there is talk of a modest recovery in investment and talk of emerging shortages of skilled labour, wages are growing just 2.2%yr."
Between the states, Victoria was the strongest performer for wage growth for the year, at 2.7%, while the weakest was Western Australia at 1.7%.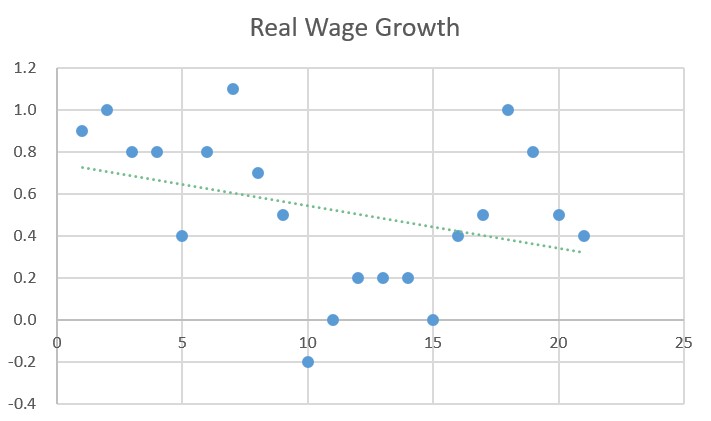 Real wage growth since December 2014. Calculated by subtracting inflation from wage growth, both measured on % change from corresponding quarter of previous year. Data: ABS
Where does wage growth fit into the big picture?
Wage growth is an important ingredient in assessing the overall health of Australia's economy.
The Reserve Bank factors wage growth in its decision on cash rate movements, among multiple other factors.
Several other factors include the unemployment and inflation rates, which sat at 5.1% and 0.7% in the December quarter respectively.
Consumer spending is another ingredient, which was weak in December.
The wage growth news comes after the RBA hinted another rate cut could happen in 2020, following three rate cuts from 1.5% to 0.75% in the second half of 2019.
Another 25 basis point rate cut would bring the cash rate to another historic low of 0.5%.
However, with the wage growth data "in line" with RBA forecasts, the December quarter release could have little implications on decisions in the near term.
The wage price index continues to track sideways as expected, with the unemployment rate above NAIRU we should expect little different. In line with the #RBA's forecasts so no implications for near term monetary policy #ausbiz pic.twitter.com/6J32X6tLQg

— Alex Joiner (@IFM_Economist) February 19, 2020
---
---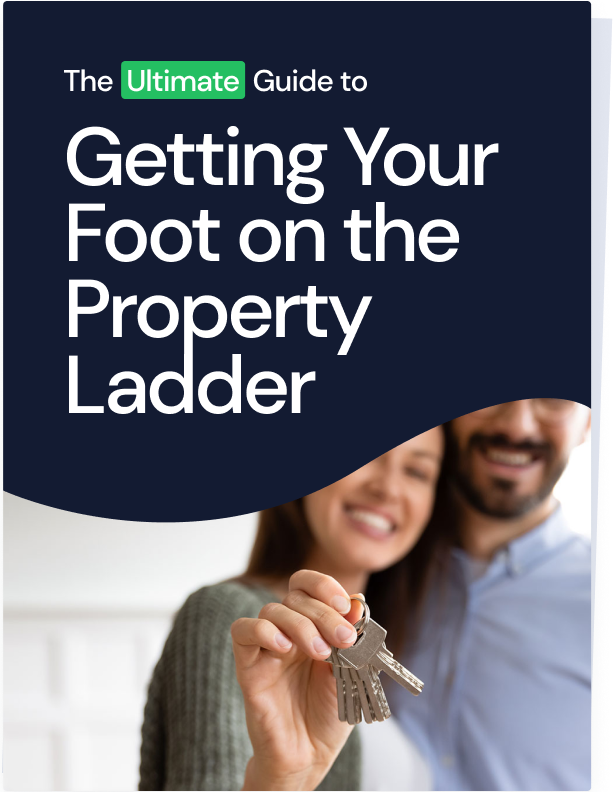 Ready, Set, Buy!

Learn everything you need to know about buying property – from choosing the right property and home loan, to the purchasing process, tips to save money and more!

With bonus Q&A sheet and Crossword!