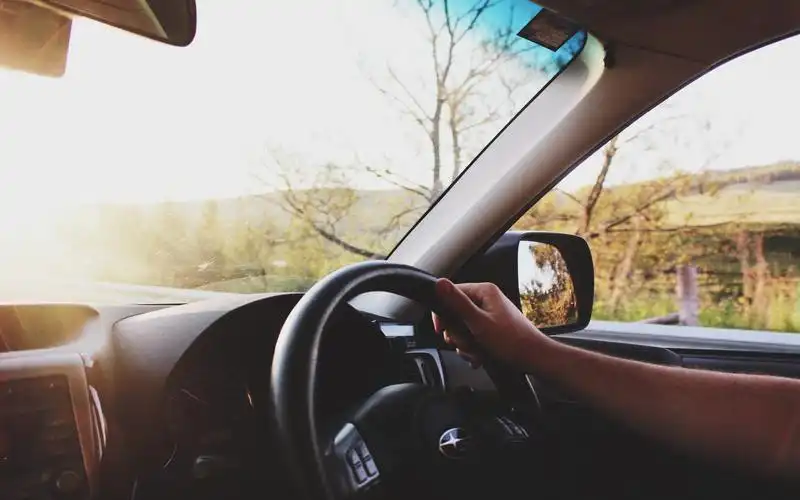 New vehicle sales have seen their strongest March result in two years as the automotive industry continues to rebound in 2021.
According to the Federal Chamber of Automotive Industries (FCAI), 100,005 vehicles were sold in March 2021, up 22.4% compared to a year prior when 81,690 were sold.
Yet sales remain 3.8% below the five-year pre-pandemic average, and while sales in the first three months of this year were up 13% compared to the same period in 2020, they were 4.2% below that average.
---
In the market for a new car? The table below features car loans with some of the lowest interest rates on the market.
Approval in 24 hours
Balloon options to reduce repayments
No ongoing fees, no discharge fee
Rates based on a loan of $30,000 for a five-year loan term. Products sorted by advertised rate. *The Comparison rate is based on a $30,000 loan over 5 years. Warning: this comparison rate is true only for this example and may not include all fees and charges. Different terms, fees or other loan amounts might result in a different comparison rate. Rates correct as of January 22, 2022. View disclaimer.
Every state and territory saw an increase in sales apart from the Australian Capital Territory where sales were down 43.8%, however this decline came as a result of an abnormal spike in insurance payouts due to storm damage.
The strongest performer was the Northern Territory where sales were up 43.4%, followed by Queensland (32.7%), Western Australia (30.5%), and Tasmania (30%).
FCAI chief executive Tony Weber said the growth in sales could have been even greater if not for border closures.
"This is the strongest March result in two years with private buyers representing the largest proportion of new vehicle purchasers," Mr Weber said.
"It is possible that the result could have been even stronger if some brands had not been impacted by delivery constraints in global factory supply chains.
"It is our expectation that these delivery issues will continue to be resolved during the coming months."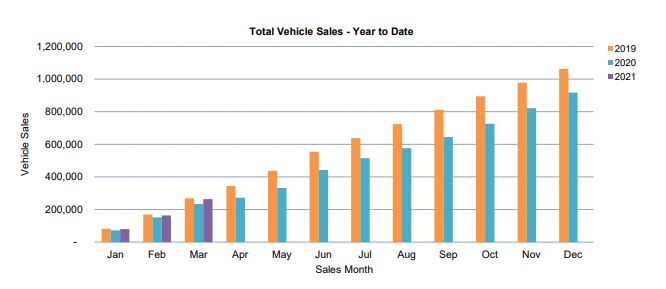 Source: FCAI
March is typically the second strongest month for new car sales behind June, as Japan's end of financial year pushes popular brands to discount vehicles in an effort to compete with their Japanese rivals.
SUVs had the strongest growth in sales, up 32%, followed by light commercial vehicles (up 28%).
Increased demand from private buyers resulted in eight of the top ten selling vehicles being SUVs or light commercials.
Electric vehicle sales saw strong growth in March at 411 sales, an increase of 248 compared to March of last year, but Australia still lags well behind the global average.
Toyota was the leading brand in March with sales of 21,319 vehicles (21.3% of the market), followed by Mazda with 10,785 (10.8%), Hyundai with 6,852 (6.9%), Mitsubishi with 6,430 (6.4%) and Ford with 5,977 (6.0%).
The Toyota Hilux was the best-selling vehicle in the month with sales of 5,319 vehicles, followed by the Ford Ranger (3,983), the Toyota RAV4 (3,522), the Toyota Landcruiser (3,392) and the Mazda CX-5 (3,022).
Record-breaking month for Chinese vehicles
Chinese brand MG made it into the top 10 selling car brands for the second consecutive month, while fellow Chinese brands LDV and Great Wall Motors cracked the top 20.
This is the first time China has been the fourth-biggest source of vehicles in a quarter, behind Japan, Thailand, and South Korea.
Chinese car sales were up 164.5% in the first three months of 2021 compared to the same time last year.
In comparison, sales of vehicles from Japan were up 24.3%, while Thailand saw a fall of 3.9% and South Korea was up 11.9%.
---
Photo by Hannah Sutherland on Unsplash