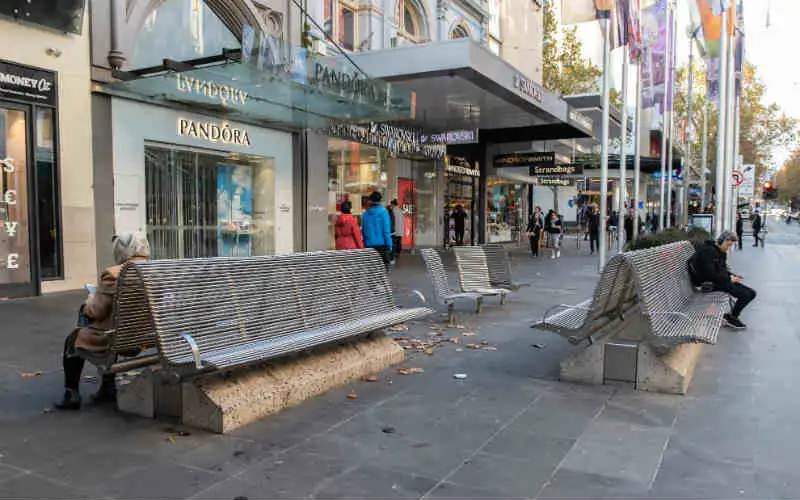 Photo by Mitchell Luo on Unsplash
Preliminary retail sales surged 16.3% in May, rising by $4.03 billion to $28.83 billion - the biggest monthly rise ever published in 38 years of data.
It follows the largest ever seasonally adjusted fall of 17.9% in April 2020, according to preliminary retail trade figures released today by the Australian Bureau of Statistics (ABS).
NAB was forecasting a 5.5% rise.
The ABS said there were large rises for clothing, footwear and personal accessory retailing and cafes, as well as restaurants and takeaway food services, as restrictions on trade were lifted during May.
But despite the rises, both these industries remain well down on the levels of May 2019.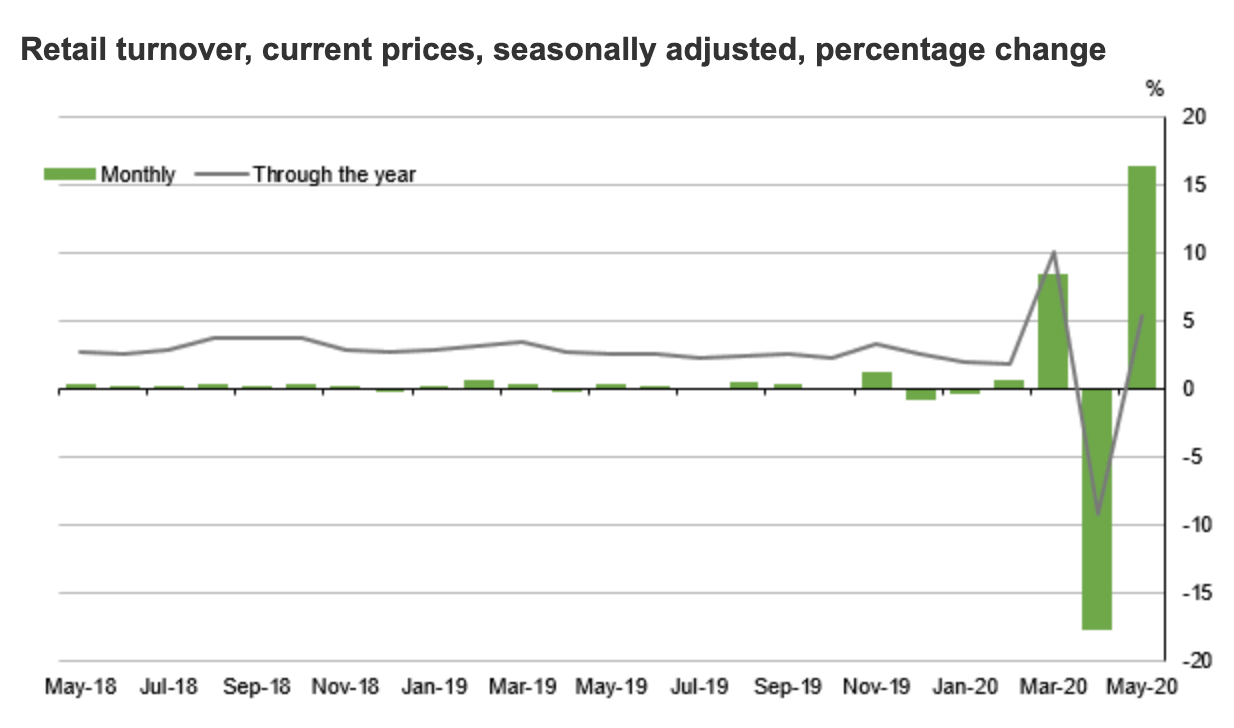 Source: ABS
There were also big rises in household goods retailing, where retailers reported increases in spending relating to homes, including furniture, home entertainment, home offices, and home improvement.

Food retailing rose as households continued to consume additional food and beverages at home during May.
Levels in liquor retailing also remained high, as restrictions on hospitality, such as bars, clubs and events, remained in place for May 2020.
Need somewhere to store cash and earn interest? The table below features introductory savings accounts with some of the highest interest rates on the market.
Lender

---

4

0

0

0

$product[$field["value"]]

$product[$field["value"]]

$product[$field["value"]]

More details

FEATURED

Online Saver (Amounts < $499999)

0

200

0

$product[$field["value"]]

$product[$field["value"]]

$product[$field["value"]]

More details

PremiumSaver (Amounts < $250k)

3

0

0

0

$product[$field["value"]]

$product[$field["value"]]

$product[$field["value"]]

More details

0

10

0

$product[$field["value"]]

$product[$field["value"]]

$product[$field["value"]]

More details

4

0

0

1

$product[$field["value"]]

$product[$field["value"]]

$product[$field["value"]]

More details

WebSavings Account (New Customer) ($2,000+)
Rates based on a savings balance of $10,000. Sorted by total interest rate. Refer to providers' websites for bonus rate conditions. Note that the base rate will apply once the introductory term has passed. Rates correct as of June 25, 2022. View disclaimer.
Indeed APAC economist Callam Pickering said COVID would leave a lasting impact on the retail sector, but expects volatility to slow down later in the year.
"The combination of higher unemployment and low wage growth has never been positive for the retail sector. Nor for the economy more broadly. So I would expect COVID-19 to leave a lasting impact on the sector throughout 2020 and beyond," Mr Pickering wrote in a tweet.
"With regards to Aussie retail trade, volatility should start to diminish in June and July, with the economy returning to something that better resembles normal. That will provide insight into the more persistent impact of COVID-19 on household spending."
A third consecutive monthly record for retail trade. In May, retail rose by 16.3% - following April's record decline of 17.7 and March's then record 8.5% increase. The y-axis on my graph weeps #ausbiz pic.twitter.com/0owLfdgHVD

— Callam Pickering (@CallamPickering) June 19, 2020
Westpac senior economist Andrew Hanlan said the figures exceeded their expectations of a 12% increase.
"The wild COVID ride for retail continues," he said.
"Retailing has quickly moved through a number of phases: temporary stock-piling in March; the lock-down driven plunge in April; and now a rebound, including an element of catch-up, in May."
"Beyond these wild swings in spending, the key issue – where to for consumer spending when we move beyond the lock-down and beyond the reopening. Weak income growth and fragile confidence will continue to weigh on the outlook in our view."
Six phases of COVID spending
Retail analysts from Deloitte Access Economics anticipate a 4% contraction in retail spending in the June quarter, after May's surge in growth.
Overall, real retail turnover growth is expected to fall 1.4% in 2020, making it the worst year on record.
Deloitte Access Economics partner David Rumbens said 2020 has been a tumultuous year for retailers.
"We're not even halfway through, but across the whole sector we expect calendar 2020 to register a record breaking fall in real retail sales," Mr Rumbens said.
"But while the average is dire, there may not be many retailers performing at the average – many will fare much worse, while supermarkets, pharmacies and hardware, amongst others, have been experiencing a golden run.
"Consumer willingness to spend will likely be buffeted by a number of different factors, meaning that one month's trading experience may be a terrible guide to how the year as a whole pans out."
"Rather than one dominant economic theme, we expect six phases to retail spending in 2020."
The six phases outlined by Deloitte are:
A pre-COVID normal. Remember January/February? Hardly normal, as the country was dealing with devastating bushfires, and some borders were starting to close. However, for most retailers trading was in a familiar pattern with modest growth from month-to-month.
March stock-up. As COVID led to widespread restrictions, consumers entered a massive stocking-up cycle, with the extra spending on essentials masking a sharp decline in much discretionary spending. This culminated in the strongest monthly growth in retail sales on record.
April slump. The stock-up phase tapered off, so supermarket and related spending came back down, while the downturn in discretionary spending (particularly cafes/restaurants and apparel) only got worse. The result? The worst fall in monthly Australian retail sales on record.
May re-open rebound. As health concerns abated and consumers were given the green light to go back to shopping centres, retail spending appeared to have once again picked up sharply. This was helped by some pent-up demand, and a lot of government support, cushioning the blow which might otherwise have been seen on consumer incomes.
Recovery growth. Tempering the re-opening frenzy, this will be a 'COVID normal' period, where sales are buoyed by an improving economy (picking up from a very deep trough), and which continues to benefit from income support measures (JobKeeper, deferral of mortgages, access to super etc.).
Post JobKeeper slog. September is already flashing red for many retailers as the month for the intended end to JobKeeper, and therefore the significant support many businesses (including retailers of course) have been receiving. That may see the last phase for retail in 2020 as a fairly sombre one, leaving many retailers to dream of the support they received when COVID was at its peak.
---
Latest Articles