Recent snap lockdowns in Greater Sydney and Victoria have caused a significant decline in card spending among Australian consumers, and leading experts predict that this will lead to a plateaued GDP in the September 2021 quarter.
According to CommBank's latest credit card data, card spending levels are 10.5% above 2019 levels. This is compared with the annual average of 17.5% before the latest lockdowns.
There is a level of uncertainty about how long lockdowns will last and what restrictions will remain in place when lockdowns are lifted, and CommBank's report said there could be a much more "protracted rebound in spending" than what was seen in previous lockdowns.
Card spending in NSW declined to -0.6% versus 2019 levels, compared with +2.1% the week prior. This is compared to the previous average of 17%.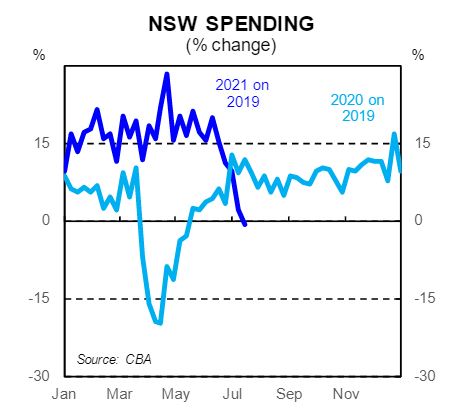 In Victoria, card spending was still up 12.9% compared to 2019, which is slightly higher than the prior week of 9%.
However, this is contrasted to the 17% average growth prior to the latest lockdowns.
Currently, spending habits are 'on par' with their expectations when compared with recent lockdowns.
As a result, there has been a clear switch to online spending, less spending on services compared with goods, and states without lockdowns have remained relatively stable in their spending trends, according to CommBank's report.
What people are spending their money on
CommBank's Household Spending Intentions (HSI) for June 2021 has revealed declines in spending intentions for Home buying, Travel, Entertainment, and Motor Vehicles when compared with the previous year.
However, when compared with 2019, spending intentions have increased for Home buying, Health & fitness, Entertainment, and Motor Vehicles.
Travel spending intentions continue to decline, with 2021 spending intentions now even lower than 2020.
Retail continues to be volatile, softening compared with 2020 yet still higher than 2019 figures.
In NSW, the categories that have seen the largest decline include dining out, clothing, personal care, recreation, and transport. Over the next week, Victorians' spending habits will capture the impacts of their state's latest lockdown.
On a national scale, online spending increased sharply, 32.7% higher than 2019, with in store spending only 1% higher than 2019.
Other states trail slightly behind the average levels through 2021, yet are still significantly higher than 2019 levels.
Queensland card spending was 18.1% higher; WA was 21% higher; spending was 21.5% higher in SA; 16.5% higher in NT; and Tas saw 24.4% higher card spending.
ACT card spending was only 7.5% higher than 2019, with the impacts of people from Greater Sydney entering the capital impacting the transactional data.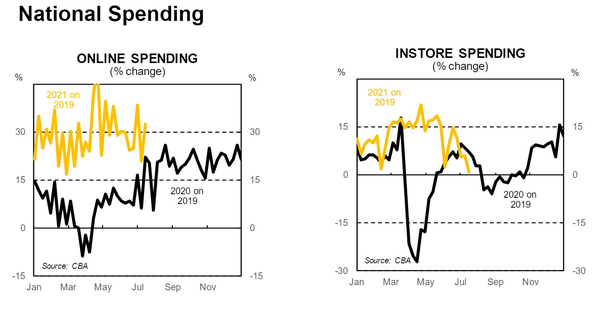 Photo by Pickawood on Unsplash