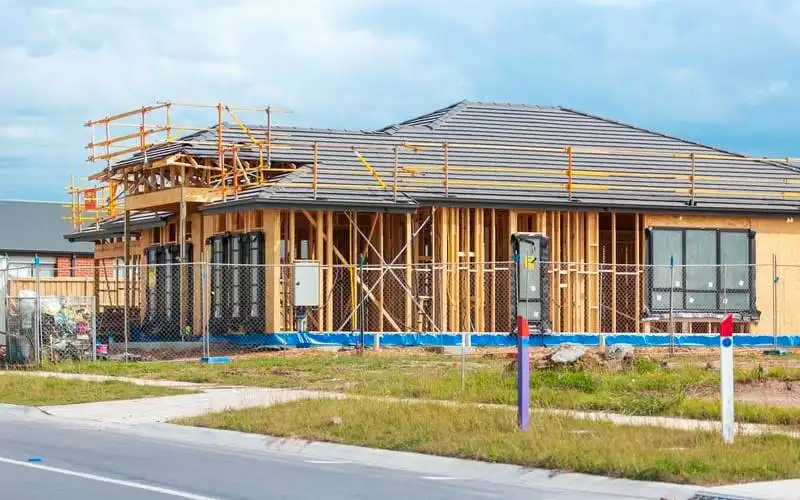 The latest data indicates the value of construction work done in the December 2020 quarter fell 0.9% to a touch over $51 billion.
A residential construction boost of 2.7% over the quarter was not enough to offset non-residential construction (down 2.4%), and engineering (down 2.8%) in seasonally adjusted terms.
The Australian Bureau of Statistics' (ABS) data also shows the value of residential construction was down 0.7% in the quarter compared to 2019.
Quarter four results were weaker than the 0.7% growth anticipated by Westpac economists and weaker than the market median of +1.0%.
"The detail reveals that public works was the source of disappointment in Q4, down by 3.6%, following back-to-back gains," Westpac senior economist Andrew Hanlan said.
"Housing advanced, as expected, with the sector set for a strong rebound on the back of cheap credit and government incentives, pulling-forward demand.
"Going forward, the housing recovery and a lift in public works, with governments committing to new projects in the recent round of state budgets, will act to more than offset lingering weakness in private business construction work."
The gulf between approvals and completions appears to be widening, with the value of residential housing construction done being approximately $300 million more than in the September quarter, for a total value of more than $8.95 billion.
Private sector housing approvals in the December quarter on the other hand amounted to nearly $36.5 billion, up from more than $28.8 billion in the September quarter.
The increases were offset by falling unit construction work done, a slower public builds sector, and longer pipelines of construction work.
This coincides with a year-end rush in HomeBuilder applications as the grant was reduced from $25,000 to $15,000 at the start of 2021.
CoreLogic data released Monday also found housing construction costs rose 1% over the December quarter.
The Cordell Housing Index Price, also known as 'CHIP', indicates this builds on a 0.6% rise seen in the September quarter, and CoreLogic executive director of research Tim Lawless said there will likely be "additional pressure" on construction costs as demand continues to build.
"The lift in residential construction costs is likely to flow through to higher prices for built residential products and also place upwards pressure on inflation where housing costs receive the heaviest weighting within the CPI [consumer price index] 'basket' of goods'," he said.
"Although HomeBuilder is phasing out after March, it's highly likely we will see a continuation in this trend towards higher residential construction costs.
"It will take some time for builders to work through the pipeline of house approvals that have surged through the second half of last year."
---
Building a home? The table below features construction home loans with some of the lowest interest rates on the market.
---
Photo by Troy Mortier on Unsplash