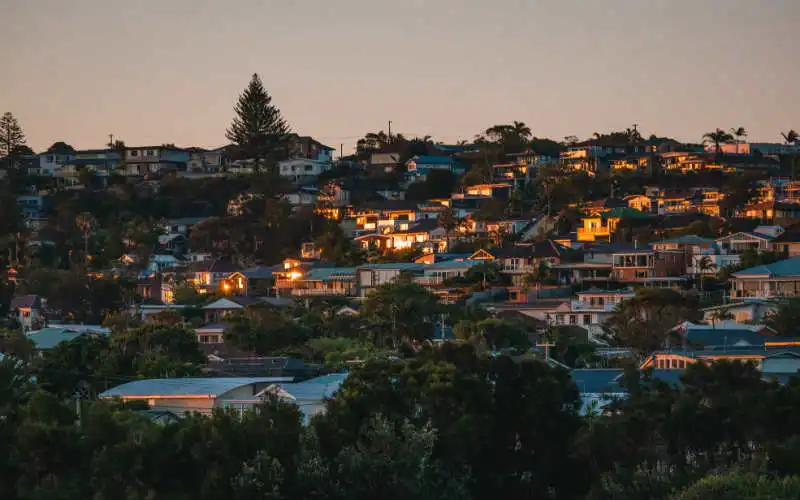 A new report proves Australia's property market has remained "remarkably resilient" despite the country enduring its worst economic downturn since the 1930s.
CoreLogic's Best of the Best 2020 report shows while the initial shock of COVID led to a slight drop in house prices at the start of the year, they have ended the year higher and are on track to continue rising in 2021.
Buying a home or looking to refinance? The table below features home loans with some of the lowest variable interest rates on the market for owner occupiers.
Fast turnaround times, can meet 30-day settlement
For purchase and refinance, min 20% deposit
No ongoing or monthly fees, add offset for 0.10%
The report found that luxury housing markets in particular have managed to withstand the impacts of COVID.
"The Best of the Best report for 2020 highlights the resilience of luxury markets in Australia, where the highest median house value was once again in Darling Point, and the highest median unit value was found in Point Piper, as with 2019," said CoreLogic's Head of Research Australia Eliza Owen.
"This is not to say these suburbs have been unaffected by the pandemic; indeed the high end of the Sydney market is generally more volatile to changes in economic conditions.
"However, this volatility also tends to see a rapid recovery in the wake of lower mortgage rates and an improvement in consumer sentiment."
In terms of capital cities with the highest median values, Sydney's eastern suburbs snagged seven places on the list.
Darling Point had the highest median value in the country at $7.06 million, followed by Bellevue Hill ($5.72 million), Vaucluse ($5.39 million) and Double Bay ($4.76 million).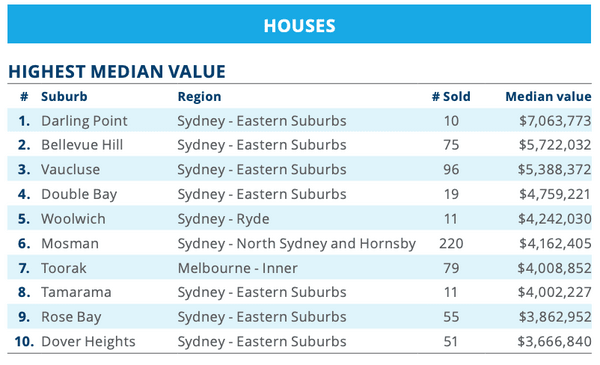 Source: CoreLogic
If you're looking for affordable property, it seems Adelaide North is the place to be with nine suburbs making the top ten list for lowest median value.
Elizabeth North recorded the lowest median value at $176,386 followed by Elizabeth South ($188,116), Davoren Park ($194,903) and Elizabeth Downs ($195,511).
Rounding out the list was Russell Island in Brisbane's East, with a median value of just $233,816.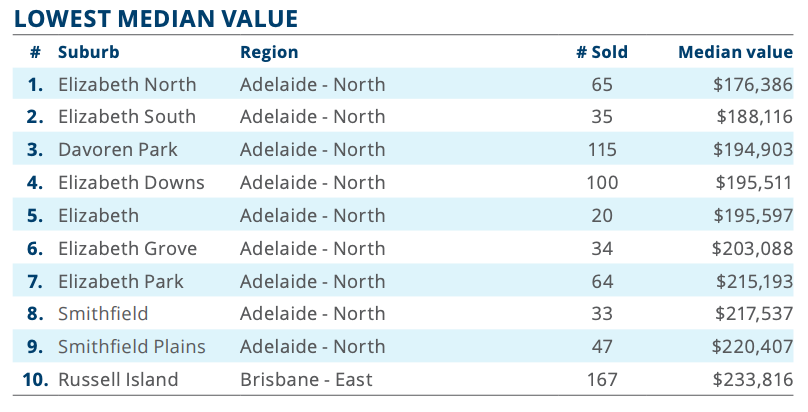 Source: CoreLogic
Ms Owen said one of the most surprising things to come out of the report is that some of the suburbs most impacted by the pandemic had the highest sales turnover value in the year to September.
"In the suburb of Melbourne, for example, unit values declined -3.4% between the onset of the pandemic in March, and the end of September. The total value of sales is down -3.9% in the year to September 2020 compared with the year to 2019," Ms Owen said.
"Yet the suburb of Melbourne has gone from having the sixth highest total sales value in 2019, to claim the number one spot in 2020."
To determine which suburbs were the best performers, the report also looks at annual capital growth and rental yields.
While Darling Point recorded the highest median value in Australia, Queensland's Sunshine Beach recorded the highest annual capital growth for houses at 27.6%.
Horsham in Victoria recorded the highest annual capital growth for units at 25.7%.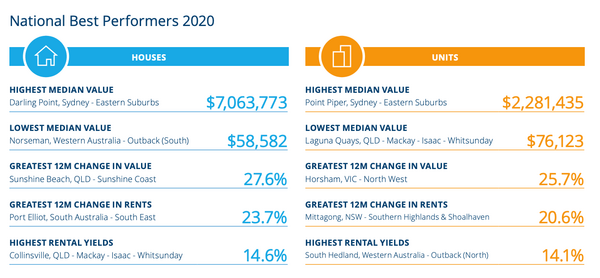 Source: CoreLogic
Reports of Australians leaving the capital cities for a tree or sea change due to COVID has dominated reporting on the housing market this year.
Ms Owen said the relative popularity of lifestyle markets is evident in CoreLogic's report, and regional Australia outperformed the combined capital cities market this year.
"With the exception of the highest median value suburbs, our Best of the Best report is dominated by high performing regional areas across the country," she said.
"Sunshine Beach on the Sunshine Coast has seen the highest annual capital growth in houses nationally, compared with 2019 when St Kilda in Melbourne saw the highest housing growth."
[See also: The 30 Australian locations tipped to become working from home hotspots]
What's in store for the property market in 2021?
House values are expected to continue rising next year thanks to the low cost of borrowing.
"Record-low mortgage rates will likely be a significant tailwind for property values, and may place upward pressure on prices through 2021," Ms Owen said.
"Combined with a recovery in [the economy], some earlier factors considered a major risk to housing markets have been reduced, including the end of mortgage repayment deferrals."
See also: Here's why Australian property prices didn't crash in 2020
But Ms Owen warns house prices in Melbourne could take a bit longer to recover.
"The inner-city Melbourne market is seeing greater risk in 2021, with an increase in listing stock weighing on a recovery in values. For example, modelled sales volumes for November estimate 4,301 transactions took place across Melbourne, compared with 8,054 new listings added to the market in the same period.
"This means there were around 0.5 sales for each new listing added. This is very different from conditions across other capital cities, where the November sales to new listings ratio averaged 1.2 sales for each new listing added.
"So despite Melbourne dwelling values joining a broad-based recovery trend in November, and values rising 0.7% in the month, the disproportionate volume of stock to sales volumes may slow the rate recovery across the city in 2021."
Property investors are expected to return to the market next year after record low participation this year.
"Property investment activity is likely to increase across smaller capital cities such as Perth, where rent values rose a remarkable 8.2% in the year to November."
"In Hobart, where gross rent yields are 4.6% across dwellings, the investor share of mortgage finance increased from a recent low of 16.4% in August 2020, to 21.8% in October across Tasmania."
Buying an investment property or looking to refinance? The table below features home loans with some of the lowest variable interest rates on the market for investors.
Option to add an offset for 0.10%
No monthly or ongoing fees
Unlimited redraws
Watch out for high levels of household debt
At June 2020, the housing debt to income ratio was 141.2, with housing debt accounting for most of Australian household debt.
Ms Owen says this poses an ongoing risk to the Australian economy, especially where heavily indebted households may be more likely to save rather than spend during periods of uncertainty.
"As a result, policy makers and regulators may watch for signs of rising household debt, or a decline in prudential lending standards that could lead to higher household debt," she said.
"Higher LVR lending or higher loan to income ratios could be a trigger for macro-prudential intervention in 2021."
Household debt levels are important for a couple of reasons, the first being that households highly in debt are more likely to suffer financial instability if they lose their job, fall ill or the cost of debt goes up.
The other reason is that households in high amounts of household debt are more likely to save rather than spend in times of economic uncertainty (like COVID), and this drop in spending has negative impacts on economic growth.
We've certainly seen that happen this year: Australia's household savings ratio has skyrocketed in 2020, for example.
The Reserve Bank explored the risks of high levels of household debt in a discussion paper earlier this year, warning that house prices could plummet by as much as 40% in an 'extreme' scenario.
See also: Are we in a housing bubble?
But despite (some would say overblown) forecasts of massive house price crashes, prices have remained steady and are expected to rise in 2021.
Overall, everything's coming up Millhouse for the housing market.
"The housing market outlook for 2021 is positive, given highly accommodative monetary and fiscal policy, signs of an economic recovery and many first home buyer incentives remaining in place through to early next year," Ms Owen said.
---
Photo by Junel Mujar on Unsplash