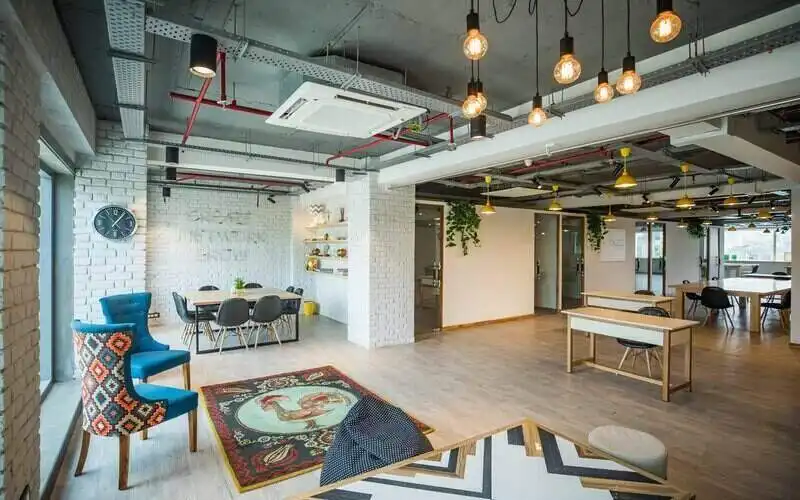 Looking to shake up your property portfolio? Maybe commercial property is the missing piece to your puzzle.
When you think of a property empire, you may imagine a stack of rental properties scattered across the country raking in the money. But some investors don't just dabble in the residential property space - they also own commercial property.
Unlike residential property, the commercial property market is another ball game. Commercial properties are rented out to businesses/enterprises, and owners generate their profits from rental income and capital gains.
If you already have a few residential properties under your belt, and you're looking for ways to switch things up, investing in commercial property might be right up your alley. Or if you're thinking of entering the commercial property space, but you're not sure whether it's the right move for you, here's a few things to know first.
In this article…
---
Advertisement
Looking to take control of your retirement? This table below features SMSF loans with some of the most competitive interest rates on the market.
Lender

---

Variable

More details

FEATURED

SELF MANAGED SUPER FUND LOAN

SMSF 80

Easy refinance process
No application fee and no settlement fee
No monthly, annual or ongoing fees

SMSF 80

Easy refinance process
No application fee and no settlement fee
No monthly, annual or ongoing fees

Variable

More details

Ocean SMSF (No Offset) (Metro) (Principal and Interest) (LVR < 60%)

Easy refinance process
No application fee and no settlement fee
No monthly, annual or ongoing fees

Variable

More details

SMSF 70 (Refinance)

Easy refinance process
No application fee and no settlement fee
No monthly, annual or ongoing fees

SMSF 70 (Refinance)

Easy refinance process
No application fee and no settlement fee
No monthly, annual or ongoing fees

Variable

More details

Liberty SuperCredit SMSF (LVR < 60%)

Easy refinance process
No application fee and no settlement fee
No monthly, annual or ongoing fees

Variable

More details

SMSF Residential

Easy refinance process
No application fee and no settlement fee
No monthly, annual or ongoing fees

SMSF Residential

Easy refinance process
No application fee and no settlement fee
No monthly, annual or ongoing fees

Variable

More details

SMSF 70 (Purchase) (New Customer)

Easy refinance process
No application fee and no settlement fee
No monthly, annual or ongoing fees
Easy refinance process
No application fee and no settlement fee
No monthly, annual or ongoing fees
Base criteria of: a $400,000 loan amount, variable, fixed, principal and interest (P&I) home loans with an LVR (loan-to-value) ratio of at least 80%. However, the 'Compare Home Loans' table allows for calculations to be made on variables as selected and input by the user. All products will list the LVR with the product and rate which are clearly published on the Product Provider's web site. Monthly repayments, once the base criteria are altered by the user, will be based on the selected products' advertised rates and determined by the loan amount, repayment type, loan term and LVR as input by the user/you. *The Comparison rate is based on a $150,000 loan over 25 years. Warning: this comparison rate is true only for this example and may not include all fees and charges. Different terms, fees or other loan amounts might result in a different comparison rate. Rates correct as of June 29, 2022. View disclaimer.
---
How do you start investing in commercial property?
Let's say residential property is roller skating and commercial property is ice skating. Before you get on the ice, it might be better that you've roller skated a few times.
1 .

Know what you're getting into

Arjun Paliwal, Founder and Head of Research at InvestorKit, said commercial property investing definitely isn't easier than residential property investment. If anything, he said there are a few more risks involved.

"I think we definitely feel more comfortable with [residential property], because we're used to living in it and we think of what we would like or what others may like. And there's a lot more of it to go around," Mr Paliwal told Savings.com.au.

"I think that's where it's definitely not as easy."

Mr Paliwal said commercial investors are generally one of two types of people, but that the latter is most common: they are either business owners looking for a new headquarters, or they already own multiple residential properties and are looking for a greater rental return.

"From that starting point, if you're the more common scenario, taking out equity against your residential portfolio can help with getting started," he said.

Steve Palise, Owner of buyers' agency Palise Property, said investing in commercial property is a lot more work, but if you get it right, the rewards can be spectacular.

"There is a multitude of investment types - industrial, retail and offices to name a few. You need to understand these properties and the intricacies of the one you wish to invest in," Mr Palise told Savings.com.au.

"You can get into a quality commercial property from $300,000 which makes it very attractive for those looking to dip their toe into this market. There are a lot more moving parts in regard to finding the property, analyzing the property, and obtaining finance."
2. Speak to the professionals
Mr Palise said the first step for getting into the commercial market is to speak with an experienced commercial mortgage broker.
"Most mortgage brokers focus on residential, so you want someone well-versed in commercial as there are different types of loans and conditions," he said.
3. Get a sizeable deposit together
Tania Tonkin, Director or DMCA Advisory, said the first thing you should do when considering commercial property investment is saving up a hefty deposit.
"You will need a bit more for this deposit than [you would need] for a residential property, as banks will usually only lend up to 70% of the property value," Ms Tonkin told Savings.com.au.
"Meaning you need to have cash to pay for 30% of the purchase price plus a bit more for costs."
4. Consider commercial property through your super
Shaun Bond, Frank Finn Professor of Finance at the University of Queensland Business School, said many investors are exposed to commercial property through their super funds.
"Many balanced or high-risk funds will have investments in high quality commercial buildings or commercial mortgages as part of their overall mix of assets," Mr Bond told Savings.com.au.
"There is a lot of research that shows commercial real estate offers diversification benefits when included in a portfolio alongside stocks and bonds. For most investors the allocation in their super fund should give them sufficient exposure to commercial real estate."
Ms Tonkin seconded this, and said that if you were purchasing the property for your own commercial business, you could do so through your self-managed super fund (SMSF).
"You could set up an SMSF to purchase a property that you then rent to your own business," she said.
"However, it is always recommended that you get advice to make sure this is the right thing to do in your own circumstances, and that it is in line with the strict rules that apply."
Compare the pair: How is buying commercial property different to buying residential property?
You may be wondering how investing in commercial property is actually different when compared to buying residential property.
1 . Income differences
According to Mr Paliwal, the big difference is usually to do with someone's desires for income.
"When someone has a greater desire from a rental income perspective, that is where commercial property really comes up for them in terms of a reason to invest in it," he said.
"I think that's what then drives the decision to be in commercial."
Mr Palise said gross yields for residential properties are typically between 3 to 6%, but after outgoings such as council rates, water rates, body corporate, maintenance and so on, net yields can be between 1 and 3%.
"Most residential investors settle on a negatively geared property hoping that the eventual capital growth will outweigh the short-term loss," he said.
"While this could be the case, you might run into cash flow problems in the long run which could mean that you might have some problems servicing the loan.
"On the other hand, commercial properties typically average around 5% to 8% net yield. And tenants are generally responsible for the outgoings. So, there's an opportunity for a much greater net cash-flow return - meaning you could focus on expanding your portfolio."
2. Risks
Another thing Mr Paliwal mentioned is the fact that they may already be comfortable with their asset position, so they feel comfortable taking on the added risks that can come with commercial property investment.
"They can close their eyes hold their residential property for long-term wealth creation, and they'll still probably be okay. Even if the commercial [property] doesn't go as well as they'd like to from a growth perspective," he said.
Mr Palise also said depending on the age and style of the commercial building, it may have a higher depreciation rate due to the construction and fit-out.
"This can be an advantage as higher depreciation means greater tax deductions for the owner," he said.
3. Tenant dynamics
Helen Tarrant, Founder of Unikorn Commercial Property said when buying a residential property, most buyers look at the area/suburb as their key driver, whereas commercial buyers need to look exclusively for solidarity of the tenant and areas/properties with the most cashflow.
"Typically you will need a higher deposit to get into commercial, as there are no government grants or support for this investment strategy, but the pay-off can be far greater if you are able to find a strong tenant mix and can charge higher rents in a location that will also experience capital growth over time," Ms Tarrant told Savings.com.au.
Essentially, instead of buying a property with tenants living in it, you'd be buying a property with tenants working from it. Your main goal is to generate cashflow when commercial investing while residential property investment may have different motivations (negative gearing, renovations, capital growth etc). This means your motivations for buying and how you do so will be different.
Case study: What $1 million will get you in Sydney
To illustrate how owning a commercial property can differ from owning a residential property, Ms Tarrant created a hypothetical example.
"For $1 million property in Sydney, you would get a two-bedroom apartment with a rental of around $600 gross per week," Ms Tarrant said.
"After removing the outgoings and mortgage, you end up being negatively geared."
But with a commercial property, $1 million could see you snagging a 5 to 7% rental net return before your mortgage comes into the equation, and around 2.5 to 4.5% after your mortgage repayments have been covered.
"[This] means there's money in your pocket from day one," she said.
"Having additional cash flow means that you can support your current residential portfolio or have additional income to support your household."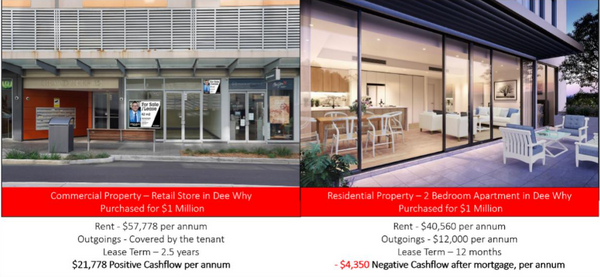 Source: Unikorn Commercial Property
Pros and cons of investing in commercial property
Now that we understand the differences between commercial and residential property, what are the pros and cons of going down the commercial property route? Let's discuss a few.
Pros
Mr Bond said commercial property has performed well over time.
"Commercial properties tends to offer a good level of income return while offering capital growth potential. Many investors also like the inflation hedging potential of commercial real estate as leases may be indexed in line with inflation or have periodic rent reviews," he said.
"In some instances all of the operating and maintenance expenses related to the property can be passed back to the tenant and lease terms are typically much longer than for residential property.
"Historical evidence also shows that a well-diversified portfolio of commercial property tends to be less volatile than equities while offering greater overall return potential than bonds."
Mr Paliwal mentioned a few potential pros of commercial property investment. We'll summarise the key points below.
Long leases, higher rental yields

Tenants usually maintain/upkeep the property - less room for unforeseen circumstances

A constant increase of rental income - built in increases rather than relying on vacancy rates/what the market's doing

Sometimes you'll find more favourable lending conditions
Ms Tarrant also mentioned a few pros of her own.
Most commercial properties are positively geared

Your tenant pays all of your outgoing costs (water, electricity, land taxes, strata fees and so on)

Passive income - consistent money flowing into your bank account each month
Cons
There are also a number of cons or risks that should be considered when thinking about commercial property investment.
Ms Tarrant said owning a commercial property is definitely not seen as sexy as owning a residential property, with many people holding onto the Australian dream of owning a house in the burbs.
"The other disadvantages to purchasing a commercial property is that there are far longer negotiations involved including contracts with tenants," she said.
"As the past two years have shown us, many commercial businesses have closed their doors to the public and as a result, there is risk of your tenants either requesting rent reductions or completely vacating.
"While there is no way to guarantee how your tenants might react to external issues, the best way to safeguard yourself in commercial property is to buy premises that are diverse and multi-purposed, meaning it can adapt into retail, essential services, hospitality and so on."
Mr Paliwal also mentioned some cons to buying commercial property.
Greater deposit required - can range from 20 to 40%

Lower market cap - residential property valued at over $9 trillion but commercial property is valued at just over $1 trillion - which means fewer properties to choose from

Varying property types that can come with varying risk from banks and lenders, and as a result, different loan restrictions - complexity can make it difficult when it comes to lending
Lastly, Mr Bond said investing in commercial property is considerably more risky.
"The performance of commercial real estate is more closely tied to the overall economy than residential, so a recession can severely affect returns," he said.
"Properties can sit vacant for long periods if tenants leave and landlords need to consider physical obsolescence and environmental concerns.
Blockquote: "Investors also need to be aware of important trends impacting the sector; for example the rise of internet shopping has had a devastating impact on some retail properties, and the trend towards working from home is curtailing demand for offices."
Should you invest in commercial property?
With all of this information in mind, the big question is: should you buy a commercial property? Of course, there's no one size fits all answer to this question. Maybe you want to move into your investment property in the future, you're more comfortable in the residential space, or you can't shake the old school Australian dream of home ownership. In all of these cases, commercial property might not be the right move for you.
1 . If you're looking for property other than residential
Mr Paliwal said if you're a multi-residential investor, or you're in a later stage of life seeking more income, you're likely to suit commercial property investment.
"In terms of people who I don't feel would suit commercial properties… those who are just starting out their investing journey, and those who are at a younger age who feel they have compounding growth on their side," Mr Paliwal said.
"If you're not able to [use] equity, refinance, move to banks and do it all over again - you just put yourself in a position where you can't scale the portfolio as much as you'd like to."
Mr Paliwal said one mistake he sees commercial investors make is putting all of their eggs in one basket.
"They latch on to one commercial property, they feel really happy with it, they look at the numbers: it's great, it's got a long lease, and they hope it delivers them everything because then 15 to 20 years they could be debt free, getting a great income," he said.
"But there's still that whole hope for it's one thing to do everything leaves them kind of dry when they have vacancies or limit tenants move or when they don't have other commercials to hedge it.
"So I do think that those going down the road of commercial property should even consider multiple commercial properties to hedge them against each other."
2. If you're a more experienced investor
Mr Bond said investing directly in a commercial property is much more complex than residential investment, so he generally doesn't recommend it for inexperienced investors or someone without experience in commercial real estate.
"Most investors will be better off considering an investment in Real Estate Investment Trusts (REITs), property companies or private funds rather than purchasing a commercial building," he said.
"These investments offer many of the benefits of exposure to commercial real estate and have much smaller capital requirements. They also allow investors to diversify their investment across many assets and property types, allow investors to benefit from experienced property managers, have lower transaction costs, and are significantly more liquid than direct investment."
But for high net worth investors looking to diversity, he said commercial real estate can offer benefits if it represents a sliver of your overall property portfolio.
"It is particularly important that the investor understands the business, legal and financial risks associated with this type of investment," Mr Bond said.
3. If you have a long-term investment strategy
Ms Tarrant said no matter where you're looking to invest, it's always best to think about your long-term wealth strategy.
"If you're someone who is looking for negative gearing and longer-term capital growth, residential property might be the best solution for you," she said.
"However, if your goal is to seek out additional cashflow and continue to build your property portfolio as quickly as possible, commercial property is definitely the avenue to pursue."
Ms Tarrant said with the residential market becoming too expensive for many first home buyers, some people are using commercial property to build their equity and positive cashflow to save for a residential property.
"And I feel this is genuinely something most Australians will need to start to consider into future, particularly in light of interest rate rises," she said.
Mr Palise said there are a few ways to distinguish whether a commercial property is right for you or not.
| Commercial property may be right for you if: | Commercial property may not be right for you if: |
| --- | --- |
| You're getting towards your serviceability limit for residential borrowing | You're early on in your portfolio |
| You need a passive income quickly | It doesn't suit your risk profile |
| You are a business owner who's cash rich but asset poor | You don't have the required capital |
| | You don't understand commercial property well |
Tips for commercial property investors
If you've decided to invest in commercial property, we collected a few tips and tricks from our commercial property experts.
1 . Educate and research
Mr Palise said the first step to take is to educate yourself.
"Up until recent times commercial property was a completely unknown space for most investors. Now there is a handful of books in stores, and podcasts you can listen too," Mr Palise said.
"Commercial is not like residential where you only have to buy in a good area. There are many moving parts such as the type of commercial, the location, the foot and road traffic, lease review, tenant review, etc.
"It is is not for the faint hearted but if you are willing to do the work, you can reap the huge rewards."
Ms Tarrant also echoed this and encouraged investors to research heavily.
I would encourage investors to get educated so they fully understand the difference between residential/commercial. Research the market, understand the metrics and returns and do your due diligence when it comes to locations and types of properties you're looking to buy.
"Avoid hot spots and instead look to fringe suburbs and areas about to boom, such as new infrastructures near main roadways, or house and land packages."
Mr Bond said it's important to find an independent investment adviser, accountant or lawyer with extensive experience in commercial real estate.
"Discuss your plans with them before considering an investment in this sector," he said.
2. Prepare your budget
Mr Paliwal also said having a larger budget, rather than just trying to break into the market, is a big win because sellers are generally able to be more competitive with their offer.
"What happens is that they offer deals with longer leases, stronger tenants, bigger locations; they tend to show up in that type of price range," he said.
"So I'd say those looking into the $1 million-plus price range end up having a lot greater commercial success than those in the sub-$1 million, only because the sub-$1 million space is very competitive."
3. Try to future-proof yourself
Ms Tarrant said the last time interest rates rose, many residential investors jumped across to the commercial market, which drove returns down.
She said this is inevitable now that interest rates are rising again, so her biggest piece of advice is to get in as soon as possible.
Mr Paliwal said the biggest thing is to not focus so much on the tenant when doing your due diligence, because they may not be there forever.
"Sometimes people hunt down deals and love the deals because of the rates the tenants are paying or the type of tenant they are," he said.
"You also think of the the asset class; who it may support and the multiple types of tenants that it may support."
---
Disclaimers
The entire market was not considered in selecting the above products. Rather, a cut-down portion of the market has been considered. Some providers' products may not be available in all states. To be considered, the product and rate must be clearly published on the product provider's web site. Savings.com.au, yourmortgage.com.au, yourinvestmentpropertymag.com.au, and Performance Drive are part of the Savings Media group. In the interests of full disclosure, the Savings Media Group are associated with the Firstmac Group. To read about how Savings Media Group manages potential conflicts of interest, along with how we get paid, please visit the web site links at the bottom of this page.
Latest Articles