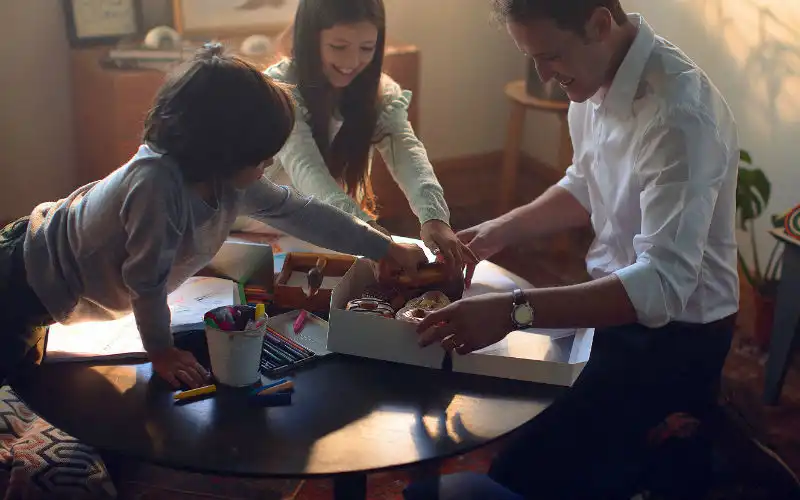 Photo by David Calderón on Unsplash
A global report by the OECD has revealed the Australian middle class is struggling compared to other countries, with 40% of them financially at risk.
OECD – the Organisation for Economic Co-operation and Development – found that dismal income growth and rising housing, education and health care costs are eroding the Australian middle class, as people in that bracket either sink or swim and move to upper or lower income brackets.
OECD defines 'middle income' as 75-200% of the median national income.
With a median national income of $55,000 (The Grattan Institute), that means the Australian middle class earns between $41,250 and $110,000 a year.
According to OECD's data, 58% of Australian households are classed as middle income, which is less than the 61% average among OECD's 38 member countries, which includes the United States, France, Germany, the UK and more.
In fact, Australia has a higher proportion of upper-income, lower-income and poor households than the OECD average.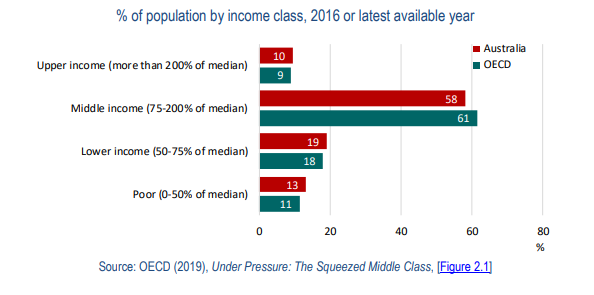 The report also identified 40% of Australia's middle class as at financial risk, and a big reason for this is the rise in housing spend.
Australian middle-income households spend a relatively low, but growing, share of their budget on housing – OECD found they now spend 23% of their household spending on their home loan on average, compared to 19% in 2005.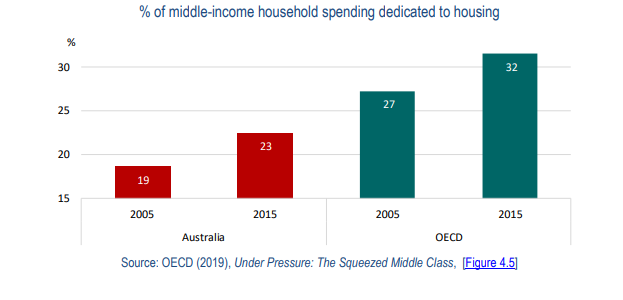 This is still less than the OECD average of 32% however, but other recent data from Digital Finance Analytics (DFA) found more than one million households (nearly a third) are experiencing mortgage stress.
The OECD noted that Australia was one of the few countries to have experienced large growth in house prices over the past decade, something it says has put extra pressure on middle-income earners when it comes to entering the property market.
It also said housing costs have risen by more than 250%, compared to a 100% increase in the median income since the 1990s.
Senior OECD official Gabriela Ramos said 30 years of income stagnation has led to life for middle-income households getting tougher.
"The cost of living has become increasingly expensive for the middle class, as the cost of core services and goods such as housing have risen faster than income," she said.
"Traditional middle-class opportunities for social mobility have also withered as labour market prospects become increasingly uncertain: one in six middle-income workers are in jobs that are at high risk of automation.
"Uncertain of their own prospects, the middle class are also concerned about those of their children; the current generation is one of the most educated, and yet has lower chances of achieving the same standard of living as its parents."
69% of baby boomers could consider themselves as middle-income earners when they were in their twenties, compared to a 68% OECD average.
66% (60% OECD average) of millennials can say the same.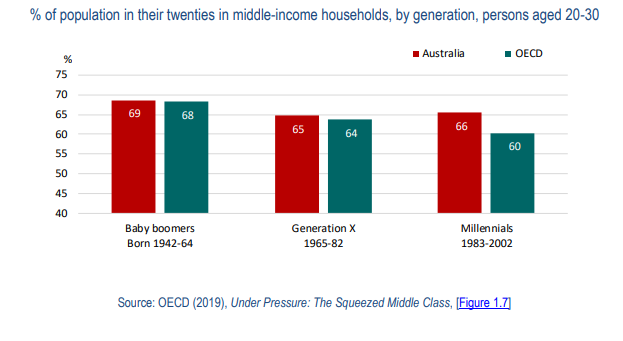 ---
Latest Articles