The latest RBA data on household debt to income ratio in December rose 189.6, while the housing debt ratio climbed to a record high of 140.2.
This shows the household debt to income ratio is increasing, explaining why mortgage stress is on the rise.
According to Digital Finance Analytics (DFA), more than one million Australian households, which is one-third of all homeowners with a loan, reported being under mortgage stress in March, up 0.6% from last month.
Of those, more than 27,775 reported being under 'severe' mortgage stress.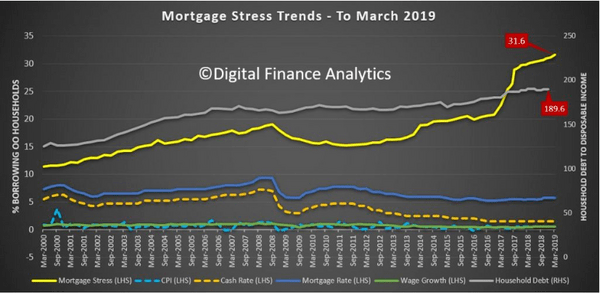 Source: Digital Finance Analytics
Households are considered "stressed" when their income doesn't cover their ongoing costs.
Households in mild stress don't have much leeway in their cash flow while those in severe stress can't meet mortgage repayments from their current income.
DFA founder Martin North said mortgage stress is only going to get worse.
"This is because we continue to see an accumulation of larger mortgages compared to income whilst costs are rising, and incomes remain static," he said.
"Housing credit growth is running significantly faster than incomes and inflation and continued rises in living costs – notably child care, school fees and electricity prices are causing significant pain.
"Many households are depleting their savings to support their finances."
Mortgage defaults predicted to rise
Perhaps one of the most concerning tidbits to come out of DFA's research is that an estimated 66,700 households are at risk of defaulting on their mortgage.
"This is as the impact of flat wages growth, rising living costs and higher mortgage rates hit home," Mr North said.
International ratings agency Moody recently revealed Australia's mortgage delinquency rate was at its highest level in five years. An estimated 1.58% of people were at least 30 days behind on their mortgage repayments late last year.
"Mortgage delinquencies will continue to increase over 2019 because of high debt levels, subdued wage growth, the conversion of a large number of interest-only mortgages to principal-and-interest loans and declining house prices," said Moodys Vice President and Senior Analyst Alena Chen.
But the firm expects mortgage delinquencies to remain low overall, given the current rate of economic growth and employment, "which will continue to support borrowers' ability to meet their mortgage repayments".
Affluent households dominate those under most severe mortgage stress
Interestingly, the most likely group to be under severe mortgage stress were affluent households.
"Losses are likely to be higher among more affluent households, contrary to the popular belief that affluent households are well protected," Mr North said.
DFA's data revealed that of the 27,775 Australians under severe mortgage stress, 11,994 were 'exclusive professionals' while 3,675 were young affluent people.
Mr North told The New Daily that while these groups have higher incomes, they're spending a big chunk of it on property, accounting for their high levels of mortgage stress.
Getting on top of mortgage stress
Households can manage their deficits by cutting back on their spending, putting more on credit cards and refinancing or restructuring their home loans. Those in severe stress may be forced to sell.
Mr North advises against refinancing, as it ultimately just delays the inevitable. Instead, he advises households to draw up a budget, have a chat with their lender, and prepare for rate rises.
"From our research, only half of households have any budget. (Drawing up a budget) means you can then make decisions about what is most important, and what can be foregone.
"Many households avoid having that conversation (with their lender) hoping the problem will cure itself. I have to say, in the current low-income growth, high-cost environment, that is unlikely."
For feedback or queries, email emma.duffy@savings.com.au
---
---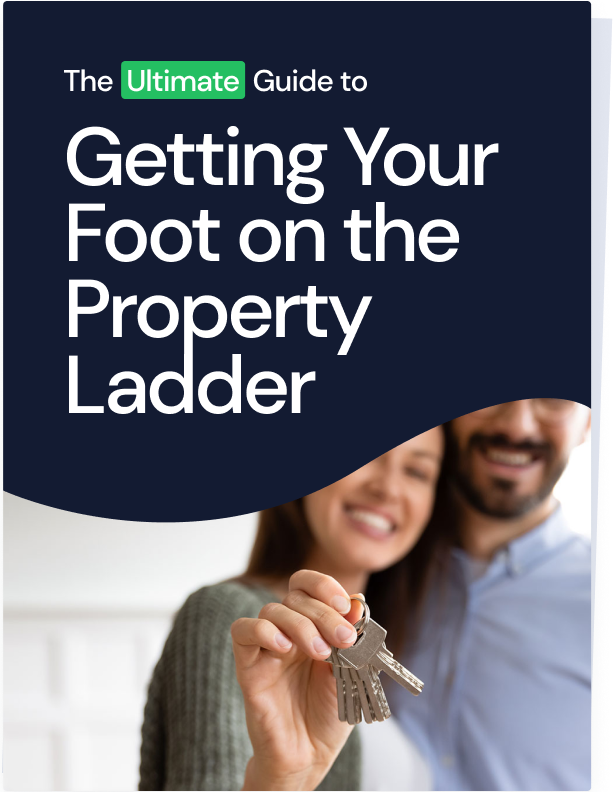 Ready, Set, Buy!

Learn everything you need to know about buying property – from choosing the right property and home loan, to the purchasing process, tips to save money and more!

With bonus Q&A sheet and Crossword!