The paper 'Where Have All the Higher Maths Students Gone' by the Actuaries Institute shows around 30% of Australian students in their final year of high school are studying 'intermediate or higher' maths, while 25% of NSW seniors study no maths at all.
In 2008, 35% of students studied intermediate or higher maths, while in 1998 the figure was as high as 47%.
The decline is more pronounced among female students, with just 7% of female Year 12s studying higher maths, compared to 12% for males.
Maths is not compulsory for Year 12 in NSW, the ACT, and Victoria.
Researchers attributed the gradual decline of overall maths participation to a variety of factors, including students choosing subjects they know they'll be successful in, and a lack of qualified STEM (science, technology, engineering, maths) teachers.
Nationally, 45% of 233 high school principals surveyed said maths and science classes conducted in their schools were taught by teachers not 'fully qualified'.
That figure is as high as 68% in Queensland (graph at bottom of page).
However, Actuaries Institute's research paper also cited research from Flinders University, which found STEM-qualified managers earn 10% more than non-STEM colleagues.
Even in 'non-STEM' fields, STEM-qualified managers can still command a premium, with pay packets up to 13% greater than those without such qualifications.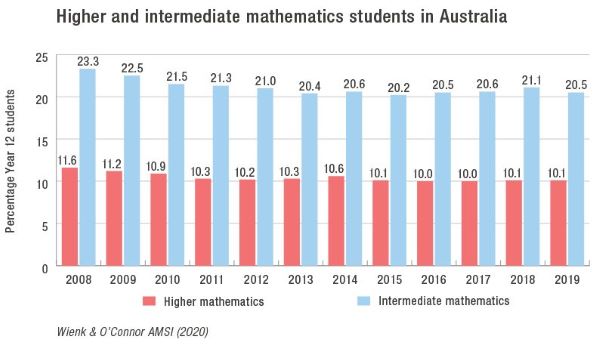 Dr Sue Thomson from the Australian Council of Education Research (ACER) said maths required a lot of repetition to get right, and a lot of mistakes, which could be a turnoff for some students.
"Mastering mathematics requires students to memorise formulas and processes, including complex and sequential equations, and understand maths strategies to build a solid foundation," Dr Thomson said.

"In order to learn, mathematics requires making lots of mistakes. Students must repeat the same types of questions until they master maths fluency, which can be a frustrating process."
Dr Thomson also said HSC and ATAR score pressures can turn students off STEM subjects.
"Another reason is that when senior students are focused on excelling in standardised testing and achieving a high ATAR score, students may be encouraged to drop higher maths subjects to reduce the risk of a low score, including their cohort's performance," she said.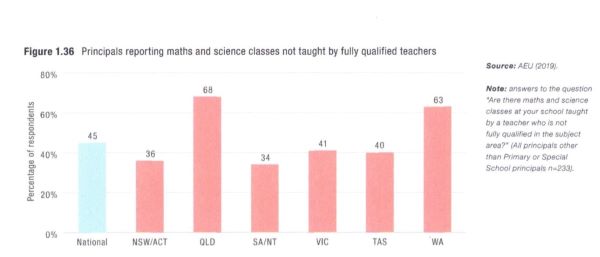 Photo by Jeswin Thomas on Unsplash