This popularity of platforms like Afterpay and Zip Pay among women has been attributed to female-centric marketing, according to Roy Morgan CEO Michele Levine.
"A quick look at Afterpay's social media of choice, Instagram, shows a heavy emphasis on female-centred content and products clearly aimed at young women aged 14-34 which Roy Morgan's analysis of 'time spent on social media' shows are easily the heaviest users of the platform," Ms Levine said.
It's hard to argue with her assessment, just by looking at the latest posts on the official Afterpay Instagram account.
Ms Levine also quoted Professor Lisa Adkins, an expert in Sociology and Feminist Theory at the University of Sydney, who outlined the reasons for these marketing tactics.
"Afterpay services are often designed with women in mind," she said.
"Women tend to be very good debtors – so they pay on time – compared to men, and often very good in terms of the disciplines of payment schedules."
The findings also revealed women were more likely to use Bill Payment Services such as BPAY and Post Billpay, with 59.1% of women using these services in the last year compared to 55.8% of men.
However, men are marginally more likely than women to use other digital payment services such as PayPal, Visa Checkout and Western Union.
Additionally, 9.6% of men have used Contactless/Cardless Mobile Payments services like Apple Pay or Google Pay in the last year, compared to 6.1% of women.
Usage of digital payment services in the last 12 months by gender

Afterpay tops Net Promoter Scores
Afterpay has narrowly beat out Apple Pay with the highest Net Promoter Score (NPS) of digital payment solutions for the last year.
NPS is calculated by asking customers "on a scale of 0 to 10, how likely is it that you would recommend our organization to a friend or colleague?"
The results, published by Roy Morgan, saw PayPal take out the final podium position.
AfterPay competitor Zip Pay rounded out the top ten, with BPAY, Google Pay and Samsung Pay all notable inclusions.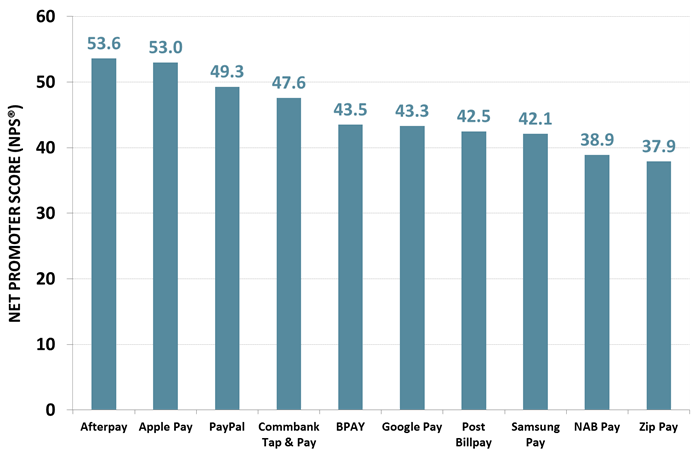 Source: Roy Morgan
Buy-now, pay-later competition heats up
Afterpay is currently the Australian market leader in buy-now, pay-later services, but the industry is fast becoming more competitive.
Main rival Zip Co is seeing massive growth, while Commonwealth Bank is launching its own buy-now, pay-later service at the end of 2019.
Meanwhile, new players Bundll and LatitudePay have just been announced, and Ms Levine said this competition is great news for consumers.
"The success of Afterpay, which is now valued at close to $8 billion, has of course not gone unnoticed," she said.
"The increasing number of entrants into the market ensures competitive tensions will be on the rise which in turn leads to greater innovation in the industry as each player seeks to gain the edge on its rivals.
"These developments should ultimately benefit the consumer with downward pressure on prices for the foreseeable future."
Of course, not everyone is a huge fan of buy-now, pay-later – many financial commentators are critical of such services, saying they encourage impulse spending, impact credit histories and 'normalise debt'.
A 2018 ASIC review found the majority of buy now, pay later users admitted to spending more than they otherwise would, while one in six experienced at least one negative impact such as delaying bill repayments, becoming overdrawn or borrowing money from family members.