However, ME Bank's latest Household Financial Comfort Report shows this is expected to be short-lived as government support measures, including JobSeeker and JobKeeper are wound back.
The bi-annual survey analysing how comfortable Australian households feel about their financial situation, found financial comfort levels increased a further 2% to 5.89 out of 10 over the six months to December 2020.
This is 5% higher than before COVID-19, and is the highest level ever reached since ME first commissioned the survey nine years ago.
Nearly all the underlying measures in the Household Financial Comfort Index improved and reached new records in December.
The Index quantifies how comfortable Aussies feel about their financial situation by asking them to rate their confidence on a scale of 0 to 10.
'Comfort with cash savings' increased by 5% to 5.76 points, the 'ability to cope with a financial emergency' spiked by 7% to 5.61.
'Investments' rose by 5% to 5.49 - despite more than a quarter of households saying they feel "worse off about their financial situation over the past 12 months".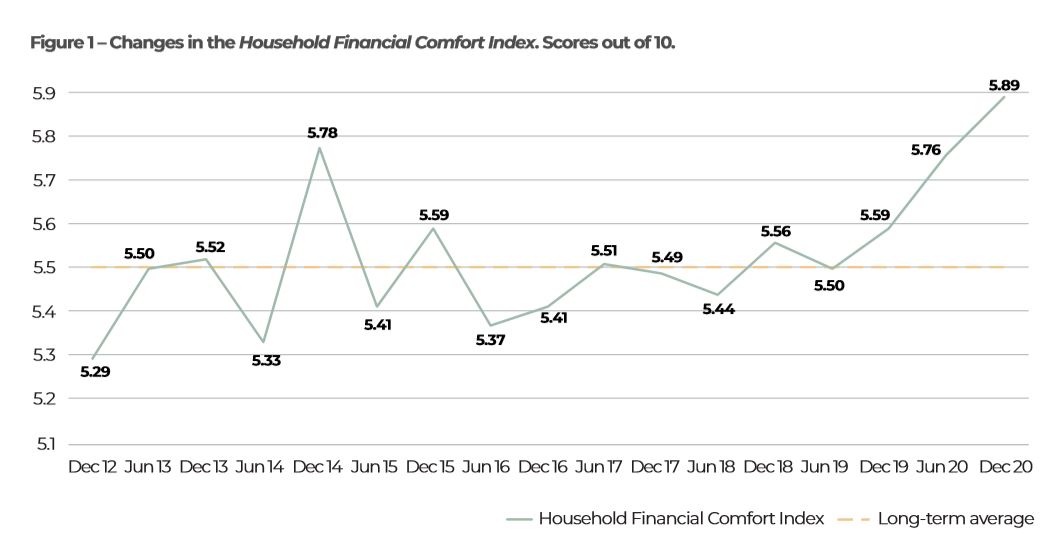 Source: ME Bank
ME Bank's Consulting Economist Jeff Oughton said the record high in financial comfort is thanks to a combination of households funneling more into their savings and mortgages, government income payments, low borrowing costs and a significant rebound in house prices.
"The pandemic has triggered many households to proactively reorganise their finances, helping to bolster their financial resilience through the pandemic and the uneven economic recovery underway," Mr Oughton said.
"Households have increased cash savings, cut overspending, paid down debts, and withdrawn retirement savings to improve their ability to handle the emergency.
"This precautionary behaviour supported by the sizable temporary government income support and very accommodative banking and financial conditions has no doubt helped drive financial comfort to a new record high in December."
However, he said this precautionary behaviour could also end up backfiring.
"Paradoxically if Australians stay precautionary in their spending and maintain their big saving buffers, an inclusive and durable recovery may be jeopardised, which will unfortunately hurt many of those same households with low levels of comfort the most," said Mr Oughton.
The household savings rate jumped from 6% in March to almost 20% in June, as Australians pumped $200 billion into bank accounts over the course of 2020.
Households face savings cliff as government support withdrawn
Although financial comfort levels have peaked at an all-time high, Mr Oughton predicts it won't last long as the economy continues to recover from the pandemic.
"Despite households reporting a record high in financial comfort at the end of 2020, underlying economics and financial drivers indicate that this peak may be temporary and potentially quashed in 2021," he said.
"A decline in household financial comfort is likely to play out over the next six months as government support – especially JobKeeper and JobSeeker − is phased out."
Last week, the Federal Government announced it would be permanently increasing the JobSeeker rate by $50 a fortnight after the removal of the $150 per fortnight 'coronavirus supplement' which is set to end on March 31.
The increase in the rate takes the total fortnightly rate from the current $565.70 base rate to $615 - just over $40 a day - which equates to an extra $3.57 a day for recipients.
See also: How experts reacted to the JobSeeker change
The report found over half of households (53%) said they "expect it will be difficult to find a job in two months", which is four points higher than pre-pandemic levels.
"Australia's labour market remains weak, with many workers reporting very high underemployment together with increased expected difficulty in finding a job and subdued wage gains, if any," Mr Oughton said.
"Unless the economy gains further momentum from a rundown of these large saving buffers and a faster pace of household spending, prematurely ending government support could have negative consequences on the financial comfort of many households.
"Wide gaps in financial comfort across households could re-emerge."
See also: Half a million households spared by JobKeeper, JobSeeker
Australia's unemployment rate has been falling - the most recent figures from the Australian Bureau of Statistics (ABS) show the unemployment rate fell to 6.4% in January from 6.6% in December.
Yet ahead of JobKeeper's expiry come the end of March, struggling sectors such as tourism and hospitality have called for more JobKeeper-like support to prevent losing more jobs.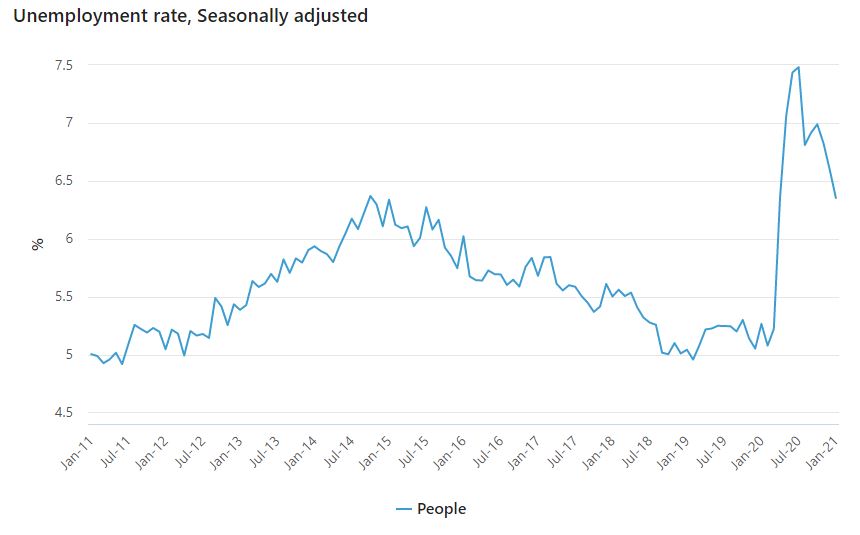 Source: ABS
Low-income households the worst-affected
The report found that when the government began to wind back income support payments, low-income households and households with low savings reported massive falls in financial comfort levels, plummeting 7% and 14% respectively.
Many of these households, which include single parent families, said they needed to make another withdrawal from their super in the second half of the year as a result.
What's more, the report also found that 20% of households have less than $1,000 in savings.
Of these households, just 3% said they could maintain their current lifestyle for more than six months if they lost their incomes.
In other words, 17% of households would need to change their lifestyle to avoid being in financial stress if they lost their income or faced an unexpected emergency.
"This is a telling sign of what may come as the government tapers off and ends income and job support measures during the first few months of this year."
Photo by cottonbro via Pexels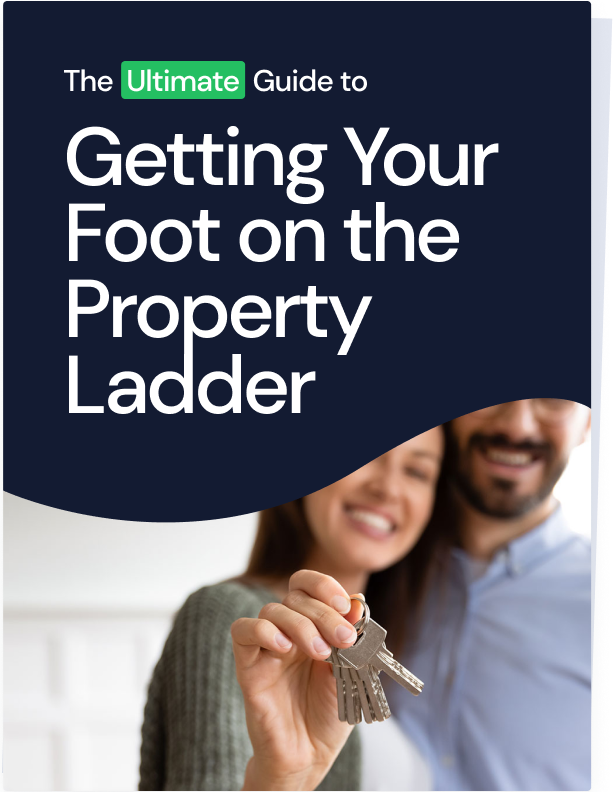 Ready, Set, Buy!

Learn everything you need to know about buying property – from choosing the right property and home loan, to the purchasing process, tips to save money and more!

With bonus Q&A sheet and Crossword!