That's according to Australian Bureau of Statistics (ABS) Retail Trade data, and follows a rise of just 0.1% in October 2019.
The strong results are attributed to Black Friday falling on 29 November and consumers nabbing a bargain for Christmas, although there are concerns December retail sales will be severely affected as a result.
The ABS found in November 2019 there were rises for:
Clothing, footwear and personal accessory retailing (3.1%),
Food retailing (0.5%),
Household goods retailing (1.2%), and
Cafes, restaurants and takeaway food services (0.9%).
Director of Quarterly Economy Wide Surveys Ben James said the strong growth evidenced the impact of Black Friday.
"We have seen strong growth in Black Friday sales, both in areas such as electrical goods and online sales, but also in areas such as clothing and furniture," Mr James said.
"While seasonal adjustment removes regular seasonal patterns associated with Black Friday based on prior results, the strong seasonally adjusted rises in a number of sub-groups this month shows that the impact of this Black Friday exceeded that of previous years."
Excluding the Northern Territory, which fell 0.2%, there were rises state wide, with South Australia (1.4%), Queensland (1.2%) and New South Wales (0.7%) the best performers.
Online retail turnover contributed 7.1% to total retail turnover in November 2019, up from 6.6% in November 2018.
Strong growth but at what cost?
The positive November 2019 result is rare good news for the retail industry, who suffered a horror year, and the result may cause the Reserve Bank (RBA) to rethink a potential cash rate cut in February.
However, many economists believe the growth is no reason to celebrate, with sales simply pulled forward from December 2019.
NAB Chief Economist Alan Oster said despite the result being the strongest since February 2019, there were reasons to doubt this is a return to strength for the sector.
"The much-expanded Black Friday – Cyber Monday retail sales are important because they are a reasonably new, and increasingly important, phenomenon, which means that the ABS's seasonal adjustment processes may not fully capture them," Mr Oster said.
"If this at least partly represents Christmas spending being brought forward, December may have some downside risk.
He said ultimately the retail sectors fundamentals will continue to under-perform without government intervention.
"Higher unemployment, sluggish wage growth and elevated debt will keep the brakes on spending growth, interest cuts notwithstanding.
"Ultimately, more stimulus is needed to fundamentally change this equation."
Black Friday unpacked
With retail sales growth relatively subdued there has been an increased focus on sales day events like Black Friday.
With the level of interest and promotion surrounding it, NAB found the day to be growing at an exponential rate.
From a shaky start earlier in the decade it has gone from strength to strength, with sales in selected categories increasing by 45% from 2018 to 2019.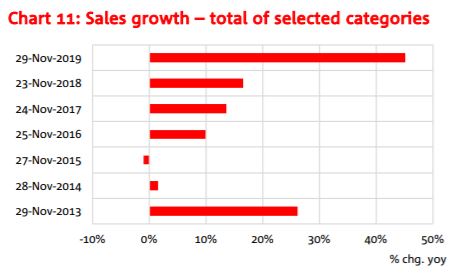 Source: NAB
The largest growth by far was found in games and toys with a whopping 75%, but this still only represents about 8% of sales on the day.
Sales events are also shifting the period when sales occur without adding to total sales, with NAB data suggesting that Black Friday was just over 6% of total November sales and just under 4% in November 2012.
As well as this there is a shift of spending patterns within the month, which is becoming problematic for the ABS seasonal adjustment process as it causes swings in the monthly retail data.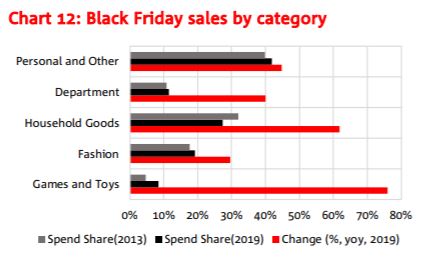 Source: NAB