The Australian Bureau of Statistics (ABS) released the Motor Vehicle Census data on Friday, revealing there were 19.8 million registered vehicles in Australia on 31st January 2020, a 1.5% increase from the same point in 2019.
Sarah Kiely, Director of ABS Transport Statistics, said there had been massive growth in the electric vehicle sector, but it still made up only a tiny proportion of all vehicles.
"While electric vehicles are still small in number, less than 0.1% of the fleet, the 14,253 electric vehicles registered in 2020 is almost double the previous year," Ms Kiely said.
In the market for a new car? The table below features car loans with some of the lowest fixed interest rates on the market.

Lender

---

Fixed
New
1 year
More details
FEATUREDApproval within 24 hours

Green Car Loan Fixed

Save the planet. Save thousands on your car loan.
1% discount on qualifying electric cars
Required: Good credit history, stable employment history. Aus citizenship or PR.

Green Car Loan Fixed

Save the planet. Save thousands on your car loan.
1% discount on qualifying electric cars
Required: Good credit history, stable employment history. Aus citizenship or PR.

Fixed
New, Used
7 years
More details

Hybrid and Electric Car Loan

Fixed
New, Used
99 years
More details

Electric Vehicle Loan (Fixed)

Variable
New
99 years
More details
Important Information and Comparison Rate Warning
Diesel registrations grew again in 2020, with diesel powered vehicles now comprising 25.6% of the national fleet.
Petrol powered vehicles in 2020 account for 72.7 % of the fleet, down from 73.6% in 2019.
While the national vehicle fleet grew by 1.5% between 2019 and 2020, this was a slower rate of growth compared to the previous year.
All states and territories reported a slow down in growth in 2020, with the exception of Tasmania (remaining steady at 2.6%) and Western Australia (1.5% growth, up from 0.6% in 2019).
The Northern Territory was the only state or territory to record an overall fall in the number of vehicles registered, with a decrease of 0.7%.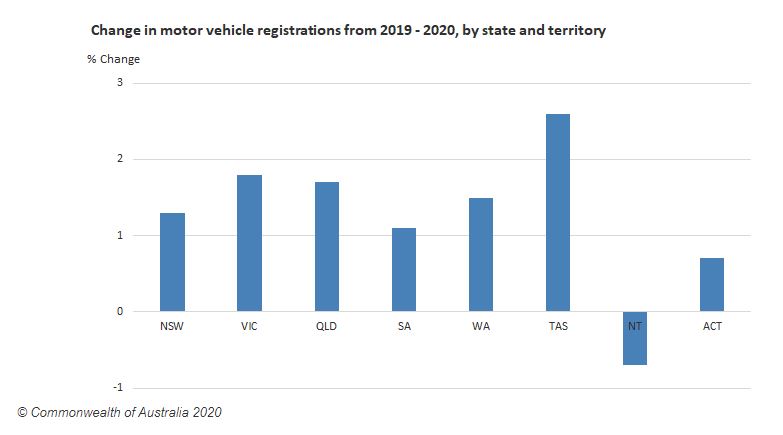 Source: ABS
Toyota continued to hold out top spot as the most popular vehicle brand registered in Australia, with three million Toyotas registered in 2020.
Registrations of Holdens and Fords continued to decrease, with both falling by 5.8% from 2019.
Despite the decline, Holden remains the second most popular make and Ford comes in at fourth.
Mazda retains its place as the 3rd most popular brand registered in Australia and Hyundai rounds out the top five.
The average age of vehicles across Australia increased to 10.4 years, with Tasmanian vehicles the oldest at 13.0 years and the Australian Capital Territory the youngest at 9.5 years.
The commute to work dilemma
As State and Territory Governments begin to lift COVID-19 restrictions, businesses and organisations are starting the process of re-opening.
While a large percentage of commuters have traditionally chosen public transport for their daily trip, some experts are warning that crowding on trains, buses and trams could present social distancing challenges during the pandemic.
Research from Roy Morgan found over 12 million Australians use public transport in an average 12 months, raising the question as to how workers will choose to commute to the office when they're allowed to return.
Nearly 3.4 million Sydneysiders use public transport - 76% of the city's population - and over 3 million Melburnians - 71% of the population - do the same.
After these two large cities there is a substantial drop-off in public transport usage: Brisbane has 1.2 million (59%) public transport users, Perth 1 million (60%), and Adelaide 660,000 (59%).
Roy Morgan CEO Michele Levine said adhering to social distancing guidelines on Australia's packed public transport systems introduced new questions about where we work and how we get to work.
"It is practically impossible to follow social distancing guidelines on peak hour public transport and this raises the question of alternatives such as continuing to work from home, companies staggering working hours for different employees or finding a safer means of transport such as driving into work, Ms Levine said.
"Although Australia's car industry has endured some of the weakest months in its history in March and April the prospect of people returning to work seeking the safer option of driving to work does raise hopes for a quicker than expected rebound for the industry in the second-half of 2020."
Vehicle industry open for business
The Federal Chamber of Automotive Industries (FCAI), the peak body for the automotive industry in Australia, advised that car and motorcycle dealerships are open across the country to help keep Australia moving.
As Australians get back to work and back on the roads, the FCAI said dealerships were open to ensure cars and motorcycles are correctly maintained and commuters can reach their destinations safely.
FCAI Chief Executive Tony Weber said both cars and motorcycles could play a vital role in assisting Australia to re-open safely.

"We need to ensure we continue to adhere to COVID-19 safe practices, and social distancing remains critical. Driving or riding to your destination is a safe and viable option," Mr Weber said.

"If your vehicle needs to be maintained or replaced, Australia's dealers are here to help keep you moving."
---
---