The Australian Competition and Consumer Commission's (ACCC) latest Northern Australia Insurance Inquiry interim report found home and contents insurance premiums in Northern parts of Australia (North Queensland, the Northern Territory and North WA) are nearly double the premiums in the rest of the country on average.
In 2018–19, the average yearly premium for combined home and contents insurance across northern Australia was approximately $2500, while the Australian average is $1,400.
These figures are even greater in certain areas.
In Port Hedland for example, the average home and contents premium ($5,256) was almost four times the $1,400 average.
Another example shows Townsville residents paying an average of $3,088 a year, with 10% of them paying more than $4,682.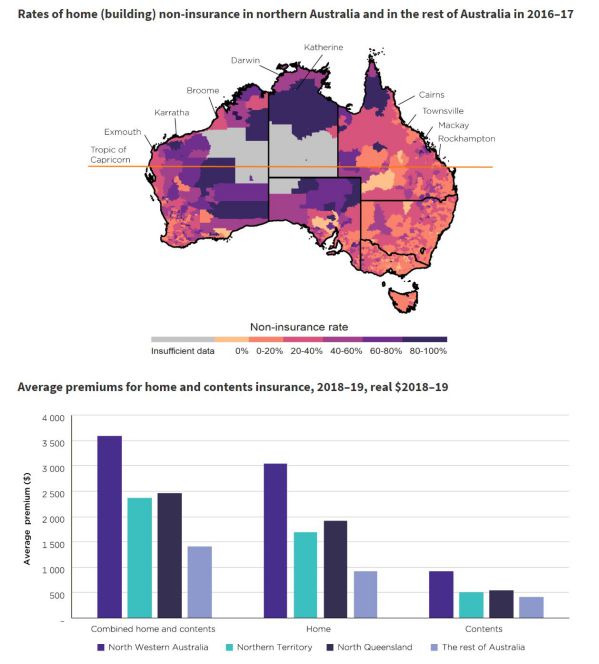 Source: ACCC
The ACCC's Deputy Chair Delia Rickard says these prices have led to increased numbers of non-insurance: the report shows 20% of households in Northern Australia are uninsured, compared to 11% for the rest of the country.
"Our report details just how expensive insurance has become in some parts of northern Australia, and that many households are opting out of insurance altogether," Ms Rickard said.
"These high premiums pose a risk to the resilience, liveability and prosperity of our northern regions."
Ms Rickard referred to the high levels of uninsurance as "alarming".
Why is insurance so costly up north?
There a host of factors that affect home and contents insurance premiums:
The location of the home
The demographics of the area (such as crime statistics)
The age and condition of the home
The median suburb price
Your claims history as an insurance customer
And the weather and climate in the region
That last point is largely what drives northern insurance premiums so high. Natural disasters such as cyclones are commonplace, with these windy disasters accounting for 55% of all claims in 2018-19. Floods are also more common in these regions.
The higher the risk level of the area, the costlier insurance claims will be. North Australia represented 16% of all claims in 2018-19, despite only representing 6% of all policies in home and contents insurance.
They also cause insurers to bleed money. The ACCC's report outlined that insurers made "heavy losses" in North Australia this year due to an increased number of damaging weather events.
Combined industry losses in the region reached $208 million, and this is a trend that could only get worse.
The Climate Council released a report earlier in the year showing more than 5% of property owners across the country will face "unaffordable" premiums by the year 2030, with a disproportionate number being in Northern regions.
The graph below, courtesy of the ACCC, shows how much premiums have increased by in recent years.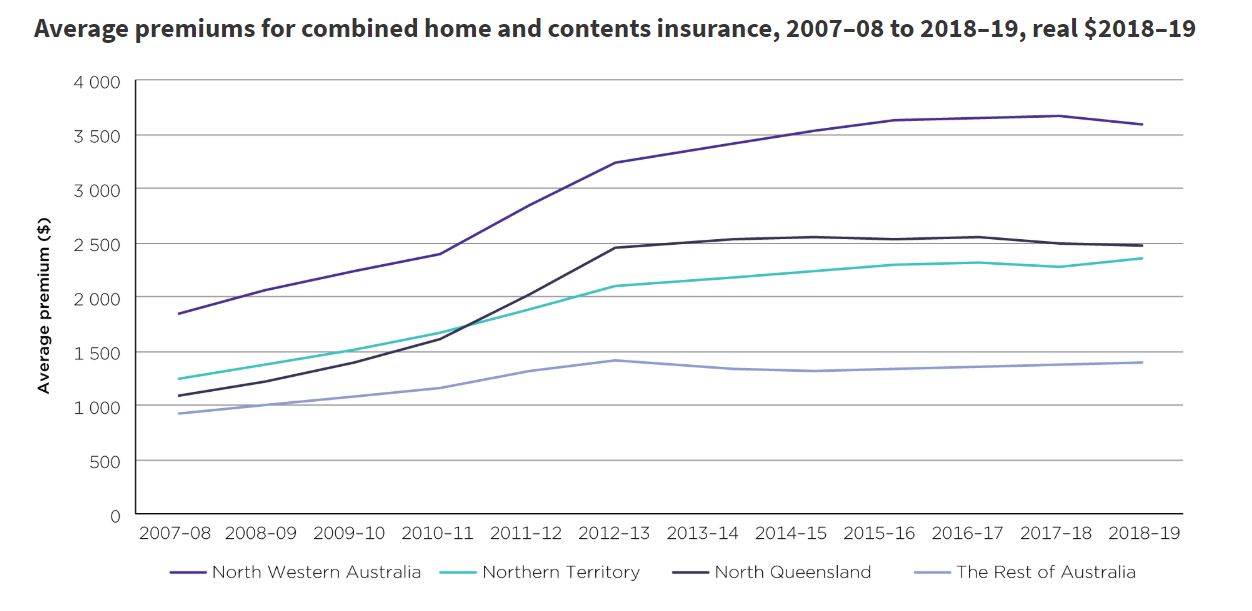 What's the solution?
Shopping around for insurance in North Australia doesn't do much good according to the ACCC's report: consumers face high costs searching for potential alternatives, prices remain high overall, and so does product complexity.
To lower the price of premiums and make insurance more affordable for these residents, the ACCC has made the following recommendations:
abolishing, or re-basing, stamp duty on home, contents and strata insurance products
revising and mandating standard cover to help consumers choose and compare
prohibiting conflicted remuneration for insurance brokers
investigating a national home insurance comparison website, and
requiring insurers to tell consumers about potential mitigation options and consequent savings on an insurance premium
"These measures may also support governments' objectives of developing northern Australia and attracting more residents and investment to these regions," Ms Rickard said.
"Direct subsidies can be an effective way of relieving some of the acute insurance affordability pressures felt by consumers in northern Australia. Subsidies can be more targeted than other measures and allow governments some flexibility in how to target and value them but are not without risks."
Insurance customers in northern Australia paid $79.6 million in stamp duty on their home, contents and insurance contracts in 2018-19, with $64.6 million of this in North Queensland.
If the state government's don't want to abolish stamp duty, the report also recommends directing a portion of this revenue to fund insurance affordability initiatives.
"These are important considerations for governments to assess," Ms Rickard concluded.
---
---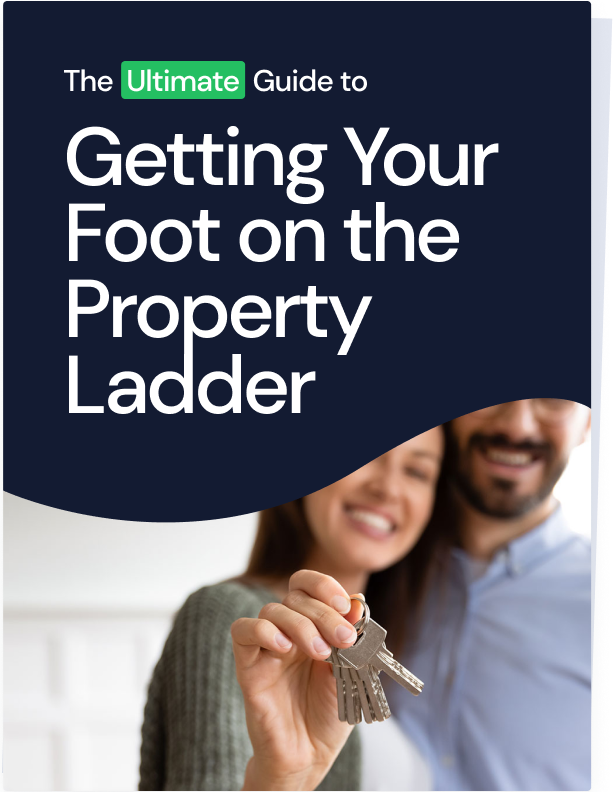 Ready, Set, Buy!

Learn everything you need to know about buying property – from choosing the right property and home loan, to the purchasing process, tips to save money and more!

With bonus Q&A sheet and Crossword!