The household spending indicator, today released by the ABS, revealed Australians spent 11.2% more on goods and services in December last year compared to 2021.
This continues a consistent trend of annual growth slowing since it peaked at 29.2% in August.
This is partially a reflection of Covid lockdowns and restrictions easing towards the end of 2021, but could also be a byproduct of the RBA's tightening cycle beginning to depress the post pandemic economic recovery.
It should also be noted that the ABS indicator is only produced in terms of current prices, so does not take into account inflationary pressures pushing up the cost of many goods and services.
Services saw a 22.7% increase compared to the previous year, while the sale of goods recorded a more modest 2.7% growth.
Transport (31% growth) was the primary driver of the increase in spending on services, with air travel continuing to rise towards pre pandemic levels.
Hotels, cafes and resturants also saw significant growth (21.8%).
Non-discretionary spending saw a bigger increase (14.8%) than discretionary (8.1% growth).
Recreation and culture was the primary driver of the rise in discretionary spending, and non-discretionary was driven by transport and catering costs.
State and territory results
December spending in all states and territories was up on the previous year.
With the exception of Victoria and the ACT though, all also experienced diminished growth compared to November's results.
Victoria saw a 13.9% increase in spending, driven by solid growth in transport (37.7%) and hotels, cafes and resturants (21.1%).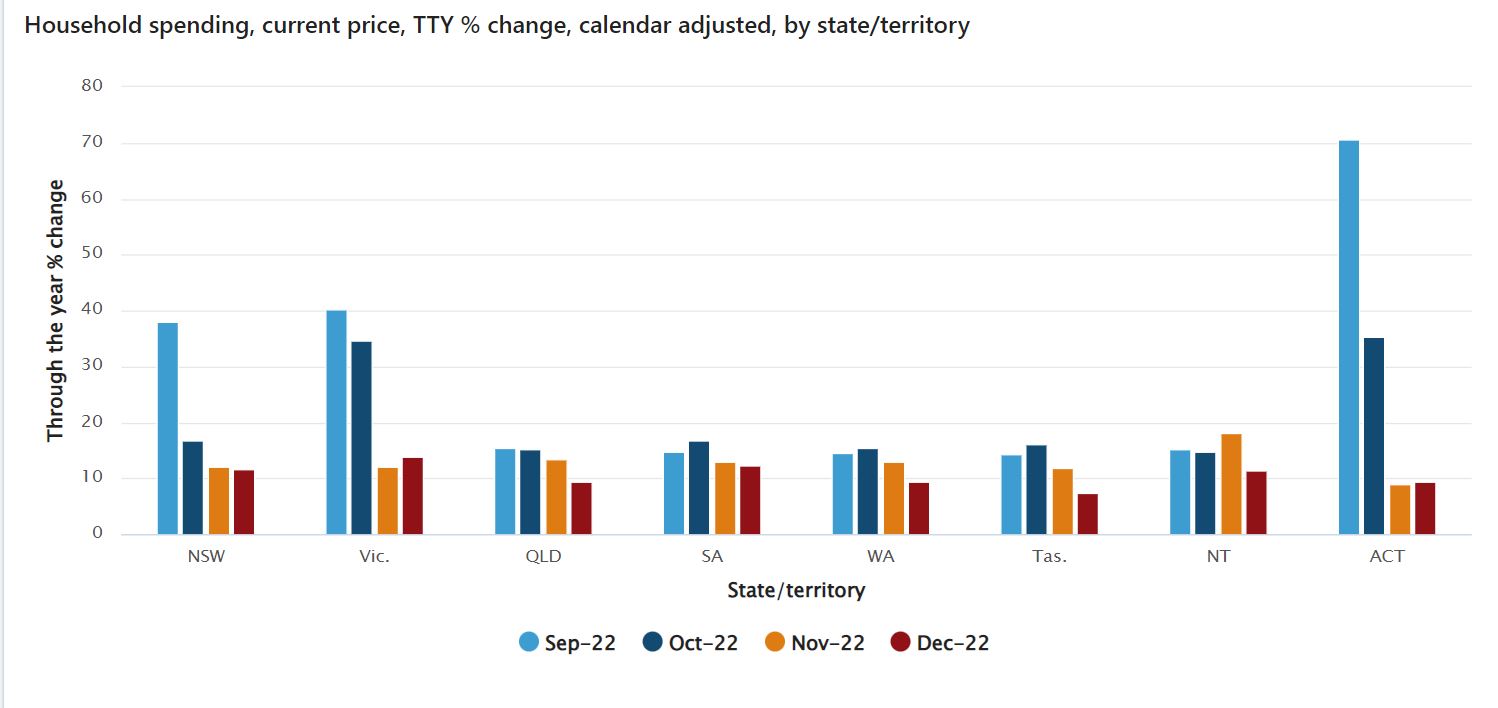 Interest rates beginning to temper spending
This year has seen household spending consistently well above 2021, as the economy continues to expand after Covid associated contractions.
However after nine successive increases to the cash rate, this growth is slowing.
Retail trade for December, released earlier this month, showed a 0.2% fall in retail trade for the December quarter, compared to September, despite Christmas and the sales periods.
This was the first quarterly fall the ABS had recorded since the September quarter of 2021.
The December monthly result also declined markedly, attributed to those bringing forward their Christmas shopping to November.
Ben Dorber, head of retail statistics at the ABS, suggested that quarterly change was the best way to measure retail trade to account for unpredictable spending levels around the lead up to Christmas.
"Given the volatile nature of spending in November and December, it is useful to look at the quarterly results which provide a clear indication of recent retail activity," Mr Dorber said.
"The fall in the December quarter sales volumes suggests that the robust post-lockdown spending that fuelled much of the growth in 2022 has come to an end."
---
Advertisement
Need somewhere to store cash and earn interest? The table below features savings accounts with some of the highest interest rates on the market.
Provider

---

0

1000

0

$product[$field["value"]]

$product[$field["value"]]

$product[$field["value"]]

More details

FEATURED

Savings Maximiser (<$100k)

Deposit at least $1,000 + each month from an external source
Make 5 or more eligible transactions
Grow your savings balance each month

Savings Maximiser (<$100k)

Deposit at least $1,000 + each month from an external source
Make 5 or more eligible transactions
Grow your savings balance each month

0

200

0

$product[$field["value"]]

$product[$field["value"]]

$product[$field["value"]]

More details

No monthly fees

Save Account

Download the App to open your account
Get better visibility of your spending within App!
Deposit $200 per month to activate bonus interest

Save Account

Download the App to open your account
Get better visibility of your spending within App!
Deposit $200 per month to activate bonus interest

0

1000

0

$product[$field["value"]]

$product[$field["value"]]

$product[$field["value"]]

More details
Important Information and Comparison Rate Warning
Picture by Karolina Grabowski on Pexels