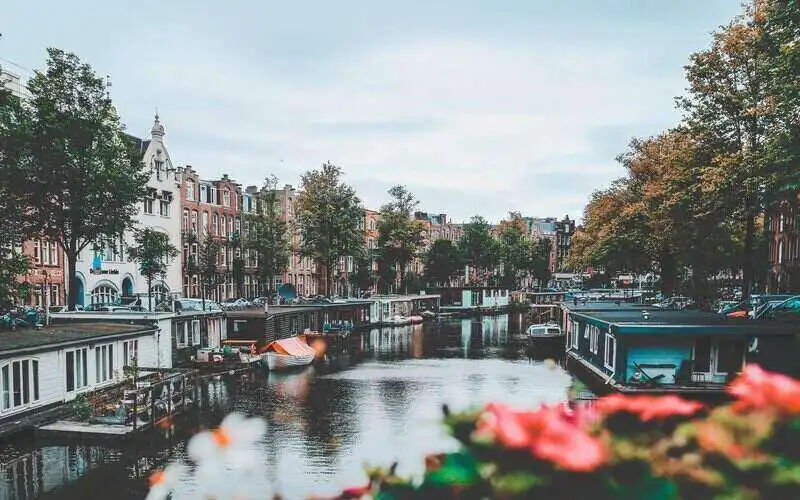 Whether Brussels or Barcelona is your final destination, budgeting for a trip to Europe can be a challenge.
Being unable to travel for the past two years has been a bummer for a lot of people (myself included). Now that international travel is finally back on the cards, you can bet that I will be packing my bags and jetting off to Europe at some stage this year. Of course, I'll need to save for it first.
New research from CommBank revealed that 70% of Aussies are planning an international or domestic holiday in 2022, aiming to save an average of $5,000 for their trip. But is this enough money? Particularly if you're planning a full-blown European getaway - the flights alone will take up a significant chunk of that five grand.
See how much you should have saved for a Europe trip
From flights to fancy dinners, there are a lot of expenses that need to be accounted for; some of which might slip your mind. For example, you still need to keep on top of your rent or home loan.
Realistically, how much do you need to have saved to enjoy your European escape? Whether you plan to sip wine in the Italian countryside or enjoy the coffee shops in Amsterdam; let's discuss how much you should save.
Flights
This is likely going to be one of your biggest expenses when embarking on your European holiday. I'm only talking about your flights from Australia to Europe; not any in-between flights (we'll get to that later). No matter where you're flying off to, flights to Europe are going to cost you quite a bit of money.
If we were to look at a map of Europe, it's clear that Greece is one of the closest countries to Australia while Ireland is one of the furthest away. These are both also highly popular tourist destinations, so let's have a look at flight prices to and from these hot spots.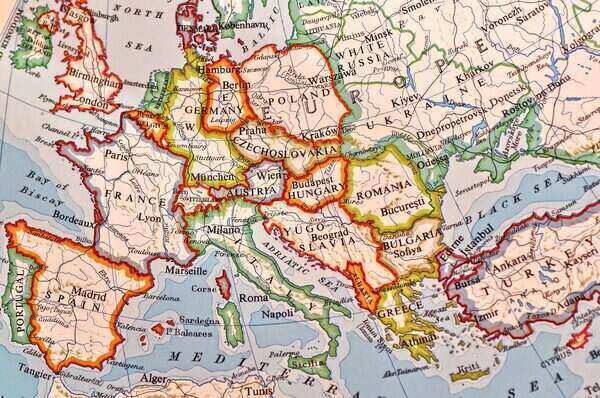 Athens, Greece
Flying from Sydney to Athens will typically require a stop over somewhere as it's still a 15,317 kilometre journey. With this in mind, it's probably going to be a similar flight time as you'd find travelling to any other European destination, despite being technically less ground to cover.
To find the best deals on Skyscanner, I've had a look at prices over the whole month of July 2022. This shows the cheapest and most expensive days to fly throughout the entire month you've selected.
From my market research, I found that flying out on 10 July 2022 and returning on 30 July 2022 could see a total round-trip costing as little as $1,341 according to Skyscanner. However, when you actually click thorough to 'find flights', you'll find a different story. The cheapest flights available are through Singapore Airlines for $1,641. On the way there, you'll have a full 27-hour stopover in Singapore and a 15-hour stopover on your way home. This makes it a 47-hour trip there, and a 34-hour trip back to Sydney.
The 'best' economy flights were through Qatar Airways for $1,789, with a quicker 24-hour journey to Athens and a 20-hour trip home.
Prices accurate at the time of writing and are likely to change. See Skyscanner for current flights and prices available
Dublin, Ireland
Almost another 2,000 kilometres away from Athens, Dublin is one of the furthest cities in Europe you can get to from Australia. Again, Skyscanner claims you can get there and back for as little as $1,400 if you leave on 7 July 2022 and return on 19 July 2022. But this time, the flights in question actually exist.
Taking off in the morning with Japan Airlines, getting to Dublin will require two stopovers: in Tokyo and London. Even still, the total flight time is just shy of 35-hours. Same two stops on your way back, but with shorter connection times would see you home in just under 30-hours. Flying economy, you could snag these seats for $1,400. These flights were also considered to be the 'best' option by Skyscanner.
Prices accurate at the time of writing and are likely to change. See Skyscanner for current flights and prices available
Accommodation
Now onto where you'll stay. Depending on your budget, there are a few options available: hotels, hostels, or even Airbnbs.
To see how much or little you may need to spend on accommodation, let's look at the prices in the 'most expensive' and 'least expensive' cities in Europe. According to a recent survey by Cheaprooms.co.uk, Zurich, Switzerland is the most expensive destination in Europe when searching for double rooms rated at least three stars. On the other hand, Warsaw, Poland is home to the cheapest five-star hotels in Europe according to flight and hotel comparison site Kayak.
Since these destinations may not be the most popular in Europe, we'll also list the hotel, hostel, and Airbnb costs in popular cities like London, England; Paris, France; Berlin, Germany; Rome, Italy; and Amsterdam, The Netherlands.
Hotel
Using Booking.com, I searched for hotels in Zurich, Switzerland from Monday 11 July 2022 to Friday 15 July 2022. The cheapest available hotel accommodation was $521, while the most expensive hotel was a whopping $7,955 for four nights.
For the same dates in Warsaw, Poland, the cheapest hotel was $157 for a four-night stay, and the most expensive hotel was $1,523.
Here are lowest and highest-priced hotels for the same dates in the five cities mentioned above:
London: $341 to $7,780

Paris: $250 to $9,007

Berlin: $316 to $2,617

Rome: $247 to $13,871

Amsterdam: $431 to $5,947
Prices accurate at the time of writing
Hostel
The cheapest hostel for the same dates in Zurich was $436 for four nights in a six-bed dormitory. Notably, there were also only nine hostels available to stay in, which wouldn't be the case in most expensive European cities.
The cheapest hostel for the same dates in Warsaw, Poland was $101. In Warsaw, there are currently 49 hostels to choose from, all of which are under $200 for this four-day stay.
For the same dates, here are lowest and highest-priced hostels in the five cities:
London: $177 to $1,417

Paris: $264 to $1,227

Berlin: $171 to $1,073

Rome: $195 to $5,699

Amsterdam: $303 to $1,984
Prices accurate at the time of writing
Airbnb
For an Airbnb in Zurich from the 11 to 15 July 2022, your prices will range from around $625 to $2,000. Most prices were closer to the $1,000 mark, and there were over 300 stays available for this date range.
For the same dates in Warsaw, prices range from around $200 to $500.
These are the average total prices to stay in the five cities for the dates mentioned according to Airbnb.
London: $1,663

Paris: $1,460

Berlin: $1,088

Rome: $1,014

Amsterdam: $1,571
Prices accurate at the time of writing
Other travel costs
With the countries in Europe being so close together, chances are you'll do some more international travel while you're there. You're a long way from home, and it's expensive to get over to Europe, so it's definitely worth travelling to at least a few countries while you can.
Travelling within Europe is similarly-priced to travelling within Australia. This is likely because, geographically, Europe and Australia are pretty similar in size.
To give you an idea of how much this may cost you, let's say you're travelling within the five popular cities I've been mentioning. The price range for flights between the five cities are the following in July 2022 according to Skyscanner:
London to Amsterdam: $45 to $98

Amsterdam to Berlin: $59 to $142

Berlin to Paris: $51 to $90

Paris to Rome: $32 to $119

Rome to London: $32 to $112
Prices accurate at the time of writing
Though I didn't scroll through all the flights available, I'd be willing to put money on the cheapest flights being through the notoriously-cheap airline, Ryanair.
If you've done enough flying on your way to and from Europe, there are also bus and train options to consider. Though, for the Rome to London leg, I'm not sure a bus would be possible (or time-conscious; you're not there forever).
Here are a few train costs between these cities:
Amsterdam to London: From $89.75

Amsterdam to Paris: From $55

Amsterdam to Berlin: From $94

Paris to Berlin: From $72.41

Berlin to Rome: From $75.27 (but it takes roughly 21 hours!)
Prices converted from Euros to Australian Dollars and accurate at the time of writing
Tourist attractions
If you travel half-way around the globe, you best believe you should see all that the cities have to offer. While you can definitely have a good time without paying to get into any attractions, many of the iconic ones will come with a price tag.
With this in mind, here are the costs of entering some of the most popular tourist attractions across Europe.
Eiffel Tower: €25.90 to get to the top ($40.80)

Colosseum: €16 ($18.90)

Louvre Museum: €17 ($26.78)

Acropolis of Athens: €20 ($31.51)

Palace of Versailles: €18 ($28.35)

Anne Frank House: €14 ($22.05)

St. Mark's Basilica: Free

Trevi Fountain: Free

Van Gogh Museum: €19 ($29.92)
Prices converted from Euros to Australian Dollars and accurate at the time of writing
Food and drinks
While the 'bigger' price tag will be on the travel and accommodation costs, you still have to eat (and drink; you're on holiday!).
Depending on how much you eat and the kinds of places you want to dine in at, your food costs may vary. But I strongly believe it's better to err on the side of caution.
According to Contiki, cheaper fast food across Europe is around €9 to €15 and restaurant prices start at €15. With this in mind, Contiki recommends having a food budget of at least €40 to €70 per day (or $63 to $110 at the time of writing) if you plan on eating out for every meal. Lunch and dinner will likely be your bigger meals of the day, while breakfast may involve a visit to your local bakery or hitting the shops for some bread.
In terms of alcohol, depending on where you go, you'll find it's pretty cheap. In Prague, for example, a bottle of wine is equal to around $10, while a pint of beer is $2 according to Prague Czech Travel. According to Eurostat, prices of alcohol are highest in Finland, followed by Ireland and Sweden, while they were lowest in Romania, Bulgaria, and Hungary.
With this in mind, budgeting for alcohol will depend on where you are, what you're drinking, and how much you're drinking. In my own personal experience, I found alcohol to be substantially cheaper in Europe than in Australia. In The Netherlands, for instance, you can buy a bottle of wine from the shops for around $7 (it'll be bad, but it'll do the job). At the local club in Nijmegen, El Sombrero, you could get tequila shots for around $4, and a beer for about the same. While this was back in 2018-19, I doubt prices have risen substantially since then.
Travel insurance
Another important cost when travelling that you may not think is necessary (but definitely is) is travel insurance. Travel insurance can cover you in events like your baggage being lost, your belongings being stolen, or getting unexpectedly sick and needing medical care. You might think 'oh, those things would never happen to me' but trust me: they can, and they might. Here's a little anecdote for you, and an insight into why everyone (including myself) thinks I have bad luck.
In my time in Europe, these are the instances when I had to claim on my travel insurance:
My baggage was lost for nearly two weeks when I arrived in Amsterdam (I had to buy clothes, shampoo, conditioner, etc)

My passport was stolen in Paris (I had to travel home on a later flight, get an emergency passport, etc)

My phone and wallet was stolen in Nijmegen

I had countless doctors visits while living in Nijmegen as I was injured or mysteriously sick, which would have otherwise cost thousands of dollars
With these events in mind, I definitely saved a substantial amount of money by taking out travel insurance. It also just gives you some peace of mind just in case anything goes wrong. There are a few factors that can influence how much your travel insurance will cost and what you're covered for, including:
Whether the country has a reciprocal health care agreement (RHCA) with Australia

Whether you'll be on a cruise at any point

Whether you'll be doing any snow activities (skiing, snowboarding, etc)

Whether you'll be renting a car

How much luggage you're taking over
To give you an idea of how much travel insurance may cost, I generated a quote through travel insurance company 1Cover for a 25-year-old solo traveler going to Europe from 7 July 2022 to 21 July 2022. For fully comprehensive cover, the quote was just shy of $130. However, if you were to take out travel insurance, I'd suggest getting multiple quotes before settling for the right fit for you, making sure you read the Product Disclosure Statement (PDS) and are paying attention to the excess amount.
This quote is an estimate based off little information and is accurate at the time of writing. For a more accurate estimation of costs, please generate your own estimate through an insurer.
Home expenses: Keeping up with the mortgage
Though less fun than watching Keeping Up With The Kardashians, keeping up with your mortgage or rent payments is just another expense that needs to be factored into your budget. Saving $4,000 for your holiday is all well and good, but if you need to fork out $1,000 in that time for your mortgage, you really only have $3,000 available to spend.
For myself, it's easy to forget that, as an adult, I have to keep up with my financial commitments while I'm on holiday. For example, when I jet off I'll still need to stay on top of my:
Rent

Water/gas/electricity/internet bills (if they come while I'm away)

Insurance expenses (home and contents insurance, health insurance, etc)

Subscription services (e.g. Netflix, Spotify, and so on)

Other loan/credit card debts

Gym membership
And so on. You should tally up all your weekly/monthly expenses and account for these in your budget to make sure you're not putting any financial strain on your getaway. It's also a good idea to put a little extra money into your emergency fund, just in case something goes wrong and you need some quick cash.
Recreational spending money
On top of everything else mentioned, you still want some extra pocket money to spend on things like souvenirs, clothes, shoes and so on. You don't want to be walking down the Avenues des Champs-Elysees - the iconic 'shopping street' in Paris - without any money to buy that pair of jeans in the window.
When it comes to how much to take with you, foreign exchange platform S Money said it's 'virtually impossible' to know how much you might need. Of course, it will depend on your fashion taste - i.e. do you plan on shopping in Gucci or H&M - but S Money said a rough estimate would be around €100 per day ($157.12) in Western Europe and €40 to €60 daily ($62.86 to $94.28) for Eastern Europe. This includes spending money for food and drink - which we already discussed - so an additional €30 ($47.11) per day should be enough.
Case study: Katie goes to Europe
Now that we've gotten some pricing estimates and know what to account for, let's look over a quick case study. Katie is a 25-year-old marketing manager who had a Europe trip planned before COVID came and kicked her plans out the window. Now that international travel is back on the table, she can't wait to pick up where she left off planning her first trip to Europe.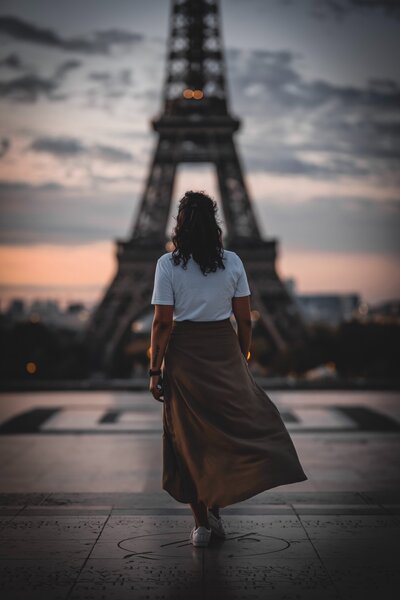 Since it's her first time visiting Europe, she wants to go to the main tourist spots: London, Paris, Berlin, Amsterdam, and Rome. She also has family in Salzburg, Austria, who she'll pay a visit. Since she'll be close to Hungary, she also wants to check out Budapest. She's never seen snow, so she wants to travel in the winter (which is summer in Australia). She'll be travelling with her boyfriend, Max, but they'll be paying for everything separately - and anything they share they'll split down the middle. They decided that in order to have enough time to save and plan their trip to their liking, they're going to jet off in December 2022.
Cost breakdown
They decide that they want to land in London and depart from Rome as it makes the most sense geographically.
Using Skyscanner, they found that 2 December 2022 was the cheapest date to fly out. Flying out with All Nippon Airways, they choose a flight for $775 each. Based on reviews and location, they choose to stay at the Alexandra Hotel for four nights, which costs $350 each or $700 total.
They jet off to Amsterdam on 6 December for $81 each. They find a beautiful houseboat studio with sweeping views of the canal and city - and it comes with free bikes - where they'll stay for three nights for $267 each or $534 total. They plan to see the Van Gogh Museum and Anne Frank House, which will cost them $29.92 and $22.05 respectively.
From Amsterdam they take an evening flight to Paris on 9 December for $106 each. They find a beautiful hotel for three nights costing them $196.50 each ($393 total). They simply have to see the Mona Lisa, so they plan to visit the Louvre Museum for $26.78 each.
They take off for Berlin on 12 December for $89 each. They find a stunning hotel for $211 each ($422) for their three-night stay.
On 15 December, they fly from Berlin to Salzburg for $79 each. They stay with Katie's aunt and uncle for three days, who drive them around Salzburg and even take them to Vienna, Austria.
Unfortunately, there were no flights from Salzburg to Budapest so instead they decide to take the train for $67 each. They find a well-located and highly-rated suite for $68 each ($136 total) for two nights. They plan to visit the Szechenyi Bath while they're there for $40 each.
Last stop before they go back to Australia is Rome, where they snag a $31 flight with Ryanair leaving from Budapest in the morning. From 20 to 23 December, they stay in a stunning hotel with views of Vatican City for $130 each or $260 total.
From Rome, they fly back into Sydney for $1,440 each (the price of flying so close to Christmas). They arrive home on Christmas Eve, just in time to be back with their families for Christmas.
They both also take out travel insurance for $160 each, and save a generous $3,150 ($150 per day) for spending money on food, drinks, and other recreational activities. They also both pay $225 ($450 total) for their rent per week ($775) and $20 each for their gym memberships.
Once all this has all been added up, Katie is set to spend approximately $8,114.25 on her European getaway. To be safe, she decides to add an extra 10% and saves roughly $9,000 to be spent throughout her holiday.
So how much should you save to travel to Europe?
Ultimately, how much you end up needing to save and spend will completely come down to you; where you go, how you get there, and where you stay. If you want to travel on a budget, hostels and Ryanair's last-minute deals might be the way to go. But if you want to stay in nice hotels, see the attractions that cost money and do a bit of shopping, you may need to save a little more.
When deciding how much to save and spend, these estimates may not be much use to you. Europe is a huge continent - with over 44 countries - and prices across them can vary greatly.
Tips for planning your Europe trip
As a seasoned traveller myself, I picked up a few tips and tricks to secure the best deals while still having a really great holiday.
Compare flights across multiple dates: Some days are cheaper to fly than others for some reason. Do your research to find the best times to fly and work out your holiday around these dates

Use multiple comparison sites to look for hotels: Again, some comparison sites will charge you a higher fee than others for the exact same hotel. Make sure you look around to find the best deal

Same goes for travel insurance: You should also use multiple sites to compare your travel insurance quotes. Also be sure to read the PDS and know exactly what you're covered for, and that you're going through a reputable, reliable insurance company

Don't forget the free spots: Most European cities have a lot to offer that you don't even need to pay for. Iconic tourist spots like the Eiffel Tower and London Bridge won't cost you a cent to look at, and they're great to see

Saving too much is better than not saving enough: You may think $150 per day for food and drinks is excessive, and chances are, you're right. You likely won't spend this much every single day on food, drinks and recreational activities. But trust me - it's better to have money to spare than to run out

Account for exchanging Australian Dollars to Euros: I didn't mention this, but thought I'd add it in at the end; plan on losing a little bit of money when exchanging your Australian Dollars to Euros. Whether you take out cash or use a travel credit card, there will be a tiny fee incurred whenever you exchange money which you should take into consideration
---
Main Image by Nastya Dulhiier on Unsplash; First embedded image by MabelAmber on Pixabay; Second embedded image by Gijs Coolen on Unsplash