As rental prices continue to soar at the fastest annual pace in 13 years, many low-income households have been left without affordable housing options according to a new report.
The latest Rental Affordability Index (RAI), published by National Shelter, SGS Economics & Planning, the Brotherhood of St Laurence, and Beyond Bank Australia, revealed that rapidly rising rental prices have pushed many locals into rental stress.
This rental crunch was particularly evident in regional areas, leaving city-dwellers looking for a tree or sea change unable to find affordable rental options according to the report.
According to the RAI, there's currently no affordable rental housing for many low-income groups including single pensioners, pensioner couples, JobSeeker recipients, and single parents working part-time (apart from in regional SA).
Specifically, Perth saw the biggest decline in rental affordability over the past 12 months.
Additionally, Hobart is now the most unaffordable city for renters in Australia.
Ellen Witte, SGS partner and report lead author, said this edition showed the most marked changes since the report was first released.
"The situation continues to be untenable for low-income households. With households having to pay most of their income on rent, many are pushed into poor quality, overcrowded houses and often far away from jobs and services," Ms Witte said.
"People on JobSeeker experienced a short reprieve from soaring rents. But now, in Perth, Hobart and Brisbane, they are even worse off than before."
Rental affordability broken down by household
The report broke down rental affordability into a number of 'household snapshots'.
This revealed the extent of the widespread unaffordable rental housing across many stages of life - from students to pensioners - in both regional and metropolitan areas across the country.
Single person on JobSeeker payment: Severely to extremely unaffordable across metropolitan and regional areas in all states
Single pensioner: Extremely to moderately unaffordable in all metropolitan areas
Pensioner couple: Acceptable to severely unaffordable in metropolitan and regional areas
Single part-time working parent on benefits: Severely unaffordable to unaffordable across most metropolitan and regional areas
Single full-time working parent: Acceptable to affordable rents across all areas
Single income couple with children: Acceptable to moderately unaffordable across most metropolitan and regional areas
Dual income couple with children: Affordable to very affordable
Student sharehouse: Unaffordable to acceptable rents across metropolitan and regional areas
Minimum wage couple: Acceptable to unaffordable across most areas
Hospitality worker: Moderately unaffordable to severely unaffordable across most areas
From these results, it was found that the only household with 'affordable to very affordable' rental options are dual income couples with children.
National trend of declining affordability
Despite the increased number of renting households (27% in 1997 to 32% in 2018), the number of public housing tenants halved over the same period (from 6% to 3%).
The report also found that renting has become less affordable than paying off a mortgage over the past 20 years.
On average, people are spending 20% of their income on rent, whereas 16% of homeowners' income goes towards mortgage repayments.
The report puts declining rental affordability down to two main factors: investors pushing would-be homeowners out of the market; and less available public housing forcing low-income earners into private rentals.
This is evident in the number of low-income households in rental stress rising from 35% in 2008 to 43% today.
The table below shows how much people living in capital cities are spending on rent relative to their income.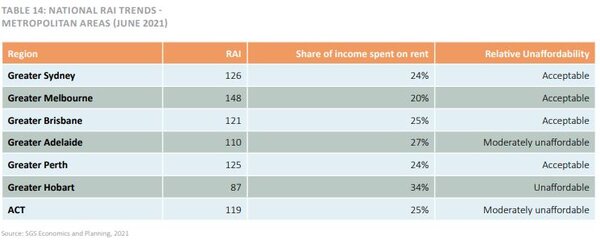 Additionally, rental affordability regionally has been shown in the table below - affordability is generally worse in regional areas than metropolitan areas.

Image by Spencer Chow on Unsplash