The survey of 4,000 members, showed that the least informed were young Australians (18-24), with 24% not knowing what options their super was invested in.
The survey also showed that 52% of all Aussies don't know how much they are paying in fees to their current fund.
Superhero co-founder and CEO John Winters said that while all customers want growth, many aren't actively checking where their money is going.
"It's shocking to think that so many don't know what their super is being invested in."
"While retirement is thought of as something down the track for many, understanding how super works and how Aussies can set themselves up for a successful retirement should be considered a priority from when they enter the workforce," he said.
Where Aussies want to invest their super
The research also showed the assets in which Superhero customers would most like to invest their superannuation.
Nearly three quarters (73%) of 18-34 year olds and 66% of 35 to 44 year olds want their super invested in ASX ETF's.
"We've learnt that our customers want increased control and flexibility when it comes to how their superannuation is invested," Mr Winters said.
"ETFs themselves are a great way to have multiple bites of the cherry when it comes to investing as they're made up of several different assets."
Additionally, over two-thirds (69%) of customers aged 45 and over would prefer to invest their super in ASX shares.
The data also found that younger Australians are more likely to want to invest their super in cryptocurrencies with nearly 28% of Superhero customers between 25 and 34 interested in doing so compared with just 15% of Superhero customers aged 55+.
"Crypto is an interesting one too – it's obviously a newer form of investment and younger Aussies clearly see the potential."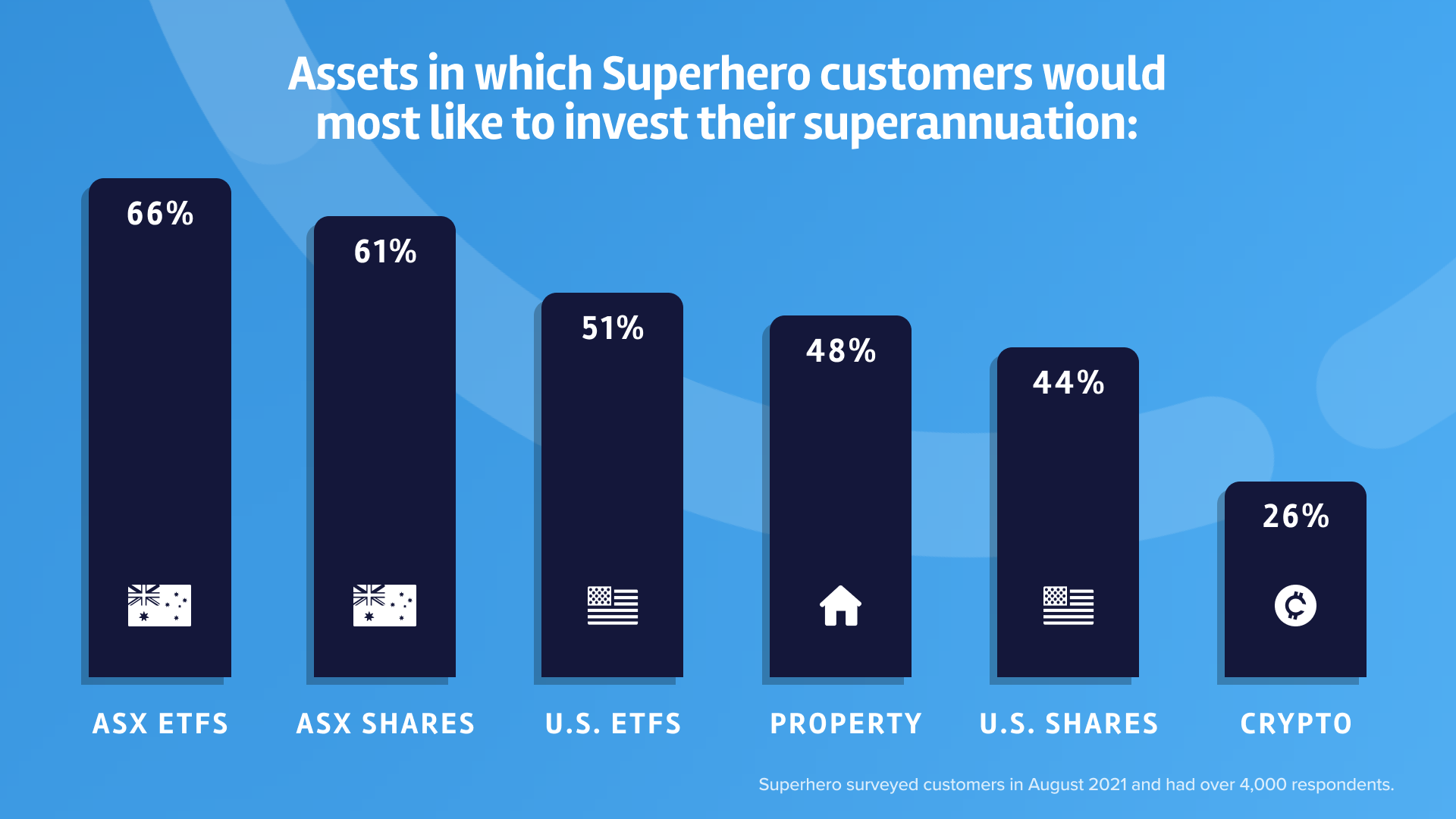 Source: Superhero
---
Advertisement
Looking to take control of your retirement? This table below features SMSF loans with some of the most competitive interest rates on the market.
Lender

---

Variable

More details

FEATURED

Includes NOV RBA Rate Increase

loans.com.au – SMSF 70

Refinance only offer. No application fee and no settlement fee
No monthly, annual or ongoing fees
Access your SMSF loan via our easy-to-use online app Smart Money

loans.com.au – SMSF 70

Refinance only offer. No application fee and no settlement fee
No monthly, annual or ongoing fees
Access your SMSF loan via our easy-to-use online app Smart Money

Variable

More details

WLTH – Ocean SMSF 60 P&I ($50k - $2m)

Fully functioning offset.
Rapid Refinance available - receive approval in as little as 48hrs
50m2 of beach & coastline cleaned with every loan settled.

WLTH – Ocean SMSF 60 P&I ($50k - $2m)

Fully functioning offset.
Rapid Refinance available - receive approval in as little as 48hrs
50m2 of beach & coastline cleaned with every loan settled.

Variable

More details

Reduce Home Loans – Capitalizer SMSF 70 Metro

Variable

More details

La Trobe Financial – SMSF Residential

Variable

More details

Firstmac – SMSF 70 (Refinance Special)

Variable

More details

Liberty Financial – Liberty Residential SMSF (LVR < 80%)

Variable

More details

Yard – SMSF Loan (Principal and Interest) (LVR < 80%)

Variable

More details

WLTH – Ocean SMSF 80 P&I ($50k - $2m)

Fully functioning offset.
Rapid Refinance available - receive approval in as little as 48hrs
50m2 of beach & coastline cleaned with every loan settled.

WLTH – Ocean SMSF 80 P&I ($50k - $2m)

Fully functioning offset.
Rapid Refinance available - receive approval in as little as 48hrs
50m2 of beach & coastline cleaned with every loan settled.

Variable

More details

WLTH – Ocean SMSF 90 P&I ($50k - $1.5m)

Fully functioning offset.
Rapid Refinance available - receive approval in as little as 48hrs
50m2 of beach & coastline cleaned with every loan settled.

Variable

More details

FEATURED

Includes NOV RBA Rate Increase

loans.com.au – SMSF 80

Available for Purchase and Refinance
No application fee and no settlement fee
No monthly, annual or ongoing fees

loans.com.au – SMSF 80

Available for Purchase and Refinance
No application fee and no settlement fee
No monthly, annual or ongoing fees
Refinance only offer. No application fee and no settlement fee
No monthly, annual or ongoing fees
Access your SMSF loan via our easy-to-use online app Smart Money
Important Information and Comparison Rate Warning
---
Image by Campaign Creators via Unsplash