That's according to NAB's annual pulse check on life in the 'lucky country', which found Aussies are more concerned about the economy than they were 12 months ago.
"We noted a particularly large fall in the number of people who identified our relatively stable and strong economy as a key factor underpinning liveability (30% in 2020 vs 41% in 2019) - perhaps not surprising given tougher economic conditions and increasing global uncertainties through 2019 facing our country in 2020," said report author and NAB's Head of Behavioural & Industry Economics Dean Pearson.
While 88% think Australia is a great place to live now, only 55% of us think it will still be a great place to live in 10 years' time. One in five (18%) don't think Australia will be a great place to live in 2030, with many areas of liveability expected to deteriorate.
The cost of living remains by far the biggest area of concern, with four in 10 (41%) expecting living costs to worsen in the next ten years. Only one in ten expects living costs to improve.
A third of Australians (32%) expect the economy to get worse, with jobs (35%), housing affordability (29%), taxes (26%) and income and wealth (27% all expected to worsen in the next ten years.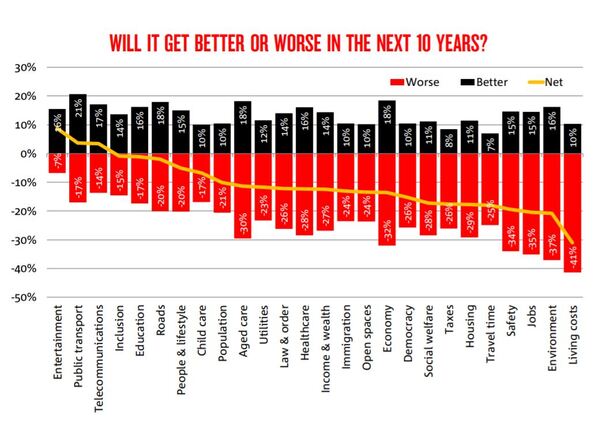 Source: NAB
Rather than boosting confidence in the economy, recent cash rate cuts from the Reserve Bank appear to have done exactly the opposite. A recent Westpac consumer sentiment survey found Aussies are the least confident they've been in four years as concerns grow about the economy.
Mr Pearson said the rising cost of living combined with low wages growth could be another reason why Aussies are feeling so pessimistic.
"While inflation remains low, some essentials such as medical services, electricity and education have increased significantly in price over recent years and our wages have not been rising fast enough to meet these cost rises. This may be shaping how people view the future," Mr Pearson said.
With Australia's population expected to hit 30 million by 2030, Mr Pearson said this won't come without its challenges.
"Social commentary indicates that economic concerns such as the cost of living, employment and housing affordability will be front of mind, along with social issues such as poverty, law and order, safety and education, as well as the environment," Mr Pearson said.
Over a third (37%) of Australians expected the climate to get worse in the next 10 years, despite the survey being conducted prior to the recent bushfires.
Confidence in the economy has been dealt a major blow as a result of the bushfires, with the lowest New Year consumer sentiment readings since the Global Financial Crisis.