ME's latest Quarterly Property Sentiment Report for Q1 2020 found that overall, sentiment towards the property market has improved for the third quarter in a row, increasing to a net positive 21%, which is a 14 percentage point increase from Q2 2019 when the first edition was released.
Overall, 41% of respondents feel 'positive' about the housing market, while 20% feel negative.
ME General Manager Andrew said it's no surprise overall sentiment has improved, given "a combination of market factors including the buzz of home value growth, a solid spring selling season, plus rate cuts and signs from the RBA that rates will stay lower for longer".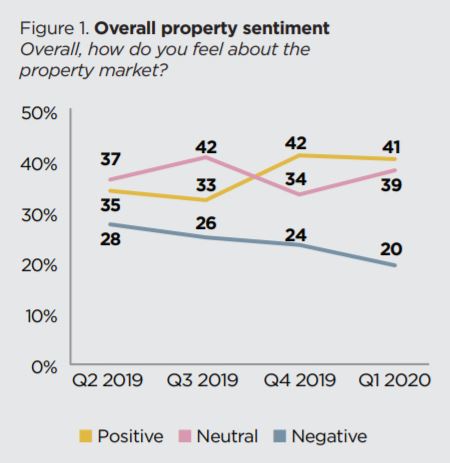 Source: ME
One of the more interesting findings from the report is the soaring expectations of first home buyers (FHB), who have not been dissuaded by rising house prices in the second half of 2019.
According to ME's report, FHB hopes of breaking into the market have jumped dramatically, with half (51%) of first home
buyers planning to buy property in the next 12 months, compared to 38% in Q2 2019.
This is somewhat surprising given FHB numbers dipped somewhat in the latter stages of 2019 after reaching a seven year high in June, thanks mainly to falling house prices.
"Rising property prices carry the risk of squeezing first-home buyers out of the market, however they also signal a healthier market that presents a worthwhile long-term investment," Mr Bartolo said.
"In the case of first home buyers, the recent property price recovery has likely nudged them to get in while they can – as though it's 'now or never' – and has created a sense of FOMO.
"Low interest rates and commentary in the market for the support of first home buyers may have also contributed to an increase in home-buying intentions."
Interestingly, there are more first home buyers looking to enter the market in the next 12 months than investors (39%) and owner-occupiers (27%).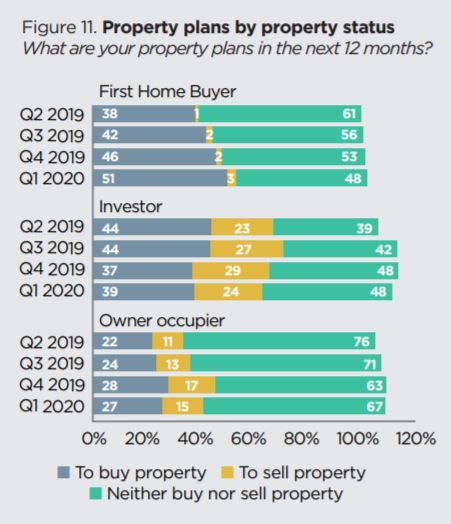 Source: ME
Meanwhile, a greater number of FHBs consider housing affordability to be a big issue in Australia compared to the average.
More than nine in 10 (92%) of respondents believe affordability is an issue at the moment, compared to:
94% of FHBs
90% of Investors
92% of Owner-occupiers
This is up from 89% in Q4 2019.
The top worry identified by respondents is housing affordability, with 14% agreeing with the statement 'I'm worried about property becoming
unaffordable' - all other worries in the report, such as tight credit policies, are at their lowest point since the survey began.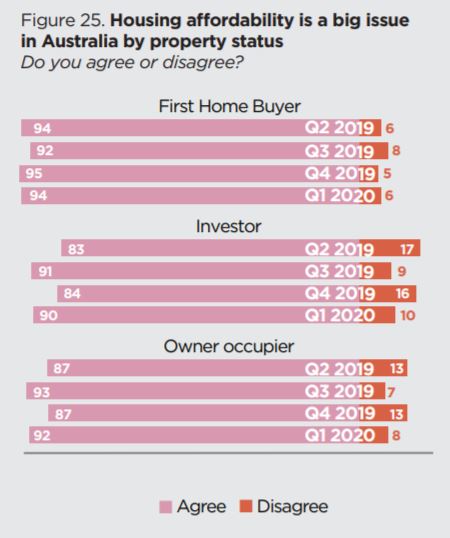 Source: ME
House prices expected to rise
After a couple of years in decline, house prices experienced a strong second half of 2019, hitting the strongest quarterly growth in a decade in December.
The median national housing value, according to CoreLogic, is now more than $537,500, and over half of ME's respondents predict prices will continue to rise over the next 12 months.
This is a massive jump from the 38% seen in Q3 2019 when markets first began to turn, and positive expectations were seen across FHBs, owner-occupiers and investors alike.
The expectation that house prices will increase is backed by a number of economists surveyed by The Conversation, who believe house prices will rise by 5% on average in 2020.
All major cities had a more positive outlook on house prices compared to the previous quarter, and the strongest house value growth is predicted by Victorians, with 67% of respondents expecting prices to go up.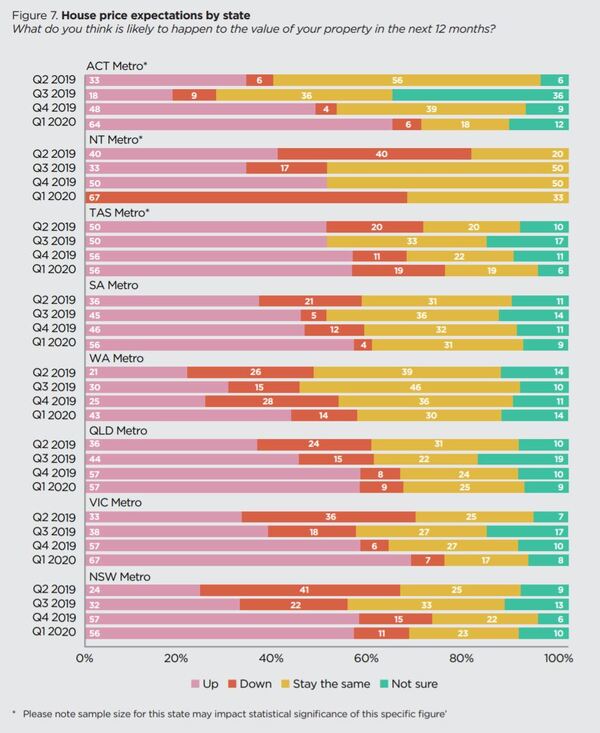 Source: ME
Not enough choice available
Despite the positive expectations for property, Australians don't feel they're overly spoilt for choice when it comes to buying options.
The report found almost half (46%) of total respondents believe there is not enough choice, with this figure jumping to 57% among first home buyers.
Comparatively, 42% of owner-occupiers and 47% of investors feel the same.
"Housing supply has picked up slightly, but with prices rising and demand outweighing supply, there's no wonder that almost 1 in 2 Aussies don't think there's enough choice available," Mr Bartolo said.
"With so many first home buyers planning to buy in 2020, yet most stating choice in the market is a barrier, addressing this issue should be a focus in the year ahead."
---
---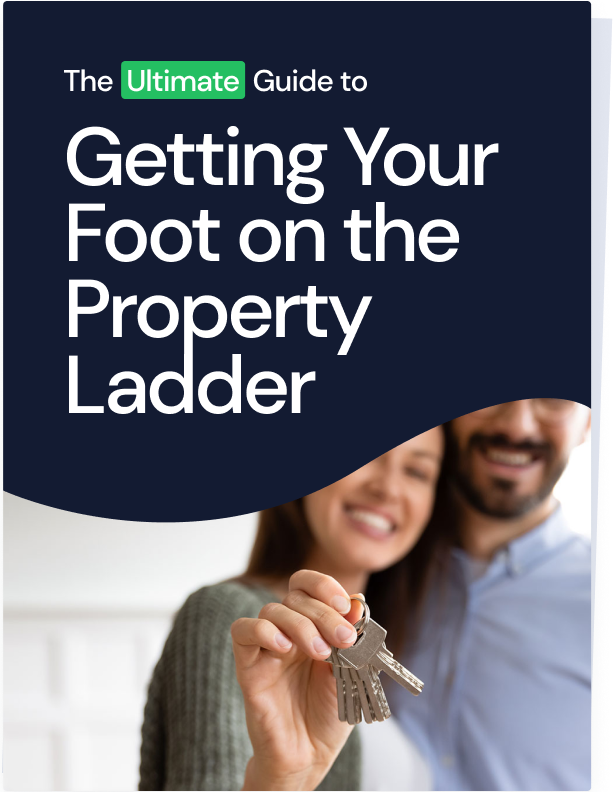 Ready, Set, Buy!

Learn everything you need to know about buying property – from choosing the right property and home loan, to the purchasing process, tips to save money and more!

With bonus Q&A sheet and Crossword!