Australians are returning to Sydney following a multi-year exodus, and the extended cash rate pause appears to be to blame, according to data from removalist network operator Muval.
It comes as the Sydney property market heats up.
The city has started the spring selling season with the biggest bang on record, with new listings leaping 10.5% for the month of August, SQM Research reveals.
The Reserve Bank of Australia (RBA) board held the cash rate at 4.10% for a third consecutive month on Tuesday.
Many experts think the next shift in the cash rate is likely to be a cut, most likely sometime in 2024.
Aussies flock to Sydney and Brisbane amid cash rate pause
Up-to-date migration data from Muval shows Australians' moving patterns have shifted considerably since the RBA began a series of rate pauses.
Sydney and Brisbane have proven rate-freeze winners, accounting for 19% and 27% of all moving enquiries in the month of August respectively – the former figure marking its highest point since data was first collated in early 2020.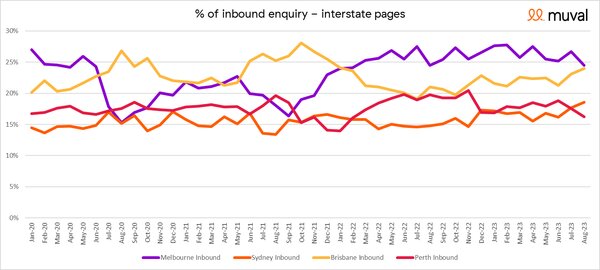 Image provided by Muval
Migration to both cities has been trending upwards since the cash rate's last increase in June.
"The Harbour City's net migration is continuing in a positive direction," Muval chief commercial officer Adam Coward said.
"It's still in negative territory but it's trending up – from -56% in June to -47% in July and -42% in June – as Perth and Melbourne trend down."
"Brisbane's net migration is also rising since rates were paused."
The Sunshine State's River City has seen its net migration increase from a 3% fall in June, to an 8% lift in July and a 16% increase in August.
Meanwhile, Melbourne – which was the most in popular city to move to amid the RBA's rate hiking spree – now shares the title with Brisbane.
At the same time, the number of people enquiring about moving to Sydney has surpassed those seeking a shift to Perth.
| | |
| --- | --- |
| City | Net migration in August (based on moving enquiries) |
| Melbourne | -24% |
| Sydney | -42% |
| Brisbane | 16% |
| Perth | 68% |
| Adelaide | -20% |
It comes on the back of PropTrack research finding the housing markets in NSW and Victoria are among the nation's most unaffordable.
A median-income household is able to afford just 7% of homes in NSW and 9% in Victoria.
Sydney property market surges into spring
August was also a good month for Sydney homebuyers.
The city saw new property listings rise 10.5% last month – the largest August increase since SQM Research records began in 2009 – driving its total number of listings up 6.2%.
Melbourne's market also had a surge in listings, up 5.9%.
That was largely thanks to a 12.6% jump in new listings – the largest rise for the month of August since 2016.
Perhaps surprisingly, both increases were dwarfed by that of Canberra.
The nation's capital saw a 22.2% increase in new listings last month, bolstering its property market by 10.6%.
"The capital cities by and large are having a strong start to the spring selling season," SQM Research managing director Louis Christopher said.
"And to date, we know the auction market is having a strong start in September with rising volumes and firm clearance rates holding over from winter."
It was another story in regional Australia, however.
Most regions are struggling amid "a dead market", Mr Christopher noted, with listings in the likes of the NSW North Coast slipping 12.5% last month.
"We now have two very separate markets in Australia", he said.
"Firstly, a stronger capital city housing market driven by very strong population growth rates and increasing confidence that we have reached the top of the interest rate cycle.
"In contrast, regional markets are struggling, driven by population outflows and uncertainty surrounding local regional economies."
Image by Jamie Davies on Unsplash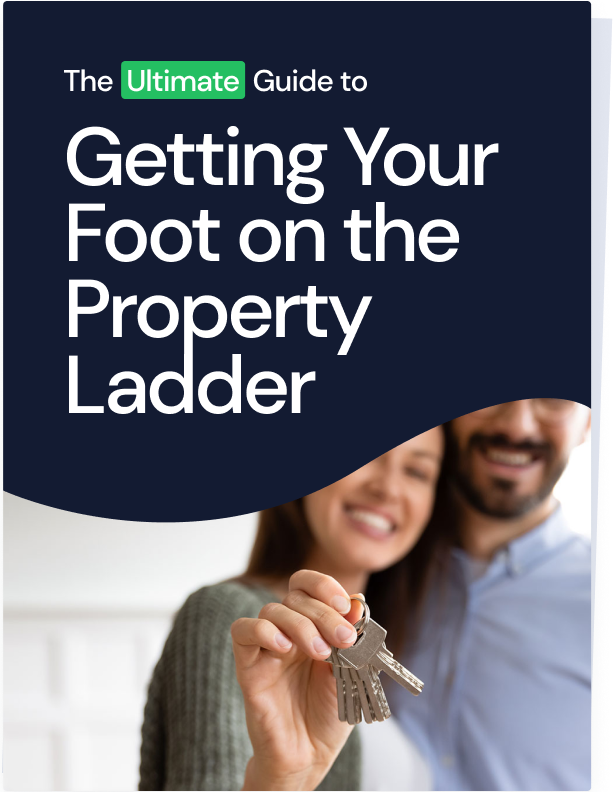 Ready, Set, Buy!

Learn everything you need to know about buying property – from choosing the right property and home loan, to the purchasing process, tips to save money and more!

With bonus Q&A sheet and Crossword!