This comes as figures published within the RBA's Payments System Board 2022 Annual Report revealed the value of banknotes in circulation reached $102.3 billion to the end of June 2022, an increase of 7.2%.
The Board noted this increase is marginally higher than its 10-year average, but below banknote growth rates seen during the pandemic in 2020 and 2021.
"Much of the increase in demand was for high-denomination banknotes ($50s and $100s), suggesting that people in the community continue to view holding banknotes as desirable for precautionary or store-of wealth purposes, especially in times of economic uncertainty," the report revealed.
"It also highlights the changing role of cash, with cash increasingly being used for such purposes rather than for transactions."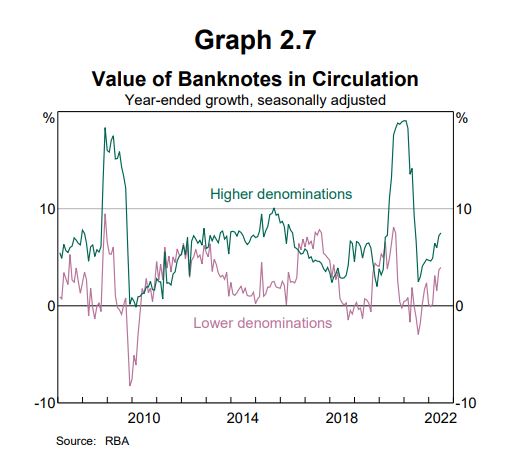 Speaking at a Reserve Bank function earlier this month, RBA Governor Dr Phillip Lowe noted the total value of notes on issue is over $100 billion, the equivalent of around $4,000 per person in Australia.
"On average, there are 18 $100 notes and 38 $50 notes on issue for every person in Australia," Dr Lowe said.
"As interest rates have risen recently, I thought that the attractiveness of holding banknotes as a store of value might decline, but there is little sign of that yet. Time will tell, though."
While fewer gross numbers generally means averages increase, the average ATM withdrawal increased markedly through the pandemic, sitting at nearly $300 and it remains elevated.
This comes after the previous government mulled over banning cash payments of more than $10,000 in late 2019 - the bill was later scrapped.
ATM fees on the rise despite usage remaining at decade lows
Armaguard's atmx network has increased automatic teller fees this week, lifting transaction fees from $2.80 to $3.00.
Armaguard's atmx network provides more than 2,100 ATMs nationwide, with banks including ANZ, Bank of Queensland (BOQ), Suncorp, ME Bank, Virgin Money and RACQ Bank offering no transaction fees for withdrawals and balance enquiries.
The increase comes as RBA data details ATM withdrawals have remained relatively consistent throughout 2022, remaining above an average of 30,000 for the year to date.
However, these numbers remain significantly down on figures compared to a decade ago, with the same period in 2012 recording more than double the amount of ATM withdrawals.
The future use of ATMs to withdraw cash is expected to continue to dwindle, with the RBA report noting the pandemic has had a lasting effect on the way Australians use cash.
"When measured by the value of transactions, direct debits and credit transfers processed through the direct entry system account for the bulk of non-cash retail payments," the RBA said.
"The long-run trend to electronic payments reflects innovation in the payments ecosystem and changing payment preferences in the economy.
"This trend has been reinforced by changes in payment behaviour through the COVID-19 pandemic."
---
Advertisement
Need somewhere to store cash and earn interest? The table below features savings accounts with some of the highest interest rates on the market.
Provider

---

0

1000

0

$product[$field["value"]]

$product[$field["value"]]

$product[$field["value"]]

More details

FEATURED

Savings Maximiser (<$100k)

Deposit at least $1,000 + each month from an external source
Make 5 or more eligible transactions
Grow your savings balance each month

Savings Maximiser (<$100k)

Deposit at least $1,000 + each month from an external source
Make 5 or more eligible transactions
Grow your savings balance each month

0

200

0

$product[$field["value"]]

$product[$field["value"]]

$product[$field["value"]]

More details

No monthly fees

Save Account

Download the App to open your account
Get better visibility of your spending within App!
Deposit $200 per month to activate bonus interest

Save Account

Download the App to open your account
Get better visibility of your spending within App!
Deposit $200 per month to activate bonus interest

0

1000

0

$product[$field["value"]]

$product[$field["value"]]

$product[$field["value"]]

More details
Important Information and Comparison Rate Warning
Image by Melissa Walker Horn via Unsplash