In the 12 months to the September quarter, wages rose 4%, up from 3.6% in June and the highest annual increase since March 2009.
Private sector wages rose 1.4%, while in the public sector wages grew by a more moderate 0.9%.
Nearly half (49%) of private sector jobs saw a wage increase in the quarter, with an average hourly increase of 5.8% compared to 4.3% in the September '22 quarter.
ABS head of price statistics Michelle Marquardt pointed to several reasons strong growth to hourly wages was so widespread for private employees.
"In the private sector, growth was mainly driven by the Fair Work Commission's annual wage review decision, the application of the Aged Care Work Value case, labour market pressure, and CPI rises being factored into wage and salary review decisions," she said.
In June, the Fair Work Commission upped the minimum wage award by 5.75% to $22.61 per hour, while unemployment remains low at 3.6%, which puts upward pressure on wages.
Workers across Australia will point to the quarterly CPI inflation figures, which showed prices rose 5.4% in the year to Q3, to demonstrate big increases to wages are now virtually a necessity to keep up with the cost of living.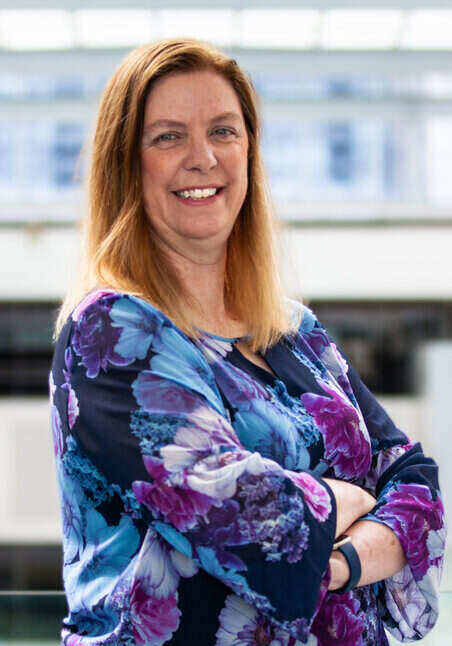 ABS Head of price statistics Michelle Marquardt
A price/wage spiral?
Some mortgage holders will greet today's news with trepidation, fearing strong wage growth will keep inflation, and therefore the cash rate target, higher for longer.
However, NAB economist Tapas Strickland, who was the earliest to correctly call the November rate hike, says this is in line with the implied expectations of the RBA.
Likely derived from the Statement on Monetary Policy (SOMP), Mr Stickland believes the RBA were forecasting a quarterly wage increase of about 1.3%-1.4%.
Mr Strickland and NAB had a 1.5% increase pencilled in, but he said even this higher number would not be cause for alarm.
"One-offs mean the quarterly growth rate will be high and shouldn't be extrapolated," he said.
"The high award wage increase does in part reflect labour market conditions but provides a higher increase than what non-award wages are seeing and will be lower next year.
"We think WPI will be back around 0.9% over the quarter in the fourth quarter."
In RBA Governor Michele Bullock's statement for the November monetary policy decision, she said while wage growth has picked up, it remains consistent with the long term inflation target, provided productivity picks up.
Productivity is a measure of how effective the economy is at producing outputs, often measured as GDP per unit of labour.
From June '22 to '23, GDP per hour worked in Australia declined 3.6%, which some commentators have attributed to stricter compliance requirements, extra red tape and bureaucracy.
On 24 November, the ABS will release Labour Productivity for the year, which could give the RBA a clearer picture.
Where have wages increased the most?
The biggest contributor to the WPI growth was the Healthcare and Social Assistance industry, where wages rose 3.1% over the quarter.
This was partly driven by wage increases implemented after the Fair Work Commission Aged Care Work Value case, which provided an interim increase of 15% to award minimum wages for aged care workers.
Wages for workers in Accommodation and Food services rose 3.2% over the quarter and 5.5% annually, the largest increase, but these employees are a smaller portion of the workforce than those in healthcare.
The private industry with the lowest quarterly growth was mining, with wages going up by a average of 0.8%.
In the public sector, 34% of staff saw wages increase, by an average of 3.3%, both of which are higher than the same period last year.
The 3.3% average increase was also the largest since June 2012.
Queensland recorded the highest real quarterly wage increase of 2.3%, while the lowest was in the ACT with 1.5%.
These are higher than the seasonally adjusted figures, which are typically what the RBA works off, since September tends to see higher wage increases than other quarters as wage increases from things like end of financial year performance reviews, as well as the award wage increases, kick in.
Picture from Alex Kotliarskyi on Unsplash