The Australian Bureau of Statistics' (ABS) payroll data, released fortnightly, provides a more granular analysis of who is impacted most by job losses or temporary layoffs.
While all states recorded negative payroll data, NSW payrolls were hit hardest, down 4.4% over the fortnight to 17 July.
This is compared to a national decline of 2.4% in the payroll index.
Small businesses (fewer than 20 employees) faced the steepest payroll declines over the fortnight, down 6.9%.
Conversely, larger businesses (200 or more employees) increased their payrolls by 0.3%.
NSW payrolls account for around a third of total payroll jobs in Australia, with Victoria making up just over a quarter.
Payrolls among 15 to 19 year olds fell 10.7%, attributed to school and university holidays.
However, ABS' head of labour statistics, Bjorn Jarvis, said Greater Sydney lockdowns are also having an impact.
"As we saw in the early weeks of the pandemic last year, payroll jobs held by women and workers under 30 were particularly impacted, especially in New South Wales," Mr Jarvis said.
"In comparing payroll job losses over time, it's important to remember that current government support payments around COVID restrictions are paid directly to people or businesses, rather than through payrolls.
"Employees who were temporarily stood down and were not paid by their employer will be reflected in a fall in payroll jobs.
"The next labour force release on 19 August will provide insights into how many of these people retained an attachment to their job in July and how hours worked were impacted."
However, people aged 70-plus faced the steepest declines in payroll, down 5.3%, followed by followed by those aged 20-29, down 3.9% nationally.
Mr Jarvis explained on Twitter the phenomenon of older workers' payroll declines.
"It will be a combination of people losing jobs, being stood down or declining shifts, and leaving jobs," he said.
"They were the second most impacted group behind the under 20s and 20-29s early in COVID. It's also a small group of people, compared with other age groups."
Industries hardest-hit by lockdowns also faced the steepest declines in payroll, led by accommodation and food services, down 19% in NSW, and 8.7% nationally.
Following closely were arts and recreation service jobs, with payrolls down 18% in NSW and 4.5% nationally.
Much of Greater Sydney has been in lockdown since 26 June, with lockdowns to persist until late August.
Labour Force stats provide insights into how many people lost jobs, how many have an attachment to their job but have lost all or some of their hours, and how hours have changed.

The methodology sections of @ABSStats releases have plenty more of this: https://t.co/xTyW6XlBar

— Bjorn Jarvis (@Bjorn_Jarvis) August 4, 2021
Despite the declines in payroll, job search site Indeed reports job postings are still at elevated levels.
"Job postings on Indeed are a real-time measure of labour market activity. On July 30 they were tracking 49.0% ahead of their level on February 1 last year, our pre-pandemic baseline, after adjusting for seasonal trends," said Callam Pickering, Indeed's Asia-Pacific economist.
"We'd expect the impact of Sydney's lockdown to become more evident in the coming weeks. While short-term lockdowns appear to have had little impact on hiring, Victoria's lengthy lockdown in May and early June triggered a decline in job postings.
"The current decline in New South Wales has been more modest by comparison."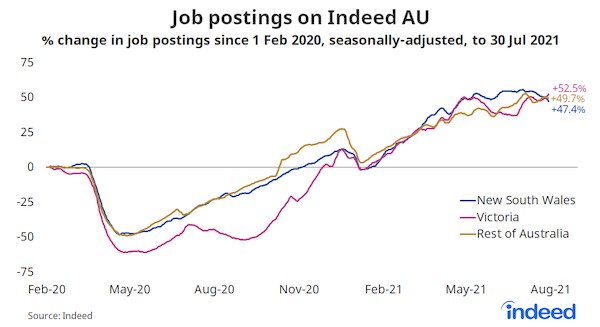 Photo by Kate Trifo on Unsplash