Expectations of a drop in the official cash rate by the Reserve Bank are becoming more widespread, with recent unemployment and inflation figures adding fuel to the fire.
Decreases in the cash rate have historically led to falls in product interest rates, be it home loans, personal loans, savings accounts or term deposits.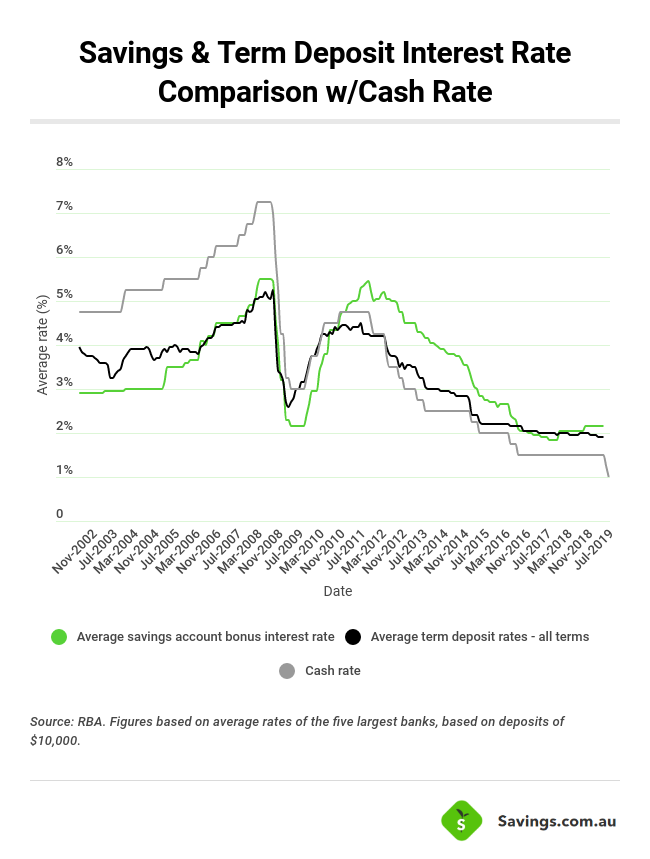 But it appears many providers aren't waiting around for the RBA to drop the cash rate before the year is out – a lot of them are already decreasing rates on their term deposits.
A total of 25 deposit-taking institutions have made wholesale changes to their term deposits so far this month, the majority of which have been decreases.
Among those changing rates are well-known institutions like ANZ, Commonwealth Bank, ING, Citi, St. George and AMP.
Term deposit rate changes: May roundup
Here's a brief compilation of some of the major term deposit interest rate changes to happen already this month.
UBank term deposit rates
On the 15th of May, UBank decreased various term deposits, including its Green and SMSF term deposits, by 10 basis points.
The terms changed were for a maximum of 12 months, taking its one-year term deposit to an interest rate of 2.45% p.a.
CUA term deposit rates
CUA has dropped various term deposit interest rates by up to 15 basis points – the changes apply for term deposits up to five years.
CUA's one-year term deposit now as an interest rate of 2.65% p.a. post-changes.
Bendigo Bank term deposit rates
Bendigo bank dropped interest rates by up to 20 basis points on the 15th of May, for all sorts of terms lasting up to five years.
Bendigo Bank still offers term deposit rates up to 2.65% p.a (five years), although this term was not affected by the rate changes.
ANZ term deposit rates
ANZ both increased and decreased interest rates on its Advance Notice term deposit on the 13th of May.
Those that were decreased were term deposits for a maximum of eight months – some of these rates were lowered by 45 basis points, taking certain interest rates from 2.44% p.a. to 1.99% p.a.
The terms that had their interest rates increased rose by up to 35 basis points, for shorter-term deposits.
UniBank term deposit rates
UniBank, one of the market leading providers when it comes to term deposit rates, lowered various term deposit rates by 25 basis points on the 8th of May.
These changes apply for terms up to three years. UniBank's three-year term deposit now has an interest rate of 2.75% p.a. – down from 3.00%.
ING term deposit rates
ING decreased interest rates by up to 25 basis points on May 10, but these changes were only made for terms up to two years.
ING's two and one-year term deposits now have an interest rate of 2.45% p.a.
Arab Bank term deposit rates
Although not a major institution, Arab Bank offers some of the highest term deposit interest rates on the market.
Some of these rates for terms up to one-year have been decreased by 15 basis points, down to a new interest rate of 2.70% p.a.
These changes were made on the 3rd of May.
Commonwealth Bank term deposits
CommBank was the first of the big four to change term deposit rates this month, decreasing rates by up to 10 basis points on the 3rd of May.
These rate changes apply for term deposits up to five years, with interest rates now as low as 2.30% p.a.
Suncorp Bank term deposit rates
Lastly, Suncorp both decreased and increased rates on term deposits up to one-year by 20 basis points on the 1st of March.
Interest rates on Suncorp term deposits affected by the changes are now 2.45% p.a. maximum.
All these providers lowering interest rates has left the average term deposit rate across all terms and most institutions at 2.18% p.a., based on a sweep of the market.
In March, this average was 2.23%.
If past trends are anything to go by, more and more term deposit providers could slash their interest rates to pass on a cut or two from the RBA, which is expected to lower the cash rate by 50 basis points to a new record low of 1.00% by the year's end.