The employee earnings indicator released today by the ABS, the first of its kind, found Australian businesses paid out $91.4 billion to workers in April, down 1.7% from March 2023.
Accommodation and food services (up 2.1%), transport and postal (up 1.1%) and retail trade (up 1.0%) were among the industries that saw the total payout to employees increase.
From 19 industries, 11 saw payouts from employers decrease in April, including financial services (down 4.9%), real estate (down 5.0%) and mining (down 13.8%).
Mining employees earning nearly 14% less is eye catching, but the ABS say this is normal after a peak in March, when many bonuses are distributed.
The unemployment rate rose slightly to 3.7% in April, which likely contributed to reduced employee earnings, while April also included several public holidays, where part time employees or contractors are less likely to have received a salary.
While these figures could be relevant to these industries performance, ABS head of labour statistics Bjorn Jarvis made it clear this novel release should not be interpreted to mean wages in these fields are on the way up/down.
"As with all aggregate measures of total wages and salaries, it captures all of the compositional changes in the labour market, including changes in employment, hours and periodic payments, rather than underlying wage growth," Mr Jarvis said.
Across all 19 industries, the annual change to employee payouts was substantial, with growth ranging from 2.7% (public administration and safety) to 19.4% (information media and communications).
The overall payout in April '22 to employees was $83.7 billion, so April '23 saw a 9.3% increase.
The strong annual increase is likely a reflection of strong growth in both wages and population, with unemployment lower than April '22 despite a surge in net migration since then.
Industry change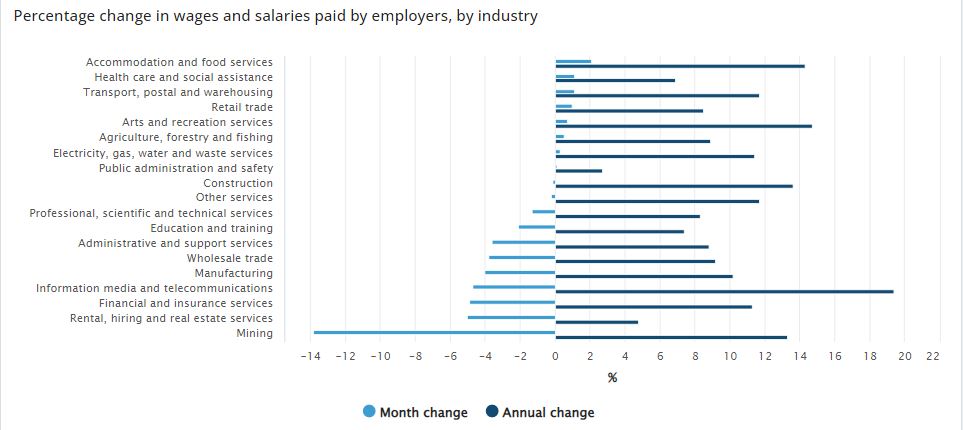 Graph from ABS
---
Advertisement
Need somewhere to store cash and earn interest? The table below features savings accounts with some of the highest interest rates on the market.
Provider

---

0

1000

0

$product[$field["value"]]

$product[$field["value"]]

$product[$field["value"]]

More details

FEATURED

Savings Maximiser (<$100k)

Deposit at least $1,000 + each month from an external source
Make 5 or more eligible transactions
Grow your savings balance each month

Savings Maximiser (<$100k)

Deposit at least $1,000 + each month from an external source
Make 5 or more eligible transactions
Grow your savings balance each month

0

200

0

$product[$field["value"]]

$product[$field["value"]]

$product[$field["value"]]

More details

No monthly fees

Save Account

Download the App to open your account
Get better visibility of your spending within App!
Deposit $200 per month to activate bonus interest

Save Account

Download the App to open your account
Get better visibility of your spending within App!
Deposit $200 per month to activate bonus interest

0

1000

0

$product[$field["value"]]

$product[$field["value"]]

$product[$field["value"]]

More details
Important Information and Comparison Rate Warning
Image by Bimo Luki on Unsplash