The Australian economy has recovered all of the losses sustained throughout the pandemic, with GDP rising 1.8% in the March quarter, seasonally adjusted.
The latest figures from the Australian Bureau of Statistics (ABS) revealed economic activity was 0.7% larger in that period than the December 2019 quarter, before COVID saw the greatest economic contraction in 90 years.
The 1.8% increase in Gross Domestic Product (GDP) came in better than the 1.5% increase forecast by a poll of economists conducted by Reuters.
Based on statistics from the Organisation for Economic Co-operation and Development (OECD), Australia's quarterly growth is equal for fifth best in the world.
Head of National Accounts at the ABS Michael Smedes said the economy had clawed back all the losses seen last year.
"With 1.8% growth in the March quarter 2021, Australian economic activity has recovered to be above pre-pandemic levels and has grown 1.1% through the year," Mr Smedes said.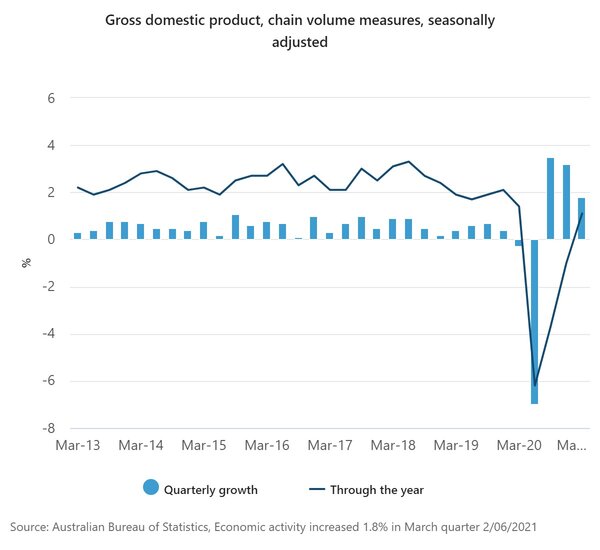 Source: ABS
APAC economist, Callam Pickering, said the economy had continued to exceed expectations, labelling the recovery "remarkable".
"With economic activity now at a record high, we can safely say that the recession is over," Mr Pickering said.
"And with JobKeeper finished, the economy is mostly standing on its own. That said, the health crisis is still not over, just ask Victoria, and so we must remain cautious about Australia's economic outlook."
Dwelling investment increased for the third consecutive quarter, rising 6.4%, consistent with the recent surge in building approvals due to the HomeBuilder scheme's success.
Gross Value Added (GVA) of the construction industry rose 4.4% and recorded the strongest contribution to growth across all industries.
Private investment was also a large driver of the growth, rising 5.3% and contributing 0.9 percentage points to the headline figure.
Machinery and equipment investment recorded its strongest quarterly rise since December 2009, off the back of sustained and improved business confidence and Government tax incentives.
"The rise in machinery and equipment investment was widespread and observed in both mining and non-mining industries," Mr Smedes said.
Need somewhere to store cash and earn interest? The table below features savings accounts with some of the highest interest rates on the market.
Lender

---

4

0

0

0

$product[$field["value"]]

$product[$field["value"]]

$product[$field["value"]]

More details

FEATURED

Savings Account (Amounts < $24k)

4

0

0

0

$product[$field["value"]]

$product[$field["value"]]

$product[$field["value"]]

More details

High Interest Savings Account (< $250k)

4

0

0

1

$product[$field["value"]]

$product[$field["value"]]

$product[$field["value"]]

More details

0

50

0

$product[$field["value"]]

$product[$field["value"]]

$product[$field["value"]]

More details

0

0

0

$product[$field["value"]]

$product[$field["value"]]

$product[$field["value"]]

More details
Rates based on a savings balance of $10,000. Sorted by total interest rates. Refer to providers' websites for bonus rate conditions and for any applicable fees and charges. Rates correct as of May 22, 2022. View disclaimer.
Household spending increased by 1.2% and added 0.7 percentage points to growth, with spending on services rising 2.4% as restrictions were eased.
Mr Pickering said household spending had continued to recover but was tracking behind the broader economic recovery.
"Household's remain pretty cautious, indicating some residual concern about Australia's economic and financial environment.
"The household savings rate is currently 11.6%. That's well above where we were during the global financial crisis and almost three-times higher than the savings rate during 2018 and 2019 before the economy started to slip."
What does it mean?
Mr Pickering said the faster than expected recovery could trigger further upgrades to Australia's economic outlook.
"That in turn, raises the possibility that the labour market will tighten more quickly than anticipated," he said.
"That said, the Reserve Bank could not be clearer: they will not raise the cash rate until inflation is sustainably within their 2-3% target band.
"It means that the outlook for monetary policy is data dependent and not forecast dependent. Right now, even with today's strong growth, we are a mile away from justifying tighter monetary policy."
---
Photo by Artyom Korshunov on Unsplash