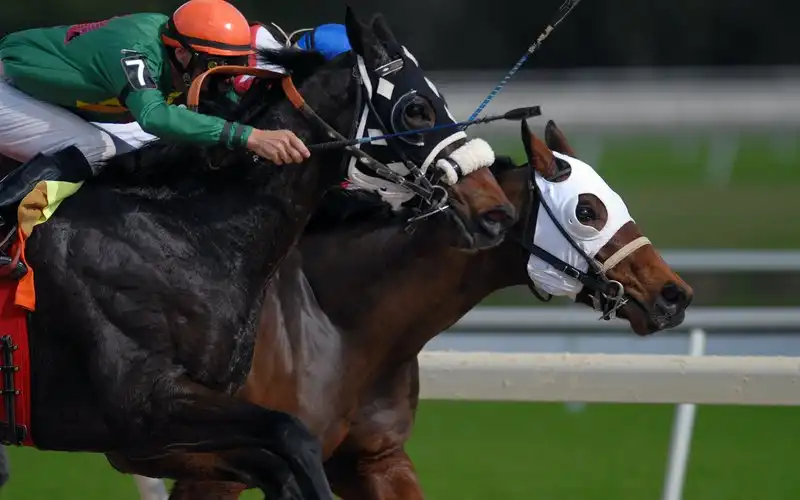 Photo by Jeff Griffith on Unsplash
New research has revealed early superannuation withdrawals are not being used as intended.
Data released by illion and Alphabeta on Monday showed many Australians who had withdrawn their super had used the money to increase their spending, not just maintain it.
Additionally, nearly half (40%) of those who accessed their superannuation saw no drop in their income during the COVID pandemic.
Need somewhere to store cash and earn interest? The table below features introductory savings accounts with some of the highest interest rates on the market.
Lender

---

4

0

0

0

$product[$field["value"]]

$product[$field["value"]]

$product[$field["value"]]

More details

FEATURED

Online Saver (Amounts < $499999)

0

200

0

$product[$field["value"]]

$product[$field["value"]]

$product[$field["value"]]

More details

PremiumSaver (Amounts < $250k)

3

0

0

0

$product[$field["value"]]

$product[$field["value"]]

$product[$field["value"]]

More details

0

10

0

$product[$field["value"]]

$product[$field["value"]]

$product[$field["value"]]

More details

4

0

0

1

$product[$field["value"]]

$product[$field["value"]]

$product[$field["value"]]

More details

WebSavings Account (New Customer) ($2,000+)
Rates based on a savings balance of $10,000. Sorted by total interest rate. Refer to providers' websites for bonus rate conditions. Note that the base rate will apply once the introductory term has passed. Rates correct as of June 25, 2022. View disclaimer.
AlphaBeta Director Dr Andrew Charlton said people may not understand how much their spending now would cost them in retirement.
"People who accessed their superannuation have made one of the most expensive spending decisions of their lives," Dr Charlton said.
"While this policy was aimed as a lifeline, what we see is many people accessing their Super, who really could have kept it working away until their retirement."
Spending nearly tripled in the fortnight after the money was received, compared to an average fortnight before the money was accessed.
A third of this money was used up in the first two weeks.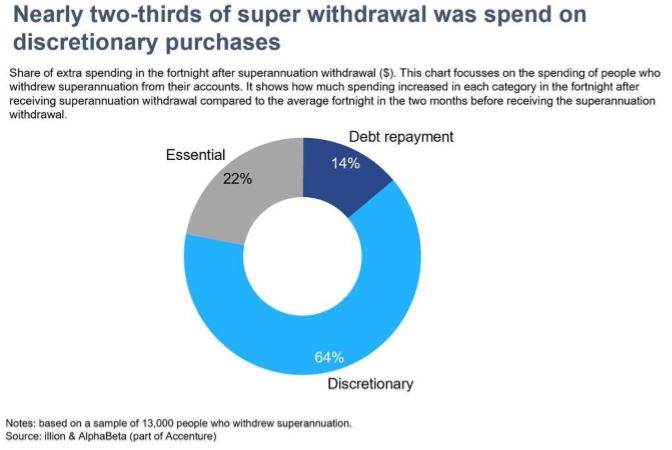 On average, people withdrew around $8,000 and spent an extra $2,855 in two weeks, compared with the same group's average spending in a normal fortnight.
Simon Bligh, illion chief executive, said 64% of the additional spending was on discretionary items such as clothing, furniture, restaurants and alcohol.
"There's a group of people out there living very large on pizza and beer courtesy of tax-free super," Mr Bligh said.
"These are the most expensive pizzas they will ever eat. This money is available for anyone with a bit of Super who puts their hand up.
"It's a situation that was entirely avoidable."
The data revealed 14% of the money was used to repay personal debts, including credit cards, buy now pay later bills and other bills, and 11% was spent on gambling.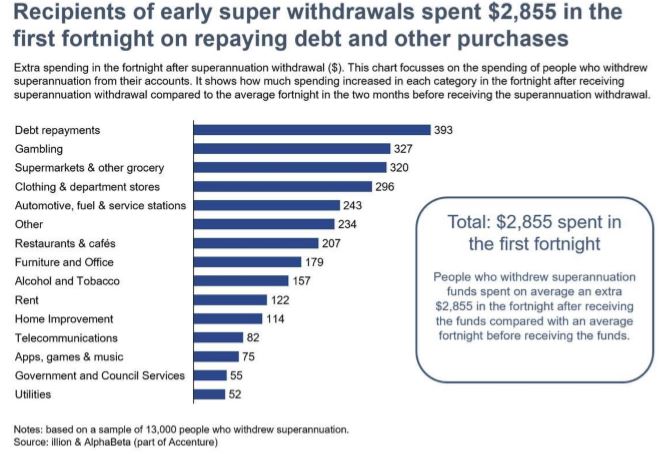 "Based on the compounding nature and investment returns of Super, spending this amount of Super on low priority discretionary items such as fashion and gambling will have an impact worth potentially $100,000 when it comes to retirement," Dr Charlton said.
Mr Bligh said there was a chance to address this and rectify it before the next tranche of Super payments could be accessed.

"We'd certainly urge the government to put in some checks and balances at the very least," he said.

"The next round of releasing Super should be more tightly managed, with more due diligence over whether the applicants qualify.
"Tools are readily available to do this digitally."
Data from the Australian Tax Office (ATO) revealed 1.35 million early release superannuation applications had been approved, with most withdrawing the maximum of $10,000.
More than one in seven women withdrawing their whole super balance
Analysis of early super withdrawal applications showed women were withdrawing a greater proportion of their super balance than men.
Despite women withdrawing less than men, on average they were withdrawing 21% of their starting super balances, compared to 17% for men.
Additionally, 14% of women were clearing out their entire super balance as a result of these withdrawals, compared to 12% of men.
These withdrawals are widening the gender superannuation gap, with men having on average 29% higher superannuation balances than women following the withdrawals, increasing from 25%.
According to the Australian Bureau of Statistics, 325,000 women became unemployed in April, representing 55% of all jobs lost in Australia, while female work hours reduced by 11.5% compared to a 7.5% reduction in male hours.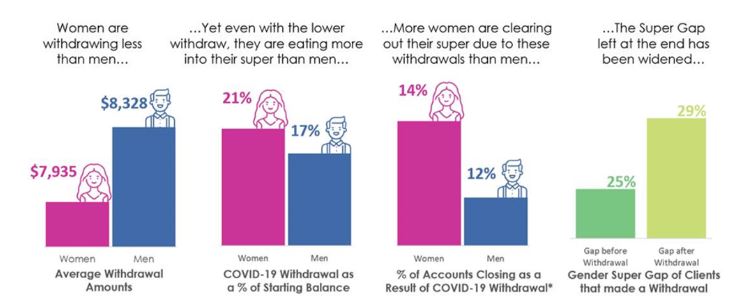 Lara Bourguignon, AMP's Managing Director, Superannuation, Retirement and Platforms, said AMP's analysis of early super withdrawals reflects the greater impact COVID-19 was having on female employment.
"70% of workers in the health and social sectors are also women," Ms Bourguignon said.
"These are lower income occupations which are at the front of the fight against COVID-19. Cleaners, teachers, child-care and aged care workers are predominantly women.
"We also know that more women have lost their jobs or had their work hours reduced as a result of COVID-19.
"They are doing it particularly tough at the moment and the early release scheme has been a vitally important initiative to help manage through the crisis."
---
Latest Articles