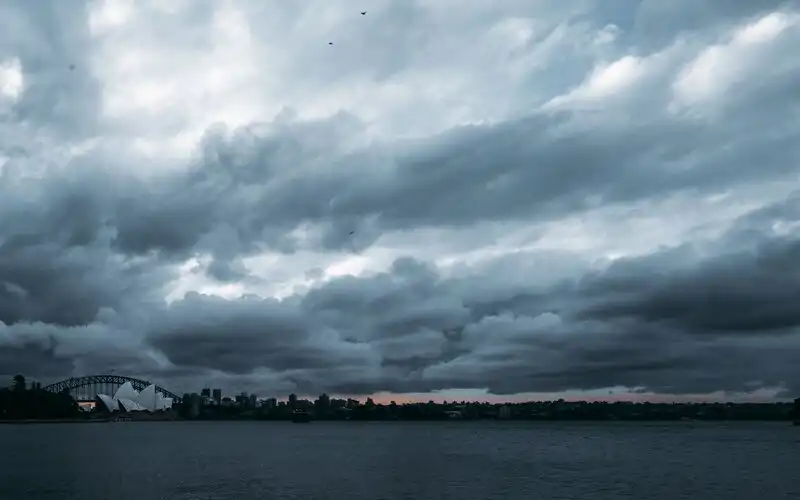 Photo by Road Trip with Raj on Unsplash
Australia's Gross Domestic Product (GDP) has fallen by 7.0%.
This is the largest quarterly fall on record, reflecting the nationwide lockdowns which occurred early in the quarter as a result of the COVID-19 pandemic.
The figure from the Australian Bureau of Statistics (ABS) is well above the 6% that economists were forecasting, with the consensus being a 6% fall.
The previous record for negative growth was 2%, set in the June quarter of 1974.
With a recession defined as two consecutive quarters of negative growth, and GDP shrinking by 0.3% in the previous quarter, today's figures have officially confirmed Australia is in recession for the first time since 1991.
Need somewhere to store cash and earn interest? The table below features savings accounts with some of the highest interest rates on the market.
There was a 12.1% fall in household final consumption expenditure and spending on services fell 17.6%, while there were also falls in transport services, operation of vehicles and hotels, cafes and restaurants.
Head of National Accounts at the ABS Michael Smedes said the pandemic and resulting lockdowns had greatly altered people's attitude towards spending and saving.
"The June quarter saw a significant contraction in household spending on services as households altered their behaviour and restrictions were put in place to contain the spread of the coronavirus," Mr Smedes said.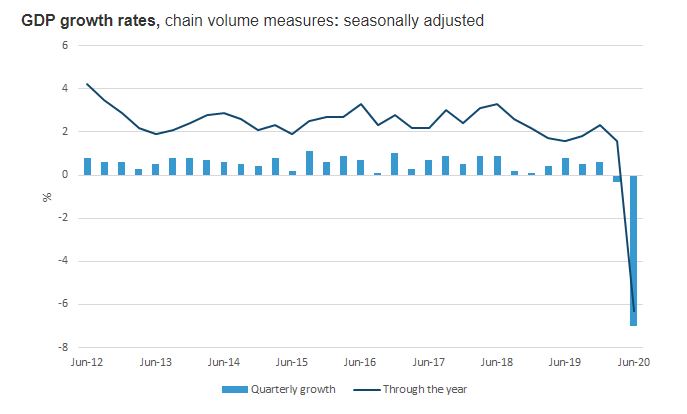 Source:ABS
The household savings to income ratio rose to 19.8% from 6.0%, the highest rate since June 1974, driven by the fall in consumption expenditure.
Hours worked fell a record 9.8%, far outpacing the record 2.5% decline in wages which were supported by JobKeeper recipients.
Investment in new and used dwellings fell 7.3%, the largest fall since December 2000, due to weakened demand and restrictions on in-person housing market activities.
Imports of services fell 50.5% with travel services falling 98.7% as a result of travel bans.
New South Wales and Victoria saw the greatest drops in GDP, falling 8.6% and 8.5% respectively.
IFM economist Alex Joiner said while Australia's figures were the worst on record, they were relatively better than the majority of countries.
The likely narrative out of Australia's 7.0% economic reversal in the June quarter national accounts will be despite it being our worst quarter on record the economic impact in the first half and Q2 has been relatively better than the majority of countries #ausbiz pic.twitter.com/7VApMLL0BV

— Alex Joiner (@IFM_Economist) September 2, 2020
Where to from here?
NAB economists, who forecasted a 5.8% drop in GDP, said they expected recovery to be gradual, with GDP not returning to pre-virus levels until early 2023.
"We expect a fall in activity in Victoria to broadly offset a rebound in growth elsewhere in the September quarter before an aggregate improvement across the states in Q4," they said.
"This would see GDP fall by 3.8% in year-average terms this year and rise by 0.8% in 2021. From there we see growth rising to around trend."
They said this recovery would be based on improvements in the unemployment rate and a rebound in household consumption.
"This gradual recovery in activity will also see the labour market improve but with a lag."
"Therefore, after peaking at over 9% this year the unemployment rate is expected to fall to 7.6% by end 2021 and 6.6% at the end of 2022.
"There is likely to be some pent-up demand by households but the deterioration in the labour market is likely to weigh on consumption going forward and how quickly confidence recovers will be important."
More to come...
---
Latest Articles